New Coach Reset: Auburn's Gus Malzahn
Gus Malzahn picks up the pieces after Auburn's 2012 catastrophe. Is he ready?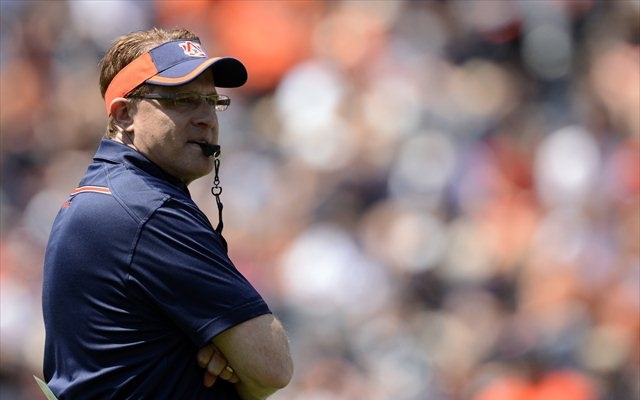 Over the next several weeks, we will be catching up with the coaches preparing for their first season in a new location and/or role. From recruiting to staff moves and personnel decisions, we will take a look at how the first months have gone and preview the 2013 season ahead. Today's subject: Auburn coach Gus Malzahn.
The Hire
Coaching experience: To call Malzahn's rise through the coaching ranks "meteoric" sidesteps the fact that most meteors would kill for Malzahn's career trajectory. Even after his celebrated coordinating stints at Arkansas, Tulsa and Auburn and a single championship season in charge at Arkansas State, there's still only six seasons separating Malzahn the high school coach from Malzahn the guru in command of an SEC program that won the BCS championship three scant years ago. It's frankly not the level of experience you'd expect at a $2.3 million-per-season-to-start program like Auburn, but when the experience Malzahn has had has been so universally positive, it's hard to blame the Tigers for having rolled the dice.
Reason for the change: Aformentioned BCS title or no BCS title, you post a 3-9 (0-8 SEC) record at Auburn that's closer to 2-10 than 4-8 -- by the end of the season, the Tigers' overtime escape against Louisiana-Monroe looked like an upset -- and you can't expect to avoid a pink slip, as Gene Chizik discovered.
The First Months
2013 Recruiting Class Ranking (according to 247 Sports composite rankings): No. 11 nationally, No. 7 in the SEC.
Notable Prospects: Thanks in no small part to the smash hires of ace recruiters like Rodney Garner (who left Georgia) and Dameyune Craig (who left Florida State), the Tigers finished with a surprising flourish after Chizik's departure gutted much of the class. Five-star defensive tackle Montravius Adams was the biggest Signing Day splash, but adding five-star defensive end Elijah Daniel and holding onto five-star end Carl Lawson gave the Tigers arguably the best defensive line class in the country. It's a three-star JUCO who might provide the most immediate impact, though -- all signs are that "athlete" Nick Marshall (3,142 yards passing, 1,095 rushing in 2012 at Garden City C.C.) will have a legitimate shot at the starting quarterback job.
Off-field: Unlike his fellow SEC West newcomer at Arkansas, Malzahn hasn't made too many waves in the media, but he also hasn't needed to where the Auburn fanbase is concerned. (See below.) A few whispers about Malzahn's potential disciplinary record -- mostly stemming from his decision to bring the troubled Michael Dyer aboard at Arkansas State -- grew a shade louder with his decision to sign Marshall, who was dismissed from Georgia after the theft of cash from a teammate's dorm room. But for now, the problems Malzahn faces on the field vastly outweigh anything away from it.
Fan reaction: After convincing former Auburn stars Garner and Craig to come back to the Plains, hiring a highly respected (and SEC-accomplished) defensive coordinator in Ellis Johnson, and landing a recruiting class beyond what nearly any Tiger fan dared to hope for after Chizik's firing, even the most committed Malzahn skeptics at Auburn have been won over. He didn't have much to do with the record attendance at Auburn's spring game -- the emotional final rolling of the Toomer's Corner oak trees took care of that -- but Malzahn also didn't do anything to stand in its way, either.
Looking Ahead
Advantages: Does Auburn have talent or not? With the exception of running back Tre Mason and a handful of offensive linemen and defensive backs, it sure didn't look like it between the sidelines last fall. But that's not what the recruiting rankings would tell you -- from 2010 to 2012 the Tigers landed a pair of top-5 recruiting classes and another in the top-15. Between attrition and plain ol' underachievement, precious little of that potential has been fulfilled to date. But does that mean it's not there? If it is, X's-and-O's men of Malzahn's and Johnson's caliber should be able to coax some of it into productivity.
Toughest challenge: Is there any less hospitable environment in the country in which to attempt a rebuilding project than the SEC West? With its only two games against SEC teams with losing records in 2012 (Arkansas and Tennessee) both on the road, Auburn could conceivably be an underdog in every one of its league games in 2013. (The Golden Nugget has listed lines for 7 of the Tigers' 8 SEC games, and yes, Auburn is a 'dog in all 7. The Ole Miss game is not yet on the board.) Hugh Freeze proved that even in the SEC West, a quick turnaround to bowl eligiblity is possible despite those odds ... but that doesn't necessarily mean it's likely, either, and the arrival of Bielema, Freeze and Sumlin mean it won't get any easier in the long-term.
2013 Outlook: By one advanced statistical measure, Auburn was the worst passing offense in the country last season, 125 out of 125. If Malzahn can get that fixed -- and given the rampant question marks at both quarterback and receiver, "fixed" may be well out of reach -- it's not that difficult to see a strong Mason-led running game and rejuvenated defense nudging Auburn over .500. (A nonconference schedule in which Arkansas State shapes up as the most dangerous threat helps too.) But given the schedule, it also won't be a surprise if Auburn improves by leaps and bounds ... and still winds up outside the postseason. For now, respectability alone is a worthy goal, with anything else gravy leading up to 2014.
Josh Adams and Derrius Guice helped their teams to big wins in Week 8

The Eagles have started winless in Summers' second season and were 5-13 overall under him

The Fighting Irish are up to No. 9 in the latest edition of these college football ranking...
The Fighting Irish are getting more attention after throttling USC 49-14 Saturday night

Jerry Palm is back to look at where the bowl games stand after the midway point of 2017

The sophomore leads the SEC in total offense and passing