New Coach Reset: Kentucky's Mark Stoops
Friday's edition of the 2013 New Coach Reset looks at Kentucky's Mark Stoops, who's made quite the splash with fans in Lexington.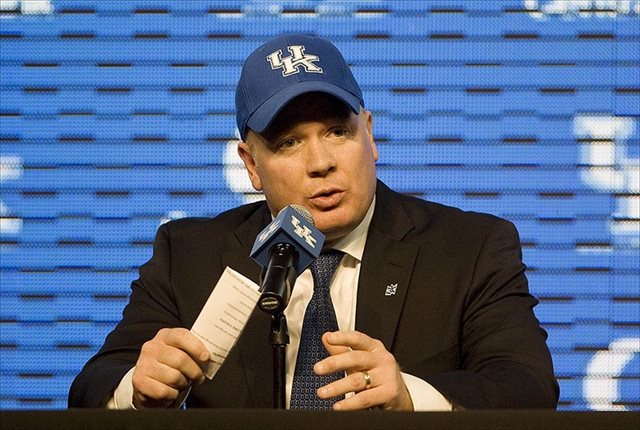 Over the next several weeks, we will be catching up with the coaches preparing for their first season in a new location and/or role. From recruiting to staff moves and personnel decisions, we will take a look at how the first months have gone and preview the 2013 season ahead. Today's subject: Kentucky coach Mark Stoops.
The Hire
Coaching experience: Not surprisingly for someone with his surname, Stoops hasn't taken too long to bound his way up the coaching ladder, getting his first assistant's job with Jim Leavitt at USF in 1996 and -- six schools later -- getting his first shot at a head coaching position when the Wildcats hired him in November. Before arriving in Lexington, Stoops spent eight successful seasons as a defensive coordinator at Arizona and then Florida State. 
Reason for the change: By the three-quarters-pole of the 2012 season, not even Tennessee or Auburn could challenge Kentucky for the honor of being the SEC's most miserable program. Not only did the Wildcats wrap up the season at 0-8 in the league and 2-10 overall, not only did they lose to the state's resident Sun Belt squad, not only did they finish with the SEC's worst offense in both yards per-play and scoring, they lost at home to Vanderbilt, 40-0. That bears repeating: they lost at home to Vanderbilt, 40-0. There can be no greater argument for an SEC coach's firing than that, can there? But the near-universal apathy among the Wildcat fanbase made cutting the cord with Joker Phillips an even easier decision than that for AD Mitch Barnhart.
The First Months
2013 Recruiting Class Ranking (according to 247Sports composite rankings): No. 34 nationally, No. 13 in the SEC.
Notable Prospects: Like many first-time coaches hoping for a quicker turnaround than expected, Stoops brought in several JUCO prospects with chances of immediate playing time, including four-star playmaker Za'Darius Smith at defensive end and three-star standout Nate Willis at corner. But the recruits who will have Wildcat fans most optimistic about Stoops' future will be four-star defensive back Marcus McWilson from Ohio powerhouse Cardinal Mooney and four-star defensive end Jason Hatcher from Louisville, a USC target. To make Kentucky into anything like an actual SEC contender, Stoops has to 1. keep the rare top-of-the-line in-state talent in the state (and away from Louisville) 2. mine the highly fertile Ohio recruiting grounds for whatever quality players the Buckeyes miss. McWilson and Hatcher represented two big steps in those two directions.
Off-field: Stoops has, by and large, let his big wins on the recruiting trail and the smashing success of his first spring game (see below) do his talking for him; a Bret Bielema- or James Franklin-style splash hasn't proven to be his style. But the hiring of Texas Tech offensive coordinator Neal Brown to the same position in Lexington -- signaling a shift away from Phillips' buttoned-down attack and toward the high-flying bygone days of Hal Mumme's Kentucky Air Raid -- shows that he's not afraid to make big, bold decisions even if his media profile remains small.
Fan reaction: Kentucky's legions of diehard basketball fans are known as Big Blue Nation, which would traditionally make the Wildcats' not-quite-legions of not-so-diehard football fans ... Big Blue Fiefdom? Big Blue City-State? Big Blue Unincorporated Rural County Community? Thanks to Stoops, though, it seems the answer is suddenly "none of the above." Despite his largely head-down, nose-to-the-grindstone approach -- or maybe because of it -- Stoops has connected with the Wildcat fanbase like no new coach in the program's history, drawing a record number of fans to the Wildcat spring game and sparking what appears to be actual belief in a fanbase that's always found it a rare commodity. That buzz qualifies as one of the biggest surprises and biggest stories of the SEC's spring -- and it already seems to be paying dividends on the recruiting trail, where Stoops is off to a hot start for 2014.  
Looking Ahead
Advantages: At Kentucky? In football? In the past, the biggest advantage a Wildcat coach had was simply that there was always Vanderbilt around to occupy the SEC cellar, at least -- but James Franklin has put an end to that for the time being. And after 2-10, 0-8, it's hard to argue there's much to get excited about on Stoops' first roster (though between the three-headed sophomore quarterbacking moster of Jalen Whitlow, Max Smith and Patrick Towles, it seems likely Brown can find someone to run the offense competently.) Perhaps Stoops' biggest advantage are the fans mentioned above; as with Franklin and the Commodores, there's no fundamental reason the Wildcats can't compete in the SEC with the right support. And it looks like Stoops has it already.
Toughest Challenge: Where to begin? Let's keep it simple and point out the obvious: Stoops has inherited what nearly any impartial observer would consider the least-talented roster in the SEC, and getting it up to the league's accepted standards of depth and playmaking ability is going to take multiple recruiting classes well above Kentucky's usual output on the trail. Stoops has already made major strides, but there's a ton of work to do.
2013 Outlook: The good news is that Stoops has some experience to work with across the depth chart after the young 'Cats took their 2012 lumps, that thanks to tackles Donte Rumph and Mister Cobble the defensive line still has promise, that Brown has options at quarterback and should only continue to grow as a coordinator, and that things literally cannot get worse. But an SEC schedule that hands the 'Cats a road date at Mississippi State and a home one vs. Alabama isn't anywhere near "friendly." Three winnable nonconference games and home games vs. Missouri and Tennessee should see the Wildcats trump their 2012 win total and possibly even double it, but anything more than that will have to wait another season.     
Davis abruptly resigned from the Crimson Tide in April 2016

#TrustTheProcess as Tom Fornelli offers his best bets for the first week of bowl action

Saban isn't going to win Alabama's special election, but the Crimson Tide coach got some l...
The Sooners' quarterback and Badgers' rusher stood out among their peers this season

Clark led UAB to an 8-4 overall record, 6-2 in conference this season

SportsLine simulated every bowl game 10,000 times for pick'em leagues and confidence pools