New Coach Reset: NC State's Dave Doeren
After leading Northern Illinois to back-to-back MAC Championships and an Orange Bowl bid, Dave Doeren looks to lead NC State into the Top 25.
• 3 min read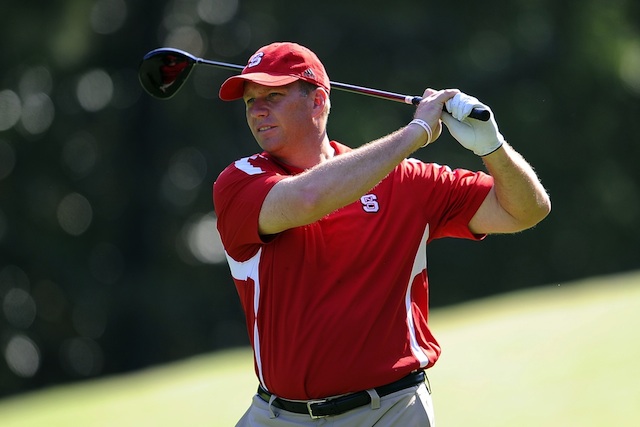 Over the next several weeks, we will be catching up with the coaches preparing for their first season in a new location and/or role. From recruiting to staff moves and personnel decisions, we will take a look at how the first months have gone and preview the 2013 season ahead. Today's subject: North Carolina State coach Dave Doeren.
The Hire
Coaching experience: Dave Doeren, 41, will kick off his third season as a head coach this fall, but his college football experience dates all the way back to his days as a defensive assistant for Drake, Doeren's alma mater, from 1995-97. After brief stops at USC and Montana, Doeren became a defensive coordinator at Kansas while also serving as the Jayhawks' recruiting coordinator. In 2006 Doeren left to take the same position on Bret Bielema's staff at Wisconsin. He took his first head coaching job at Northern Illinois in 2011, leading the Huskies to back-to-back MAC championships and amassed a 23-4 overall record.
Reason for the change: Tom O'Brien led the Wolfpack to four bowl games in six years and 24 wins over his final three seasons. However, athletic director Debbie Yow -- who did not hire O'Brien -- publicly stated the desire for a Top 25 program. While O'Brien was successful in leading NC State to bowl games, the team recorded just one Top 25 finish (No. 25 in 2010) during his tenure. Differences in opinions led to his dismissal after the regular season, and Yow led a search to find a coach to re-energize the fan base with strong recruiting and national rankings.
The First Months
2013 Recruiting Class Ranking (according to 247Sports composite rankings): No. 59 nationally, No. 9 in the ACC.
Notable Prospects: Doeren was able to secure a late commitment from four-star athlete Johnathan Alston, one of the top prospects in the state of North Carolina. Alston chose the Wolfpack over North Carolina, Arkansas and Notre Dame, giving fans a preview of what NC State hopes will be a new trend for the program. Doeren also added three running backs -- a position of need in recent years -- headlined by three-star Josh Mercer (Guyton, Ga.). 
Off-field: NC State has launched a video series with Doeren this offseason, called "Dare Coach D." Each episode features another NC State program daring Doeren to try out their sport. So far, the Wolfpack head coach has tried softball and bass fishing with the Bass Pack.
Fan reaction: Most college football fans in the state of North Carolina were not familiar with Dave Doeren's name until Yow launched the coaching search. When it was revealed that basketball coach Mark Gottfried was one of the connections to Doeren -- they have the same agent -- the hoops-first fans signed off immediately. The football fans are excited about his history as a strong recruiter and the up-tempo offensive attack that was showcased in the spring. The Wolfpack rarely stole headlines on National Signing Day under TOB, so there is hope that improved recruiting can get the program to the next level.  
Looking Ahead
Advantages: One of Dave Doeren's strengths is recruiting, and the state of North Carolina is ripe with top college football talent. The problem for the in-state schools has been keeping that talent from leaving for the SEC. If Doeren's efforts to reboot the program's image -- moving away from the Marine-influenced traditional feel under O'Brien -- can generate excitement at area high schools, the signees in February won't need to wait until their junior year to make an immediate impact.
Toughest challenge: Finishing in the Top 25 is a noted goal for most of the 125 FBS schools. Not every team can win every game, and unrealistic expectations can lead to a rocky coaching tenure. NC State has to play Florida State and Clemson every single year in the Atlantic Division, with Louisville joining that list in 2014. In the current state of the ACC, only a couple teams finish ranked each season. In order to regularly finish in the Top 25, the Wolfpack will likely need to beat (at least) one of those three opponents every season.
2013 Outlook: The cupboard is not exactly stocked for Doeren, with just five starters returning on offense and six on defense. Brandon Mitchell will compete with Pete Thomas (Colorado State transfer) and Manny Stocker to replace Mike Glennon at quarterback, and the three All-ACC caliber starters need to be replaced in the defensive backfield. However, the schedule gives NC State plenty of opportunities to work through the growing pains and still finish with a bowl appearance. The Wolfpack have eight home games in 2013, leave the state of North Carolina just twice -- at Florida State and at Boston College, and fill out the non-conference slate with East Carolina, Central Michigan, Richmond, and a Sonny Dykes-less Louisiana Tech. That Top 25 finish might not come in 2013, but Doeren can easily keep the momentum moving forward with a bowl appearance for the fourth year in a row. 
Find out which of your favorite team's players are among the nation's best entering the 2017...

Rosen, a junior, will be eligible for the upcoming NFL draft

Texas A&M has to be better defensively to stand a chance in the SEC West
A letter indicated that there is a growing awareness of the persistent problem in college...

The series will follow the Navy football program throughout the 2017 season

Should college football players still be tested and punished for using marijuana?