New Coach Reset: Tennessee's Butch Jones
Butch Jones has won over a skeptical Tennessee fanbase with some big recruiting wins and a focused media presence. Can he keep it going?
Over the past several weeks, we've caught up with the coaches preparing for their first season in a new location and/or role. From recruiting to staff moves and personnel decisions, we've looked at how the first months have gone and preview the 2013 season ahead. Today's subject: Tennessee's Butch Jones.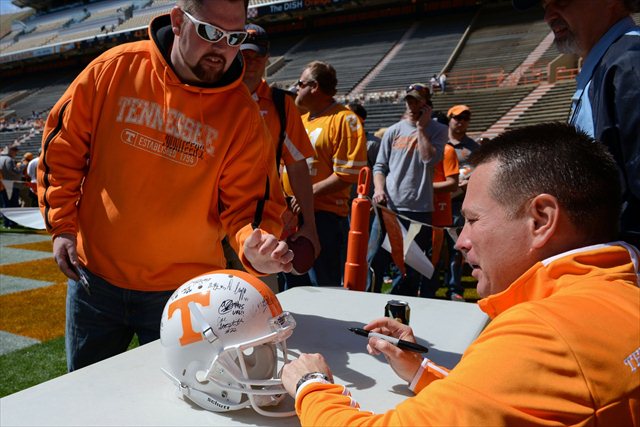 The Hire
Coaching experience: Jones already has six seasons of FBS head coaching experience under his belt, but the Tennessee job will be his first without having to -- or, put in more skeptical fashion, getting to -- fill the shoes of Brian Kelly. Jones took over Kelly's wildly successful Central Michigan program in 2007, then took over Kelly's even-more-successful Cincinnati program in 2010. But whatever Kelly did or didn't leave behind for his twice-over successor, there's not much arguing with the results: five winning seasons, four outright or shared league titles, two seasons with at least 10 wins, all at a pair of schools no one will mistake for traditional powerhouses.
Reason for the change: Back-to-back 5-7 seasons? Losses to Kentucky in one year and (in humiliating, blowout fashion) Vanderbilt the next? Thousands upon thousands of empty seats? Yeah, that's not going to fly at Tennessee. Sorry, Derek Dooley.
The First Months
2013 Recruiting Class Ranking (according to 247Sports composite rankings):
Notable Prospects: The 2013 class was more about managing the Dooley-to-Jones transition and finding quality depth than landing a fleet of superstars (unlike its apparent follow-up, about which more in a moment) -- a nice way of saying it had just four composite four-stars out of 23 signees. The good news, though, is that 6-foot-4 wideout Marquez North should be an immediate impact player at receiver, and that quarterback Josh Dobbs has both the arm and athleticism to excel in Jones' fast-paced offensive system. Both were big, late out-of-state pulls for Jones.
Off-field: If the 2013 Vols class ultimately registered as a minor disappointment as Jones couldn't quite seal the deal with a few more highly-regarded prospects, the 2014 edition looks ready to make up for that disappointment and then some. Currently ranked as the No. 4 class in the country per the 247Sports composite, and headlined by in-state five-star running back Jalen Hurd, Jones' 2014 class is the best argument he's formed yet for his long-term success in Knoxville.
Fan reaction: Jones' arrival was greeted by the Vols faithful with more polite applause than ecstatic hosannas, and not entirely without reason, given how close Tennessee seemed to come to hiring Jon Gruden, Mike Gundy or Charlie Strong. And while no one will really blame Jones for bringing in much of the same staff that had been so successful with the Bearcats -- including his coordinators on both sides of the ball -- there wasn't much in his hires (save for underrated recruiter Tommy Thigpen, recently of Auburn) to move the needle.
Of course, recruiting the way Jones has recruited over the summer will build up a lot of that missing goodwill in a hurry. But the memory of the names that could-have-been in the Vols coaching search will stick, and means that Jones might not get quite as much slack from the Vols faithful as he'd like when it comes to on-field results this fall.
Looking Ahead
Advantages: The biggest one is simply that Jones is coaching at Tennessee, a program -- as Jones has proven on the recruiting trail -- that has all the resources, tradition and continued name-brand recognition to challenge for championships, even in the SEC. The Vols really can't continue to be as poor as they've been over the past five seasons. Of course, there are more tangible positives, too -- such as one of the most experienced and talented offensive lines in the country in 2013.
Toughest Challenge: In the Vols' Phillip Fulmer-led heyday, they could mine border states like South Carolina, North Carolina and Georgia for recruits and cast a national net for the occasional blue-chip. Those areas have been closed off, though, as coaches like Steve Spurrier and Mark Richt have stepped-up their in-state game, and the Vols have been in decline for far too long to be a serious player for five-star recruits in, say, California. With an in-state recruiting base that simply can't touch Georgia's or Florida's (and most years doesn't match South Carolina's), Jones will have to be both creative and dogged in making sure he has the athletes to compete in the SEC East. He's off to a good start, but Dooley got off to a good start, too. 
2013 Outlook: The Vols should be excellent along the line of scrimmage, with Tiny Richardson one of four returning starters on the offensive line and All-SEC linebacker A.J. Johnson leading a veteran front seven. But this remains a team that loses virtually all of its passing game personnel, that ranked as the SEC's worst defense in 2012, that is undergoing major scheme overhauls on both sides of the ball, and will "enjoy" road trips to Oregon, Florida, and Alabama. The Vols shouldn't be any worse than 3-5 entering a manageable home stretch -- at Missouri, vs. Auburn, vs. Vanderbilt, at Kentucky -- but a bowl game is not a foregone conclusion by any stretch.
Anybody can rank the best college football teams, only we rank the worst each week

The Badgers never get talked about, but that might change if they keep up their hot streak

Our computer model simulated every Week 8 college football game 10,000 times with surprising...
Frost was a former star option quarterback at Nebraska

Clemson's upset loss knocked the Tigers down a peg, but they're well within striking dista...

The former Rebels coach was suing the school for harming his reputation