New faces, new places: Ranking first-year coaches one month into the season
How are coaches across college football doing in their first year at new schools?
• 9 min read
If you can believe it, Week 5 of the 2016 college football season is here. On Saturday, we'll officially be in October. Now is a good time to take stock of how the 29 first-year coaches have performed at their new schools.
As such, we present to you our first-year coach power rankings.
This is not a grade of the coaching hires. A great hire could still take time to turn a program around. Another coach may simply be inheriting a good roster and experience success right away. This is merely a power ranking for how each coach is doing through one month with the team's record, relevant stats and performances being taken into account.
Additionally, head-to-head results don't necessarily affect the order. We're looking at the big picture, so don't even worry about transitive properties.
With that in mind, here's our rankings of how first-year college football coaches have fared so far.
1. Mark Richt, Miami (3-0): Looks like a change of scenery was just what Richt needed. The ex-Georgia coach has the Hurricanes off to a 3-0 start. The resume isn't much of a looker (so far), but quarterback Brad Kaaya has been solid (694 yards, seven touchdowns, three interceptions) even though he's buried in a quarterback-heavy conference. We're going to find out a lot about Miami over the next month in a critical conference stretch. That should tell us whether Richt's team should be ACC Coastal favorites or not.
2. Jim Grobe, Baylor (4-0): You may have strong beliefs about Baylor and whether it should even be playing football right now. You may also have equally strong beliefs about acting coach Jim Grobe and how he handles off-field situations. However, he was brought in to keep the Bears moving forward and that's what he's done so far with a 4-0 start. It's one thing to coast through a soft nonconference schedule, but a 35-24 win over Oklahoma State is a big deal. I remain skeptical about Baylor's Big 12 title chances as we get into the meat of the schedule, but for now, Grobe is doing what he was asked to do.
3. Justin Fuente, Virginia Tech (3-1): If only the Hokies could hold on to the ball. Virginia Tech leads the entire FBS with nine fumbles lost. Still, Fuente has Virginia Tech off to an otherwise great start. Tech has taken care of business against lesser opponents and charged out of the gates against Tennessee. Quarterback Jerod Evans is a lot of fun, too. However, the next few games (at North Carolina, at Syracuse, vs. Miami, at Pitt) will provide some good tests.
4. Tracy Claeys, Minnesota (3-0): Claeys wasn't a splashy hire, but he knows the program and might have been the best available choice to lead the Gophers in the wake of Jerry Kill's sudden retirement. It's tough to argue with 3-0 and the Big Ten West has some winnable games coming up for the Gophers.
5. Mike Norvell, Memphis (3-0): Memphis has played exactly no one through three games, but I'll be damned if the Tigers haven't looked great doing it. Surely, 51.7 points per game was what Memphis fans had in mind when Norvell took over for Fuente. Ole Miss will be a fine test to see just how good this Memphis team really is.
6. Jason Candle, Toledo (3-0): Matt Campbell (more on him later) left the Rockets in good shape, but Candle has done his job by winning his first three games. There are no quality wins yet, but beating a better-than-advertised BYU team would go a long way. Toledo looks like the early contender to Western Michigan in the MAC.
7. Dino Babers, Syracuse (2-2): By no means is Syracuse good yet, but the effects of Babers' offense have already started to make themselves known. The Orange average nearly 500 yards per game and Eric Dungey is the ACC's leading passer. Syracuse isn't going to contend for an ACC Atlantic title, but it's going to challenge a few teams to a shootout.
8. Kirby Smart, Georgia (3-1): The Bulldogs' record doesn't reflect how poorly this team has played through September. The three wins vs. North Carolina, Nicholls and Mizzou came by a total of 14 points, and the Dawgs got housed by Ole Miss. Running back Nick Chubb still isn't completely healthy, quarterback Jacob Eason is just a freshman and there are concerns heading into Week 5 vs. Tennessee. Smart's team needs to show up big-time.
9. D.J. Durkin, Maryland (3-0): The Terps are halfway to bowl eligibility after taking care of business in their first three games. A win over Purdue would alleviate some pressure as the schedule takes a difficult turn in October and November. We don't know much about Maryland yet, but the early returns have been good.
10. Chris Ash, Rutgers (2-2): Ash has a tough job ahead of him and going back to his old stomping grounds at Ohio State to face the Buckeyes in Week 5 will be a difficult game. But the Scarlet Knights gave Iowa all kinds of trouble in Week 4, meaning perhaps Rutgers isn't all that far away from being competitive.
11. Tyson Summers, Georgia Southern (3-1): The Eagles haven't lost much momentum with the departure of Willie Fritz to Tulane. Summers' team has taken care of business and put up some points on Western Michigan in a 49-31 loss. This team looks ready to compete for a Sun Belt title.
12. Barry Odom, Missouri (2-2): Mizzou's two wins over Eastern Michigan and Delaware State don't tell us nearly as much about this team as the 28-27 loss to Georgia. After four games, though, it's clear the Tigers are better at moving the ball on offense (569.5 yards per game) than they were a season ago. Efficiency is another story. Mizzou isn't great in the red zone and is one of the worst teams in the country in giveaways. Still, this is a potential bowl team.
13. Mike Neu, Ball State (3-1): The Cardinals have already matched their win total from 2015, so that's something to be happy about if you're a fan. Considering ex-coach Pete Lembo made a sudden move to join Maryland's coaching staff, this is about as good an outcome as Ball State could have asked for to start the 2016 season.
14. Jay Hopson, Southern Miss (3-1): The Golden Eagles orchestrated a major comeback against Kentucky in Week 1 and took care of business against Savannah State and UTEP. This is a team that could make some noise in Conference USA.
15. Willie Fritz, Tulane (2-2): The Green Wave don't have a signature win yet under Fritz, but they've come awfully close to taking down Navy and Wake Forest, which are a combined 7-0. Fritz's option-based offense is off to a good start and the Green Wave have a favorable enough schedule to reach bowl eligibility.
16. Scott Frost, UCF (2-2): Coming close to beating Maryland is the biggest indicator this program has already taken steps forward under Frost. After going winless in 2015, the Knights already look far improved under Frost.
17. Kalani Sitake, BYU (1-3): The Cougars aren't nearly as bad as 1-3 would indicate. That's the risk you run, though, when you play Utah, UCLA and West Virginia in consecutive games -- and those losses were decided by a total of seven points. It doesn't get much easier, either, with upcoming games against Toledo, Michigan State, Boise State and Cincinnati. Quarterback Taysom Hill has been able to stay healthy even though he continues to play fearlessly. That's a plus.
18. Will Muschamp, South Carolina (2-2): I'll give Muschamp this much: The Gamecocks haven't been a complete disaster, and based on the condition in which he found this team, they very well could be 0-4 and no one would have thought twice. Still, nothing cuts the brake lines on the Muschamp bus like a 17-10 loss to Kentucky. Had South Carolina won, bowl eligibility was a legitimate possibility. Now, it's a bigger stretch.
19. Scottie Montgomery, East Carolina (2-2): The Pirates had won their last six games against ACC opponents until Virginia Tech put an end to that streak in Week 4 with a 54-17 victory. A loss to South Carolina has taken some steam away from Montgomery's debut as well. Quarterback Philip Nelson may be one of the better players no one is talking about, but this team is trending in the wrong direction.
20. Seth Littrell, North Texas (2-2): The Mean Green ... actually ... aren't ... terrible. Granted, the wins are against Rice and Bethune-Cookman, the former of which sounds like it goes in the latter for three hours on low heat, but it's a start. Littrell's fingerprints are all over this offense, which is a good sign.
21. Bronco Mendenhall, Virginia (1-3): Finally notching a win (vs. Central Michigan) keeps Mendenhall from ranking even lower. The Hoos got off to a terrible start to the year and a 13-10 loss to UConn felt like a back breaker. Virginia nearly blew it against the Chipppewas by conceding a 28-0 lead, but surged again in the fourth quarter. Still, Mendenhall has a big hole to climb out of in his first year away from BYU.
22. Lovie Smith, Illinois (1-2): Things went south in a hurry for Smith. Illinois looked unstoppable against Murray State (I know, I know), but the Illini are now coming off double-digit losses to North Carolina and Western Michigan. Granted, WMU is good enough to beat a lot of Power Five schools, but it's clear Smith has a long way to go before turning this thing around.
23. Frank Wilson, Texas-San Antonio (1-3): The Roadrunners gave Arizona State everything it could handle earlier in September. It was an admirable effort, but it was a loss all the same sandwiched in between two other losses to Colorado State and Old Dominion. The lone win is over Alabama State.
24. Matt Campbell, Iowa State (1-3): Campbell was lauded as a terrific hire for the Cyclones, but his time in Ames has gotten off to a tough start. The saving grace was beating San Jose State 44-10 when the Spartans were without their starting quarterback. Have to get the wins somewhere, though. There are pieces on offense for Campbell to work with, but this is a tough rebuilding job -- especially with the Big 12's round-robin schedule -- that's going to take a while.
25. Nick Rolovich, Hawaii (1-3): It's hard to get too up on a team whose lone win is against UT-Martin, but there have been some early signs from Hawaii that better days might be coming. Chiefly, the run game looks improved and something on which this offense can lean throughout the season.
26. Matt Viator, Louisiana-Monroe (1-2): Losing a close one to Georgia Southern is a difference-maker. The Warhawks could be 2-1 with its sole loss being to Oklahoma. Instead, ULM has a single win over Southern. Heading to Auburn isn't exactly the best way to start digging yourself out of a hole, either.
27. Everett Withers, Texas State (1-2): You can't hold it against Withers too much for losing to Arkansas and Houston. Getting outscored by 100 total points in those two losses is less than ideal, though.
28. Mike Jinks, Bowling Green (1-3): Jinks has had a incredible rise in the college coaching ranks. Four years ago, he was coaching Cibolo Steele High School outside San Antonio. But Bowling Green was a 10-win team a year ago. Under Jinks, the Falcons have one win -- 27-26 over North Dakota in which Bowling Green won only because UND failed on a two-point conversion -- and gave up 77 points to both Ohio State and Memphis.
29. Clay Helton, USC (1-3): First-year athletic director Lynn Swann wouldn't make a midseason coaching change, would he? The start of the Helton era hasn't manufactured any confidence that this program will be better than it was under Steve Sarkisian or Lane Kiffin; if anything, it might be worse. It's not even that the Trojans are 1-3. It's that they were outclassed by Alabama and Stanford. That shouldn't happen with the kind of talent USC has.
CBS Sports HQ Daily Newsletter
Get the best highlights and stories - yeah, just the good stuff handpicked by our team to start your day.
Please check the opt-in box to acknowledge that you would like to subscribe.
Thanks for signing up!
Keep an eye on your inbox for the latest sports news.
Sorry!
There was an error processing your subscription.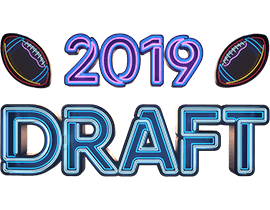 Get Live Coverage of Every Pick
The Sooners wanted to guarantee an evening kickoff time by moving the game

It's the second time this week football has been mentioned

The CFP is holding its annual meeting this week in Irving, Texas
Plenty of mid-round picks become solid NFL players, and I think these could be the next se...

Ford played in nine games for the Bulldogs in 2018

If Hoffman files a different waiver, his path toward NCAA eligibility may be an easier one