New lawsuit takes aim at cost-of-living stipend in college sports
Former West Virginia offensive lineman Nick Kindler sues the NCAA, SEC, ACC, Pac-12, Big Ten and Big 12 over cost of attendance.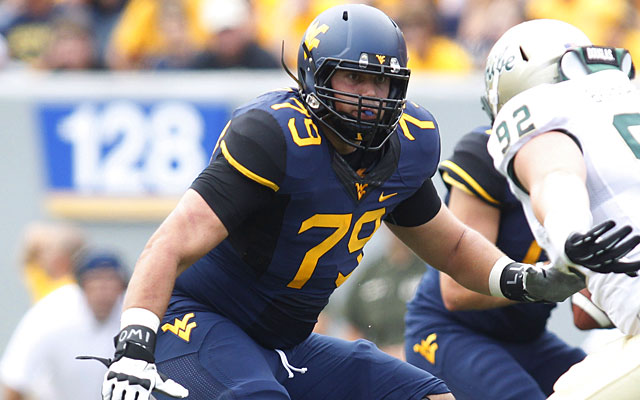 The current attempt by the major conferences in college sports to provide cost-of-attendance stipends for players illustrates additional "price-fix signaling," according to a new lawsuit filed Friday.
Nick Kindler, a West Virginia offensive lineman from 2009 to 2013, is the latest athlete to sue the NCAA, SEC, ACC, Pac-12, Big Ten and Big 12 over the gap between athletic scholarships and universities' actual cost of attendance listing.
Kindler's suit in the Northern District of California is partly an attempt to strengthen the positioning of his law firm, Hagens Berman Sobol Shapiro, to become lead counsel in California over multiple scholarship cases. The U.S. Judicial Panel on Multidistrict Litigation has a May 29 hearing on where to place several related lawsuits.
The Kindler lawsuit asserts that the power five conferences are still acting as a "cartel" in ongoing cost-of-attendance discussions and wants an antitrust compliance monitor appointed.
"Even as the Power Conferences acknowledge the anti-competitive effect of their current membership in the NCAA by explaining NCAA rules prevent them from offering the highest compensation they think the market demands, they simultaneously seek to form a cartel among themselves," the lawsuit states.
The complaint says the Pac-12 this week "engaged in blatant cartel conduct: price-fix signaling, by stating its desire to fix prices with all members of the other four Power Conference Defenders."
Pac-12 presidents this week sent a letter to their colleagues in the other four major conferences calling for them to make significant changes to benefit athletes. The 10-point plan outlined in the Pac-12 letter, which was first reported by The Associated Press, includes making scholarship awards up to the full cost of attendance. Pac-12 officials did not immediately respond to a request for comment about Friday's lawsuit.
Lawyers for Alston and Kindler have suggested different alternatives to handle cost of attendance. One would be to be allow the power conferences to compete among themselves and other FBS conferences over financial-aid terms.
"Such incremental competition would allay the fears (even though unfounded) of those that decry the repercussions of an instantaneous transition to a wide-open free market, with every school making its own independent decisions," the Kindler lawsuit states.
The lawsuit adds: "The Power Conference Defendants appear to be thriving. Each is run by smart business executives capable of negotiating billion dollar television deals. Surely each of them can independently (without the need for collusion across the Conference Defendants) determine a method to compete regarding grants-in-aid, while still preserving consumer interest in its own brand of Major College Football."
Jon King, the lead attorney for Kindler and Alston, acknowledged the lawsuit was filed in part to strengthen positioning for next week's judicial panel, which involves the jurisdiction for high-profile sports attorney Jeffrey Kessler's lawsuit. Unlike other scholarship cases, Kessler's lawsuit doesn't focus on closing the cost-of-attendance gap, but rather seeks an open market for schools to pay athletes beyond scholarships.
The NCAA and the conferences want the Kessler and Alston cases to be separated, but if they are centralized, they want them in Indiana, home of the NCAA office. Kessler wants the cases separated, but if centralized, he wants them in New Jersey. Alston's lawyers want the cases centralized in California.
"Nick Kindler is from Pennsylvania and it's important to demonstrate that athletes are willing to have the case in California," King said. "We want to show that we're staying on top of the issues and not resting on the Alston complaint. This is unusual in that every day there's a new development in the press."
Cristobal's first game at Oregon ended the same way Chip Kelly's did

Conner Manning and the Panthers dominated the Hilltoppers in the Cure Bowl

You can only go to the well so often before it dries up
The Trojans beat LSU earlier in the year and now have their first 11-win season as a FBS t...

Saban has never been a fan of the early signing period and made it clear that hasn't chang...

Paul Tyson is a three-star quarterback prospect for the 2019 recruiting class