New Mexico Bowl: Arizona 49, Nevada 48
Matt Scott completes his last eight passes to lead Arizona's comeback win against Nevada in the New Mexico Bowl.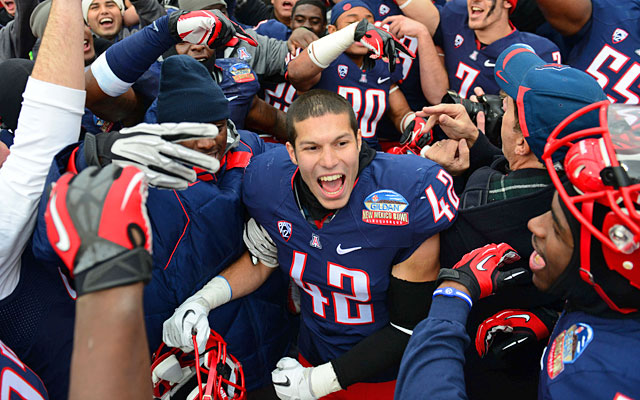 Arizona gets the bowl season off to a rollicking start with its comeback victory over Nevada. (US Presswire)
ARIZONA WON: Matt Scott got bowl season off to a good start, completing his last eight passes to help Arizona (8-5) overcome a 13-point deficit in the final 1:48 as the Wildcats beat Nevada 49-48 in the New Mexico Bowl on Saturday. Scott's 2-yard slant to Terrence Miller with 19 seconds to play was the difference in the thriller. The Wolfpack (7-6) piled up 658 yards of total offense and a bowl-record 39 first downs and seemed to have the game in hand late, up 48-35, but Scott guided his team 75 yards on a drive to cut the margin to six before the Wildcats recovered an onside kick to set up the improbable finish. Scott threw for 382 yards and three touchdowns while All-America running back Ka'Deem Carey had 172 yards and three scores to help overcome a magnficient performance by Nevada quarterback Cody Fajardo. Fajardo compiled 256 yards passing and 140 yards rushing and four total touchdowns. Wolfpack running back Stefphon Jefferson added 180 yards and two scores. The two teams combined for 1,237 yards and 70 first downs. It was Arizona's first bowl win since beating BYU in the 2008 Las Vegas Bowl.
WHY ARIZONA WON: When the chips were down, the veteran Scott made the big plays necessary to keep his team from folding. He went a perfect 5-for-5 on Arizona's penultimate drive and then, after being gifted with the ball at midfield following an onside kick recovery, he cooly completed his next three passes, including the game-winner. The key throw might've been a 21-yarder to Austin Hill that gave his team a first down at the Wolfpack 2-yard line with 23 seconds to play. By going 8-for-8 for 87 yards and two scores to finish the game, Scott made up for some early mistakes and finished his career in style.
WHEN ARIZONA WON: This writer was ready to put this story to bed early until Scott's late heroics made a mockery of that line of thinking. With both teams moving the ball at will, this game really wasn't in the bag until Marquis Flowers intercepted Fajardo's last pass with 17 seconds left to play. Otherwise, there was every reason to expect that the Wolfpack would possibly march down for a field-goal attempt. It wasn't so much that Nevada failed in the end -- it just ran out of time.
WHAT ARIZONA WON: With the wild victory, the Wildcats capped a solid first season under Rich Rodriguez, winning five of their last seven, including a victory over USC. With Carey, the nation's leading rusher, returning for at least one more year, the future looks bright, or at least a lot brighter than it would've been if the Wildcats had dropped this game to Nevada.
WHAT NEVADA LOST: The Wolfpack played well and dominated at times, but Chris Ault can only ask "What if?" after his team let this one slip away. This is the third one-point loss for Nevada this season, which means the Wolfpack were thisclose to finishing 10-3 instead of 7-6.
A magic trick turned into a scholarship surprise for this Texas lineman

Michigan's notorious secrecy is getting called out again

Key was named a 2017 CBS Sports Preseason All-America selection this week
Our bowls expert looks at the toughest -- and weakest -- nonconference schedules in the na...

The new uniforms will be worn on Oct. 28 at Kyle Field vs. the Bulldogs

Kiffin's Owls have added myriad troubled players since he took over in Boca Raton