New Mexico RB Gongbay facing rape charges, suspended indefinitely
New Mexico indefinitely suspended running back Crusoe Gongbay after the junior turned himself into police on Monday night.
• 1 min read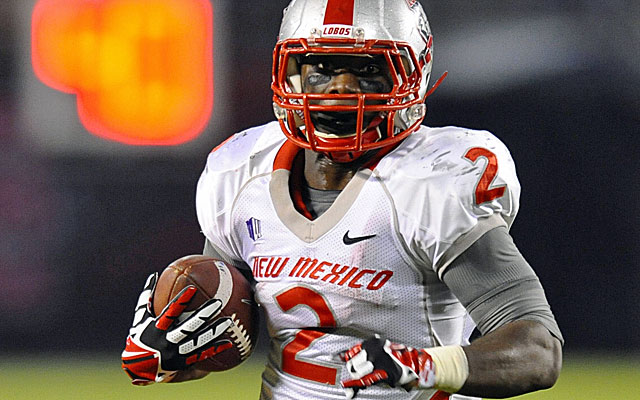 New Mexico running back Crusoe Gongbay is facing rape charges and has been suspended indefinitely from the team after turning himself into police on Monday night.
KOB-TV reports that Gongbay and another man who is not a student each face two counts of second-degree criminal sexual penetration and one count of kidnapping.

The charges stem from April 13, when a female student reported she was the victim of sexual assault. Investigators say they consulted with the district attorney's office before requesting arrest warrants.
"We are aware of the allegations involving Crusoe Gongbay" head coach Bob Davie said in a statement released by the school. "Once this process is complete and all the details have emerged, we will handle the outcome appropriately. As this is an ongoing situation, we will not be able to comment any further at this time."
Crusoe played in all 12 games for New Mexico in 2013 and finished the season ranked second among running backs with 592 yards on 97 carries (6.10 yards per carry). He, running back Kasey Carrier and quarterback Cole Gautsche helped New Mexico field a rushing attack that ranked in the Top 10 nationally. With Carrier gone, Crusoe had an opportunity to have a big year in 2014. 
The movie will zero in on former Penn State coach Joe Paterno during the Jerry Sandusky sc...

Bidding for Salaam's trophy, which the auction house says was obtained legally, ends Satur...

Locksley has been the offensive coordinator at Illinois and Maryland during his coaching c...
Many NFL-eligible juniors ignore advice provided by the league and risk going undrafted each...

Snyder died in Manhattan, Kansas, on Wednesday

Locksley joined Alabama's staff in 2016