New Orleans Bowl Primer: East Carolina vs. Louisiana-Lafayette
The Pirates take on the Ragin' Cajuns in the Superdome on Saturday.
There are 35 bowl games. Here's everything you need to know about one of them.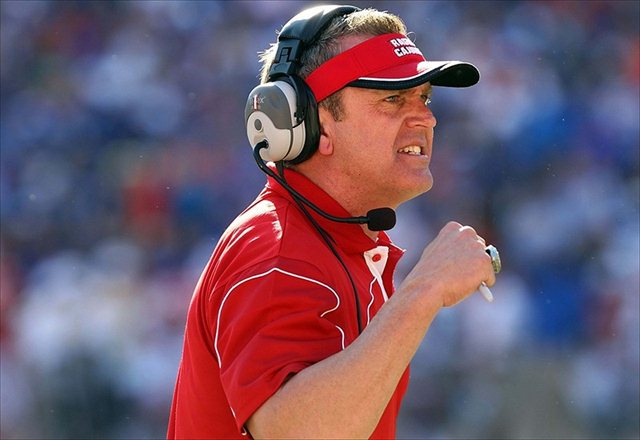 Mark Hudspeth has taken the Ragin' Cajuns to two bowls in two years. (US Presswire)
---
East Carolina Pirates (8-4)

The good news for co-C-USA East champion ECU is that 2012 was the best season of Ruffin McNeill's three-year tenure by two clear wins, thanks to some long-awaited balance after alternating seasons of terrible defense (2010) and iffy offense (2011). The bad news is the Pirates' 8-4 record might be more a reflection of a schedule ranked 123rd in Division I by Jeff Sagarin's computer ratings -- below several FCS teams -- than any actual improvement. Beating a quality Ragin' Cajun team in a virtual road game would be the Pirates' greatest accomplishment of the season by a wide margin.
At Their Best. In a related story, the performance high point of the Pirates' regular season was ... um ... probably the 48-28 home win over 5-7 Houston. Shane Carden threw for 305 yards and four first-half touchdown passes while the Pirate ground game churned out 245 yards of its own; for a team that frequently made its living off big plays that swung tight games (only two of the Pirates' seven C-USA wins came by more than 10 points), a 550-369 advantage in total offense over the defending C-USA West champions represented a rare comprehensive victory.
At Their Worst. A home date against a Navy team they'd upset in 2011 was far and away ECU's best shot at a win over a fellow bowl team in 2012, but the Pirates didn't come close: the Midshipmen shredded McNeill's defense for 512 rushing yards (the fifth-highest total of the FBS season) in a 56-28 laugher. ECU finished the year 0-4 vs. other bowl teams, losing by an average of 27 points.
Headliner. ECU's preference is to spread the ball around in their dink-and-dunk-heavy passing game -- eight Pirates finished with 20 or more catches -- which makes it even more impressive that sophomore first-team All-C-USA wideout Justin Hardy finished with 83 receptions, 52 more than the next-closest Pirate. The 1,046 yards and 10 TDs are each more than double the team runner-up, too.
---
Louisiana-Lafayette Ragin' Cajuns (8-4)

In Week 7, it looked like Mark Hudspeth's magic had maybe started to run out: the Cajuns were 4-3 and coming off back-to-back losses to North Texas and Arkansas State, the latter a 23-point drubbing on the Cajuns' home turf. Instead, ULL turned around and pulled off one of the stunners of the Sun Belt season, thrashing archrival ULM 40-24 on the road, kickstarting a 4-1 run to end the season in which the Cajuns averaged a healthy 35.6 points despite playing (and losing in heartbreaking fashion to) Florida. The end result: two New Orleans Bowl berths in two years for a program that had never been to one before.
At Their Best. The only 2012 Ragin' Cajun performance most college football fans will remember is the 27-20 loss to the Gators, one in which ULL led 20-13 in the fourth quarter before missing out on overtime due to a last-second blocked punt. But the one most treasured by Cajun fans will no doubt be the 16-point beatdown of the Warhawks, one that saw quarterback Terrance Broadway break out to the tune of 373 passing yards (11.7 per attempt!) and five total touchdowns. All told, the Cajuns gashed ULM for 607 yards while holding Kolton Browning and Co. to 17 points through three quarters.
At Their Worst. North Texas won only four games in 2012, but one of them came on a Tuesday night national TV special against ULL. The Cajun front seven seemed unprepared to deal with the Mean Green's power running game, giving up a whopping 242 yards on the ground -- 524 total -- and watching a 13-3 third-quarter lead evaporate into a 30-23 loss.
Headliner.  Broadway might be the team's MVP and kicker/punter Brent Baer -- hero of the 2011 New Orleans Bowl win over San Diego State -- the team's best player at his position, but keep an eye on first-team All-Sun Belt senior defensive end Emeka Onyenekwu. The team leader in tackles-for-loss (12.5) and runner-up in sacks (6.5) is the Cajuns' most disruptive defensive player and could swing the game single-handedly if he can consistently get to Carden.
What: New Orleans Bowl
When: Saturday, Dec. 22, 12 p.m. ET, ESPN
Where: Mercedes-Benz Superdome, New Orleans
Weird: Before the division-winning likes of UCLA and Georgia Tech got NCAA waivers to go bowling with a losing record, North Texas broke the seal for the Sun Belt, playing the inaugural New Orleans Bowl in 2001 with a 5-6 record -- and, more important, the Sun Belt championship.
Line: ULL -5
Prediction: The Pirates haven't won a bowl game since 2007 and clearly have something to prove, while the Ragin' Cajuns are playing the same bowl they played last year at 11 a.m. local time. That should be motivational-edge enough for ECU to keep things close, but the Pirates having been outgained on the year (by a net .2 yards per-play) against their hapless schedule, which strongly suggests that the Cajuns are the better team.
Louisiana-Lafayette 30, East Carolina 26 
The movie will zero in on former Penn State coach Joe Paterno during the Jerry Sandusky sc...

Bidding for Salaam's trophy, which the auction house says was obtained legally, ends Satur...

Locksley has been the offensive coordinator at Illinois and Maryland during his coaching c...
Many NFL-eligible juniors ignore advice provided by the league and risk going undrafted each...

Snyder died in Manhattan, Kansas, on Wednesday

Locksley joined Alabama's staff in 2016