New Penn State OL coach ready to battle child sex abuse
New Penn State O-line coach Herb Hand is ready to build off the work he did back at Vandy and make an impact helping families affected by child sex abuse in a community that's been in the national spotlight in the wake of the Jerry Sandusky scandal.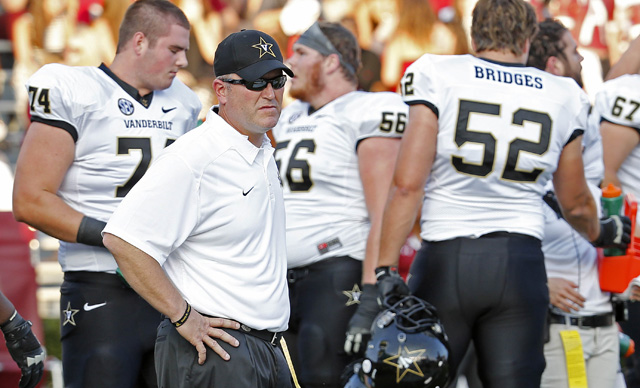 The only time the life of a college football assistant coach can be even more nerve-wracking than in-season is in the weeks after the season. That's when the Silly Season heats up and where families often get uprooted as the coaching carousel kicks into high gear. Herb Hand was on his seventh coaching stop in a 24-year career. The Vanderbilt Commodores had just won another bowl game to make it back-to-back 9-4 seasons as the former SEC doormat had notched another Top 25 finish. Hand, Vandy's O-line coach, loved his job and loved living in Nashville. So did his wife and three kids. But then, with Hand on the road recruiting, the rumors swirled that his boss, James Franklin might be in line for the Penn State coaching vacancy.
Could Franklin get it? What would that mean for Hand? Would he have a shot to be the new Vandy head coach? Would he go with Franklin to Penn State? Would he be able to stay in Nashville?
Another thought came into Hand's mind about a possible move to Penn State: The 46-year-old assistant had spent the past year working with a special cause in Tennessee, an organization called Our Kids that deals with families and children affected by child sex abuse. A big part of why it means so much to Hand is rooted in the tragic child sexual abuse scandal involving Jerry Sandusky, the former Penn State defensive coordinator who used his position as a coach to gain access to the kids. As much as the idea of getting to run his own football program at Vandy appealed to him, the chance to coach at a storied program like Penn State, and also aid in the healing of a community that had been battered by such a scandal, resonated with Hand.
"I don't believe in coincidence," Hand says. "I'm certainly not a saint, But I have strong faith and I do believe God has a plan for everybody and they are supposed to be where they're supposed to be."
Franklin did land the Penn State job. Hand interviewed for the Vandy job, but the school ended up hiring Stanford assistant Derek Mason, who offered the VU line coach the chance to stay. Hand, though, wanted to be loyal to Franklin, who had rehired him three years earlier at Vandy when the staff had been let go. He also was tempted by the prestige of the Nittany Lion program. "This is a special place," Hand says. "You can win the whole thing here. It's been done before here."
There was also the chance, Hand believed, that he could make a difference in the local community.
"My experiences with Our Kids certainly helped prepare me to help here," Hand told CBSSports Monday night, adding that he's been approached by about a half-dozen groups looking to enlist him. His first event is Saturday in Scranton, joining former Nittany Lion QB Matt McGloin in "Tailgate for Kids" a fundraiser benefitting the Children's Advocacy Center of northeastern Pennsylvania.
As Hand gets acclimated to his new team after wrapping up the 2014 recruiting class, he's also begun to gain a better understanding of the environment that has formed in the wake of the Sandusky scandal where many non-profit, grassroots organizations have sprung up.
"Obviously, there's a lot of angst and pain, and scars that are in this town and region," he says. "We want to be very respectful of that and we want to make a difference here."
Hand knows the spotlight and the sensitivity around Penn State is much stronger nationally than it was in Nashville about this subject, so it'll afford him more of an opportunity to get the message out to more folks far beyond the state's borders. Hand also realizes he needs to be mindful in navigating political agendas that may be connected to some grassroots organizations.
"I know some of these organizations have their own plans, but what's more important to us is to make sure that we're in this thing to watch over children. It's also important to make sure that everybody's pulling the rope in the same direction.
"The Jerry Sandusky case was the most visible in sports, but he isn't the only coach who ever put on a whistle and used his position to gain access to kids. It wasn't the only case and it didn't stop there. I'd bet just about every day in this country someone, somewhere is getting arrested for child sexual abuse. And those are just the ones that are getting reported. The even scarier part is you know that there are so many more that aren't getting reported. You have to be vigilant as a parent, as a coach. This is not just a Penn State problem. This is not just a sports problem. This is a societal problem."
In addition to the events in Scranton on Saturday, Hand is meeting this week with the Centre County Child Advocacy Center about possibly joining the Board of Directors of the organization. Hand also is considering doing a fundraiser a few weeks before the Nittany Lions spring game to assist Bands 4 RAINN, the blue wristbands that say "Hope. Courage. Strength," and were created by then 12-year-old Kelsey Hirsch to promote sexual abuse awareness. He also has reached out to Our Kids executive director Sue Fort White. He wants to organize a symposium that'd be almost like a coaching clinic.
"We'd have some speakers come in and have experts in the field to talk about the hot button topics to encourage some discourse," he says. "I would love to get (former Cy Young winner and victim of child sexual abuse) R.A. Dickey to come in as the keynote speaker. It'd be incredibly powerful.
"The life and career of a coach is so often about timing and opportunity and the same holds true with this situation. We have a tremendous opportunity to make a difference to make a stand, and now is the time to seize this opportunity."
It may have been impossible for Sumlin to meet the expectations set for him in College Sta...

Some players are more easily replaced than others

The 2017 season is in the books, and several big-name stars are jumping early to the NFL
Love was second in the nation in rushing with 2,118 yards in 2017

It looks like Jennings is slowly making his way back to the Vols after being dismissed last...

Offensive coordinator Brian Daboll's departure to the NFL has left a void at Alabama