New playoff selection committee comes with plenty of clout
A national security adviser, retired lieutenant general, Rhodes Scholar and football royalty among those picking playoff teams. How can you argue?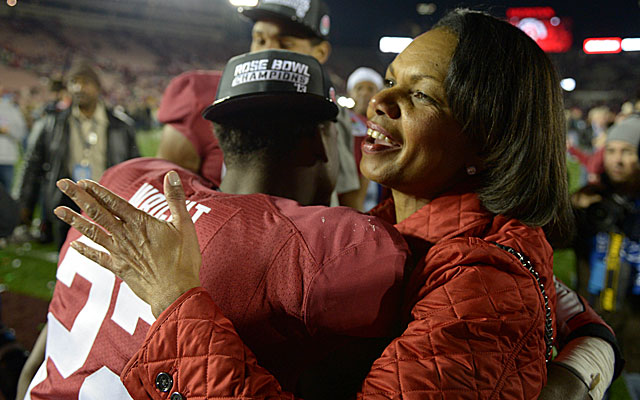 There was a moment 11 years ago that presaged the arrival of the college football's upcoming selection committee.
That much-anticipated committee will be seated next year to decide FBS's first four-team playoff.  But back in 2002, National Security Adviser Condoleezza Rice was walking through the bowels of Meadowlands Stadium following Notre Dame's season-opening win over Maryland. Her close friend, Tyrone Willingham, had just debuted with the Irish.
A smart-aleck reporter -- me -- asked Willingham if it was nice having "Condi" around as a fan.
"Doctor Condoleezza Rice is a dear friend," the coach said, his entire being projecting admonishment.
The reply was that icy. Fortunately there were no Secret Service agents around to wrestle me to the ground for abusing a formal title.
Let that be a little scene-setter for what is to come. The selection committee roster was all but outed last week when ESPN.com, the Associated Press and CBSSports.com revealed the majority of members.  
After reviewing the names of the 12 named to date, one word comes to mind: unassailable. This isn't a sports committee, it's a presidential cabinet. Rice is part of it. So is Willingham. Even in football coaching absentia, he projects an air of authority, knowledge and trust. So do Archie Manning, USC's Pat Haden, Wisconsin's Barry Alvarez and Tom Osborne.
There's a retired lieutenant general who was superintendent of the Air Force Academy. How do you ask Michael Gould, a man who has spent a life training men to go to war, why Boise State didn't get in?
As national security adviser, Rice spent part of her life outscheming terrorists. It seems almost inappropriate chatting her up on how Alabama outschemed Georgia.
You see what the BCS commissioners -- oops, now called Management Committee -- have done here, right? They've made what projects to be the most powerful body in amateur athletics Teflon. I'm sure there will be tough questions to ask these people in the future I'm just not sure how to ask them. After reading the roster, football just doesn't seem that important.
"You're going to be impressed with the members," BCS/CFP executive director Bill Hancock kept telling us.
He was right. These are people with chops, credibility, titles, medals. Some of them are practically football royalty. If you're against Archie Manning you either don't like 30 for 30 or football itself. Pat Haden is a Rhodes Scholar. Tom Osborne may be bathed in Big Red but he also served as a Congressman and ran for governor. And let's be honest, T.O. isn't going to be making an impassioned pitch to the committee for Nebraska's inclusion anytime soon.
I counted up the number of degrees from the known list and came up with at least 22. That doesn't count Gould's time with the Kellogg Graduate School of Management at Northwestern and John F. Kennedy School of Government at Harvard.
Hancock and BCS PR mastermind Ari Fleischer have worked this perfectly. This is the right and most righteous group to judge college football's biggest-ever event because it's not all about college football.  
Even if all the members don't know what they're doing in this unprecedented enterprise, they're going to fake it pretty damn well. Osborne knows more football than anyone I can think of. Alvarez has Wisconsin on a 23-year run that basically started when he took over as coach in 1990. Former Big East commissioner Mike Tranghese is one of the most respected figures in college sports.
Arkansas AD Jeff Long was the guy who fired Bobby Petrino. I'm not sure that would have been the case at a lot of schools. West Virginia AD Oliver Luck has done OK for himself even if you just count his son Andrew. Not to be outdone in that genetics department is Manning, just about the reigning patriarch of the sport.
Tom Jernstedt was with the NCAA for almost 40 years. As the No. 2 man in the hierarchy, he was the NCAA tournament. Different sport but the football committee is going to operate a lot like that men's basketball committee. The difference is the basketball group's decisions are largely accepted by public and media. All the committee does, really, is select 37 at-large teams and seed the field. If Iowa State doesn't get in, it's a 12-hour story and we move on.
The CFP committee is going to be deciding futures of programs, coaches, players and leagues. Their decisions, we've been told, are also going to be largely subjective. At least with the basketball committee conference champs get in automatically. A traditional metric, the RPI, gives us a rough outline of the field.
If you thought the BCS was subjective -- with its polls and computers -- get ready for some foot brawl. No matter how many degrees they've earned, the committee's objectivity is going to be questioned. The same query that defines the Alabama-Auburn rivalry in that great state is going to be asked in some form of the game's overseers.
"Who ya pullin' for?"
Well, no one technically in this objective endeavor. But everybody in this group has graduated from somewhere. That's why Hancock/Fleischer have done a spectacular job so far. Those degrees and any potential loyalties haven't come into question.
But here's another scene setter: Imagine the committee chairman emerging on Selection Sunday next year to tell us Stanford, Notre Dame, Washington and Ohio State are playing for the national championship.
Willingham has coached for three of those schools (Notre Dame, Washington, Stanford). Rice has a degree from Notre Dame and has worked for Stanford. Sure, there would be recusals. Folks would be asked to leave the room if their alma mater, former employer or favorite team were discussed.
Still, the hunch here is that the football guys -- Alvarez, Osborne, Haden, Manning -- will do the heavy lifting on team evaluation. A former Secretary of State, Rice, would actually make a perfect chairman. She'd be the face of the committee, the person that would meet the media to explain why Boise State got left out. She would project that unassailable air.
Rice wouldn't even have to say these words to the media: "Hey, don't get all strength-of-schedule on me. I've signed off on cruise missiles being shot down terrorist rabbit holes."
"But, Condi," we might ask, "doesn't it look strange that a former provost of, political science professor at and unabashed fan of Stanford is announcing that Stanford will play for a national championship?"
"That's Doctor Condoleezza Rice," a voice would shout from the back of the room.
Yup, it seems like there's going to be no problem at all with this committee.
These Jayhawks got a tremendous surprise they weren't expecting

Jovon Durante announced on Twitter he's headed to FAU

From Week 1 through the title game, everything runs through Atlanta this season
A concert is a nice way to break up preseason camp

Mills was arguably Georgia Tech's most important player coming into the season

Hugh Freeze's phone records reportedly show another troubling pattern for Ole Miss