New stars emerge with big day at Bay Area Nike Camp
A picturesque spring day in the Bay Area was the setting for the latest Nike Camp stop on Sunday at Contra Costa College, and plenty of the West's top football players came out to compete. While most highly regarded players met or exceeded expectations, the event allowed a few to emerge out of the nearly 400 at the camp.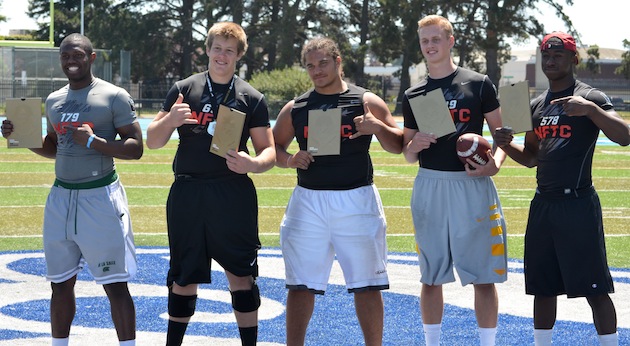 SAN PABLO, Calif. -- A picturesque spring day in the Bay Area was the setting for the latest Nike Camp stop on Sunday at Contra Costa College, and plenty of the West's top football players came out to compete. While most highly regarded players met or exceeded expectations, the event allowed a few to emerge out of the nearly 400 at the camp. One player who no doubt saw his stock rise was Tulare (Calif.) linebacker
Kevin Palma
, who beat out several other highly regarded recruits to earn MVP honors with a dominating performance in multiple areas.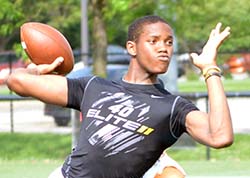 "It's been great, a high level of competition out here and just a bunch of high school athletes that got after it," Palma said. "Coming into the end I didn't really know if I was going to be MVP, but I had an idea that I would be up near the top at linebacker. I've been training real hard for this, and it's nice to see everything pay off."
The 6-foot-2, 235-pounder moved extremely well for his size and was close to unblockable in pass-rush drills against running backs. He more than held his own during passing drills as well, dropping quickly and smoothly enough to eventually earn an invite to "The Opening" later this summer.
"That was my goal coming in. I didn't care if I won MVP or not, I wanted this invite," he said. "I'm glad to have it."
Palma has offers from
Nevada Wolf Pack
,
Oregon State Beavers
and
San Diego State Aztecs
, but that short list is expected to grow as he's experienced an uptick in his recruitment over the past month or so.
"I have three offers, but I'm expecting a lot more to come in," he said. "I have interest from about eight other schools.
UCLA Bruins
,
Washington Huskies
and
Colorado Buffaloes
might be close (to offering)."
With the evaluation period and spring football winding down, Palma is still in a holding pattern in terms of sorting out his recruitment. While he has been hearing from schools more and more, the talented linebacker is simply looking to see what schools match up with what he wants in a college before making any decisions.
"I'm looking for an overall good coaching staff, and I don't necessarily want somewhere close to home," he said. "If it is closer and I like it, then it would still be one of my main choices."
Hutchings play noticeable as linebacker grabs Opening invite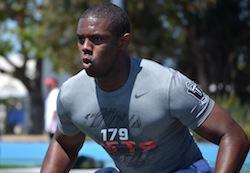 As one of the most highly recruited players at the camp, Concord (Calif.) linebacker
Michael Hutchings
knew the drill and probably could have gone through the day with a blindfold on. Having competed earlier in the spring at the LA Nike Camp, the four-star said he performed much better on a second go-around in what is essentially his backyard.
"There was a noticeable difference; I came out much improved," said Hutchings. "I felt I was a little rusty on 7-on-7, but I've been at spring ball working on one-on-ones and football drills that we do here. It was pretty obvious that it showed today. I came out here at a different speed than I was in LA. I also had a more focused mind-set and felt pleased with my performance."
Hutchings has been a staple on De La Salle's run of championships the past few years, and as you can expect from a Division I factory, he wasn't the only Spartan in attendance on Sunday. Fellow linebackers and highly regarded recruits
David Moffitt
and
Victor Egu
were at times side-by-side during drills and the trio kept up the competition at the Nike Camp that they normally have in practice.
"It's definitely fun because if you're not the first one to the tackle among us, you're not going to get it," Hutchings said. "It's a competition with everything we do on the field, and we have to do it the best. It's not like any one of us stands out at linebacker, you have three Division I linebackers right there. It's a competition every play, and you have to outperform each other."
One of the highlights of the day was Hutchings facing off against fellow four-star and recent
Southern California Trojans
running back pledge
Justin Davis
. Although the back got the better of the 'backer during pass rush drills, it was a notable rep for all involved.
"I know everybody was happy to see that; that's why I did it," Hutchings said with a sheepish smile. "Justin is a physical back, even for his size. I know Ty Isaac committed, and he's bigger, but Justin is more physical. That definitely showed during the one-one-ones. People say we could be teammates, and that's a possibility, we'll see."
The 6-foot-2, 215-pounder has well over 25 offers from schools across the country but he has been narrowing down his list as of late. While most consider USC to be his leader, Hutchings is about to squeeze in some unofficial visits over the comings weeks before making his commitment public.
"I'm about to get some visits in," he said. "I should be at Washington on June 1st. I'll probably get an
Oregon Ducks
visit in somewhere in there. I could be making a decision sometime after that, I'm not sure.
"I can visit some (non-Pac-12) schools on official visits because that's easier. I've been talking to
Oklahoma Sooners
heavily, they're in need of linebackers and Coach (Tim) Kish and Coach (Mike) Stoops came from
Arizona Wildcats
so I'm familiar with them.
Notre Dame Fighting Irish
, our other guys are being recruited by them and were offered this past week and that could play a part in it also."
Ideally however, a school will standout enough to make a pick before the season so that Hutchings can focus on winning yet another state bowl game, this time as a senior. Coming out of spring ball the past few weeks has refocused the linebacker's team-first philosophy and made that priority number one this fall.
"I want to go into the season and play football," he said. "I want to focus on my team and be done with the college decision. I've been in the recruiting process for a while so I've gone through everything and experienced it all."
Though he was a tad stiff at times at the Bay Area Nike Camp, Hutchings still played to his talent level and was extended an invitation to 'The Opening' later this summer. The chance to compete against some of the best players in the country was something the top-100 linebacker had on his wish list and, thanks to his solid play, will now have a chance to do.
"It was something that I wanted and was waiting for, really," said Hutchings. "I'm glad I came out here and got it. I'm going to go up there and compete with the top 150 guys. The rankings are going to be exposed, I guess you could say, and we're going to earn our rankings and show that what I'm about. Everything's going to be up in the air once we go up there."
Davis delights after making USC decision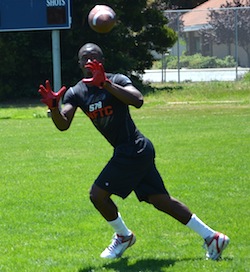 Some players tense up with all of the pressure and eyes on them at some of the Nike Camps but if there was one relaxed face among the running back group, Stockton (Calif.) back Justin Davis, who was certainly calm, cool and collected while going through drills. Having recently made his commitment - he was sporting a big USC hat before and after the competition - and secure in where he stacked up nationally, the top recruit was ready to show off what he could do even though he didn't have anything to prove.
"It was definitely a fun time," Davis said. "I've been waiting to compete like this for a long time. Just getting out here it feels good."
One of the most physically impressive players in the group, Davis took reps on multiple sides so he could run different routes and catch passes from different quarterbacks. The 6-foot-1, 195-pounder also excelled at the pass protection drills against linebackers and was certainly looking forward to facing off against a few of the top players in the West.
"Michael Hutchings, I wanted to go up against him and did a couple of reps blocking," said Davis. "It was nice and fun to do."
Having committed to the Trojans this week, Davis ended months of speculation about where he would go to college. Though it seemed that USC was the frontrunner for sometime, the tailback revealed that he had actually been a part of the exclusive recruiting class for a while before making his decision public on Thursday after spring practice.
"I really committed to them the first day coaches were able to talk," he said. "I just wanted other college coaches to come out and see my other teammates. USC was a perfect fit for me, the combination of athletics and academics is like none other." 
Davis was the second of two gifts for running backs coach Kennedy Polamalu last week after Joliet (Ill.) five-star back
Ty Issac
committed to USC two days before. While some players wouldn't want to go to a school that just picked up someone as highly touted as Isaac is, Davis said the two have already discussed tearing things up as teammates.
"We both have talked, and we both think it's a good thing," Davis said of the pledges. "It's competition, so you don't slack down because you know a guy could take your spot. We think we can be that one-two tandem and hit them hard."
The Nike Camp also offered Davis the chance to catch passes from his future quarterback,
Max Browne
. The two hooked up a few times during one-on-ones and both think that the USC class is one filled with special players.
"He's part of the family now. We're all commits; we're all together. It's going to be great when we all get in there next year," Davis said. "This could be one of the first classes where there are no three-stars and we get all four- and five-stars. We're going to get all high-quality players because we know we only have 15 scholarships and we're going to get the best at each position."
Because he just made his pledge public, Davis hasn't quite turned from recruit to recruiter for the Trojans. While does plan on doing so, he hasn't been making the calls and texts like several others in the class have.
"I've been talking to a few people and getting their ideas on USC, nothing too hard," he added.
Davis was also invited to "The Opening" on Sunday.
Hunt leads strong offensive line performance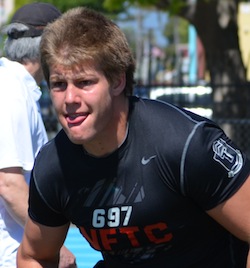 On paper, the Bay Area Nike Camp figured to be about even in the trenches and, if anything, the defensive line would have the slight edge during one-on-ones. Things were a bit different after the snap as the offensive linemen put on quite the show, led in part by MVP and Corona (Calif.) tackle
Cameron Hunt
.
"It was a great experience to come out and compete, work hard and learn some more techniques," Hunt said. "Overall I became a better player."
Five players, including Hunt, held offers along the line, but the 6-foot-4, 270-pounder was not the most highly touted coming into Sunday. That changed, of course, after a terrific day of one-on-ones where he stonewalled opposing linemen with quick feet and good use of his hands to keep them away from the quarterback.
"It kind of put it on a pedestal, (the coaches) saying it was one of the best O-line groups they've ever seen," he said. "For me to get MVP, it means a lot to me. I'm glad that I've been training so hard and it's starting to pay off."
In addition to the MVP metal, Hunt also took home a golden ticket to "The Opening" at Nike Headquarters in Oregon and the chance to actually put on pads and go against some of the top defensive linemen country.
"I'm real happy and excited about 'The Opening,'" he said. "I want to go out there and compete and do my best."
Hunt has around 10 offers from schools, mostly along the West Coast. With plenty of coaches coming through his high school the past several weeks, the big tackle still feels like his recruitment is about to pick up with some major offers coming after some individual camps this summer.
"There's offers that have come in but I know there are schools out there still looking at me like UCLA,
Stanford Cardinal
, USC and (others)," said Hunt. "They are seeing how I develop, if I get bigger, stronger. Those schools I'm looking at and kind of waiting on that. If nothing happens, I have the offers I have from some great schools."
Because he's waiting on a few schools to offer, Hunt doesn't have a firm idea of when he wants to make a decision.
"Right now I think it might be the summer, maybe make a commitment before the first game," he said. "Or I could wait it out and take a couple of official visits and then commit during the season."
The top tackle isn't planning on taking an official visit to schools nearby like UCLA and USC but will probably take visits to
Boise State Broncos
, Colorado and
Arizona State Sun Devils
- no coincidence considering the latter three are right there on his list.
"Colorado, Boise State and Arizona State are definitely the front runners right now," he said. "It's kind of a big deal (to stay close) because I want to have my parents see me play. If I stay out West, they can see me play more often, so I'm thinking I can play in the Pac-12."
Notes
- Seven players in total were invited to "The Opening" to run the total to 85: quarterback Max Browne, running back Justin Davis, offensive lineman Cameron Hunt, defensive tackle Elijah Qualls, linebacker Kevin Palma, linebacker Michael Hutchings and defensive back Hatari Byrd.
- MVPs by position were
California Golden Bears
commitment and quarterback Jared Goff, running back Matt Ballin, wide out Darren Carrington, offensive lineman Cameron Hunt, defensive lineman Misi Fainene, linebacker Kevin Palma and defensive back Kevin King.
- Among the quarterbacks, Max Browne wasn't as sharp as he was at the Elite 11 despite a noticeable drop off in the wind on Sunday. Jared Goff had a strong day and seemed to have more zip on his throws than yesterday, in addition to better accuracy. Johnny Stanton made some nice throws and threw a tighter spiral than he did on Friday as well. Missouri commitment Trent Hosick was a surprise and threw well too. He has a strong arm and when he takes his time can spin the ball accurately to just about every spot on the field.
- Darren Carrington certainly earned his MVP award as a wide out and showed off soft hands and solid route running. He was also able to make adjustments on the fly and handled corners very well when they pressed. Trent Irwin is a guy who has impressed at previous camps and 7-on-7s who also had a very strong day. One of the coaches thought the 2015 prospect was college-ready, and based on his routes and hands, it's hard to argue.
- It was Cameron Hunt and then everybody else along the offensive line, and that's saying something given how good of a day the group had. Nick Whitton was also a guy who handled the interior defensive tackles very well and was one of the few centers to get a decent snap off. Kenny Lacy was one of the top guys expected to come, but he didn't show, and tackle Aaron Cochran seemed a step slow all camp long. The latter is a big guy but doesn't have the drop step to get to speed rushers and might end up as a guard at the next level.
- Cornerback Johnny Johnson did compete at the camp but was still limited in what he could do because of a shoulder injury. He's been rehabbing and working his way back but still doesn't know when he'll be cleared 100 percent. He looked good during the Sparq drills section early in the day and showed off a quick change of direction and very good feet.
Byron Murphy reportedly sustained a foot fracture in practice

GoDawgs247 previews big-time college football recruits headed to Athens

Dig below the surface and you'll find a lot of intriguing matchups on the slate this Satur...
SportsLine tapped into its Vegas sources and found out pro bettors are all over No. 8 Michigan...

An early-season Big 12 game already has major conference and national implications

Top-ranked Alabama hits the road to take on upstart Vanderbilt in Nashville on Saturday