Now that the inevitable has gone down at Michigan, it's time to round up replacement names for Brady Hoke, who reportedly was fired Tuesday.
Considering where the program stands, interim AD Jim Hackett -- or whoever replaces him -- can't afford to whiff. Here are six names to watch:
Greg Schiano: The former Rutgers and Tampa Bay Bucs coach is interested. More than interested. He'd have to be. The Bucs gig didn't end well and Schiano is itching to get back in.
This would be a sort of gold-plated re-entry. Schiano fits the Michigan mold. He'll run a pro-style offense, play tough defense and bring some discipline to the program. Schiano would be a solid face of the program and could get the Wolverines back to some level of success. If he can recruit to Piscataway, N.J., he can bring five star recruits to Ann Arbor.
LSU coach Les Miles: There was a time I would have thought Crazy Les would leave for Michigan. Not now.
He knows he can compete for an SEC championship in any given year, even in the tough West Division. It just looks like Miles has it rolling at LSU for the foreseeable. What none of us can sense is how much indignation he harbors for AD Joe Alleva, who once threw him under the bus, and constant scrutiny from fans.
We do know the former Bo Schembechler offensive lineman loves Michigan. And he showed it again with this tweet before Michigan played Ohio State:
Geaux Blue!!.... Beat em in the Horseshoe!!!

— Les Miles (@LSUCoachMiles) November 29, 2014
One thing to consider: Miles might find it easier to win a conference title at Michigan than LSU. The difference being, when you win the SEC you play for a national championship.
49ers coach Jim Harbaugh: No one can predict what Harbaugh is going to do. He could be fired in San Francisco, he could get the Niners back in the playoffs, he could go to another NFL team.
The most likely outcome of a disappointing season is Harbaugh at least remaining in the NFL. He's too good a coach not to get another immediate job at the pro level. But, as mentioned, Harbaugh is unpredictable. If Michigan bull rushes with the proper schmooze they might just convince Captain Comeback to ... come back.
Until his situation is clarified, the Michigan search probably remains on hold.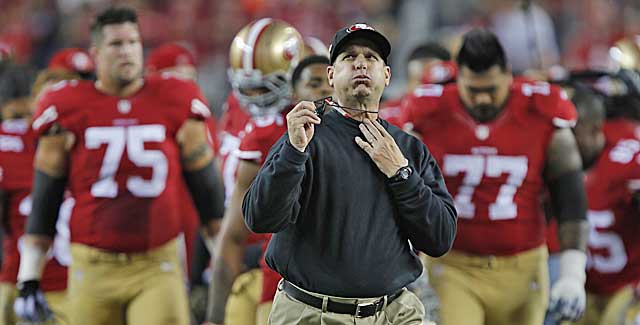 Oklahoma State coach Mike Gundy: He reportedly doesn't get along with his bosses at OSU. That's no guarantee things are going to be better at Michigan which you might have noticed is in a state of flux.
Gundy is an offensive wizard who knows how to run a program. However, his star has dimmed a bit since the Big 12 championship in 2011. Since then he's 23-14 overall, 5-8 in his last 13.
Former NFL coach Mike Shanahan: He's old(er), 62. He hasn't been a college coach since he was Florida's offensive coordinator in 1983. That's the reason his name has come up with the Gators, too.
It looks like Shanny will spend more time trying to elbow his way into an interview than getting calls from Jim Hackett. Shanahan is well accomplished, a Super Bowl champion, but the college game he left 31 years ago is totally changed.
Is he up to the task at a top five program?
LSU offensive coordinator Cam Cameron: The guy loves Michigan and Michigan would likely love him back.
Long before Cameron was an NFL coach (Dolphins, 2007), he had spent more than a decade on the Michigan staff (1983-93).
The warning sign here is the same as that of Miles. LSU's offenses have been clunky lately. That overshadows the job Cameron did with quarterback Zach Mettenberger last year. But LSU can run the ball and that fits the profile at Michigan.
Western Michigan coach P.J. Fleck: A long shot considering he's the youngest FBS coach, 34.
But that's also a reason Fleck is largely regarded as one the most talented, well-respected coaching prospects in the nation. He's 9-15 in two years with the Broncos but the team improved by seven games (1-11 to 8-4) this season.
Fleck's star has risen fast, from grad assistant at Ohio State to offensive coordinator at Northern Illinois. He is one of six FBS head coaches who has NFL playing experience. Fleck is believed to be the only FBS head coach born in the 1980s.