NFLPA's DeMaurice Smith: NFL players support college union
NFLPA executive director DeMaurice Smith writes that the movement to unionize college athletes has the pros' full support.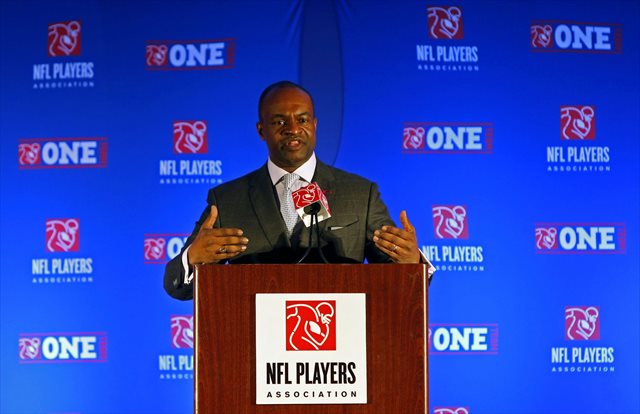 The bid by Northwestern football players to form the first-ever college athletes' union might have the approval of the National Labor Relations Board, but that hasn't exactly meant support for their cause has been universal, with opponents ranging from the NCAA and Mark Emmert to the Wildcats' own coach Pat Fitzgerald voicing their strident opposition.
But the College Athletes Players Association and leader Kain Colter will be happy to have the now-public support of the one union that arguably knows better than any other the issues with modern college football: the NFL Players Association. Writing at the Huffington, NFLPA Executive Director DeMaurice Smith wrote Tuesday that NFL players "stand firmly behind" Colter and the CAPA.
Smith's post, titled "The Truth About Kain Colter's Stand and Why NFL Players Support Him," argues that the NCAA and its proponents have offered a "classic bait-and-switch argument" that has taken the focus away from the actual issues raised by the CAPA -- "full medical coverage for injuries sustained, limitations on practice time, scholarship shortfalls and rules to make promised education a reality" -- and onto the pay-for-play debate.
"The response of the NCAA, the university president and people who don't want to hear Kain and his teammates is essentially, 'Shut up and play,'" Smith writes. "Current and future college athletes -- and especially their parents -- should stand behind, support, and be proud of a young man who decided not to just 'shut up and play.' Kain Colter has met the challenge, and we know others will too."
Whether Colter's and his teammates' movement succeeds or not remains very much a matter of debate and speculation -- current Northwestern players have been publicly ambivalent about the union ahead of the team's April 25 vote to unionize or not, and the NLRB's original ruling could still be overturned -- but there's little doubt that the NFLPA will be a highly, highly welcomed ally in the CAPA's fight. 
The Tide, as usual, are dominating everything already

Jim McElwain won't rule out Luke Del Rio, Feleipe Franks or Malik Zaire as the starter

The three rule changes for 2017 are focused on player safety
There are new names to learn every season, and here are five to keep an eye on from the Big...

Can the Big Ten produce a champion capable of scoring points in the College Football Playoff...

Taking a close, detailed and opinionated look at the Big Ten a week before the start of the...