Nick Marshall should be kept out of Auburn's opener, not SEC media days
For getting busted on a charge of marijuana possession, Auburn quarterback Nick Marshall was pulled from SEC media days. Shouldn't his penalty be sitting out the season opener?
More college football: Jon Solomon | Dennis Dodd | Jeremy Fowler | Latest news
HOOVER, Ala. -- Nick Marshall certainly is off-field news now.
Or should we say ... again?
By withholding his quarterback from SEC media days Monday, Auburn coach Gus Malzahn confirmed it is a big deal his quarterback got ticketed for pot. Not that making a trip here to talk to 1,100 blogscribes is much of a treat.
In fact, for now, the media are about the only ones penalized in this affair. Malzahn said there will be "consequences" for Marshall, but wouldn't say what. If he were here, we would have loved to ask the quarterback about his incredible season leading Auburn to the SEC title game and beyond.
We couldn't because Marshall was cited for possessing less than an ounce of pot on Friday. In the big picture, the "bust" almost seems trivial. (Marshall was not arrested.) The Reynolds, Ga., chief of police said Marshall was "very regretful" and "very apologetic."
Let's hope, because Auburn's best player certainly didn't have the best instincts last week. The kid who could have it all, risked it all by driving around in the middle of the day with less than ounce of pot tucked up underneath a visor, according to police.
That's a controlled illegal substance, not a pack of Tic-Tacs.
We've been through this a million times. Star player messes up, deserves second chance. No big thing, the fans scream. Except that this would be a third chance -- at least -- for Marshall.
We're talking about a kid who could be -- in a football sense -- the next Manziel. He's already a Heisman candidate; another flawed one to be sure. Instead of such (alleged) behavior, Marshall should hit his knees each night and thank some higher power for his fortune.
Hello, Nick, you're the starting quarterback for the SEC champions? Your 2013 prospects were so uncertain you played for the BCS championship before you played in the Auburn spring game.
You bombed out of Georgia in 2011 after reportedly stealing money from a teammate. A junior college coach rescued you and his career by driving a van 14 hours from Garden City, Kan., to bring him to his juco.
When you blew up in the garden spot of Garden City, Malzahn won the recruiting battle. Barely. Bill Snyder would have given a body part to have you.
Even before the Prayer at Jordan-Hare, Marshall was lucky as hell ... to have his football life back.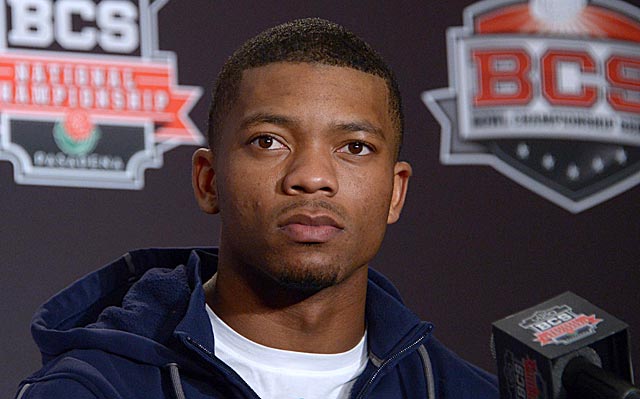 It's not so much what Marshall allegedly did. A ticket for less than an ounce of pot? While marijuana is against the law, it is becoming more socially acceptable.
It's that he put himself in such a position.
But if it's a big deal now, it's got to be a big deal on Aug. 30. Withholding Marshall from the media is an empty penalty. We can do without him, but the Tigers can't succeed without Marshall. That's why he'll most likely play in what could be a make-or-break opener against Arkansas.
As things stand right now, perhaps he shouldn't.
"I'm not to that point yet," Malzahn said Monday, indicating the thought has at least crossed his mind.
Elsewhere, tight end C.J. Uzomah was talking openly about backup Jeremy Johnson.
"Jeremy could start anywhere else in the SEC," he said. "He's one of the leaders. We trust him with every aspect of playing football."
Does the same trust exist for Marshall?
"One hundred percent," Uzomah said. "Our trust in him hasn't faltered at all."
Let's hope, because if you can't trust your starting quarterback to do the right thing then you're skating a very Manzielian line: loving what he does on the field but bracing for the worst off it.
To be fair, "up until Friday, Nick has been a model student, teammate and citizen," Malzahn said. Marshall apologized to his teammates.
Given all that, it would have been worth it for Marshall to go through Monday's SEC car wash. I still think we would be asking him more about miracles and prayers than blunts.
It would have been a lesson Auburn coaches try to teach their players each day: stand up to adversity.
Perhaps the SEC's best player hopes to avoid any more of it.
Saban isn't going to win Alabama's special election, but the Crimson Tide coach got some l...

The Sooners' quarterback and Badgers' rusher stood out among their peers this season

Clark led UAB to an 8-4 overall record, 6-2 in conference this season
SportsLine simulated every bowl game 10,000 times for pick'em leagues and confidence pools

The Tigers are going worldwide for their next punter

Led by Heisman Trophy winner Baker Mayfield, the Big 12 finished with seven first-team sel...