Nick Saban 'closed the door' on the NFL, again. Will we ever stop asking?
The Alabama coach says he will not leave for the NFL.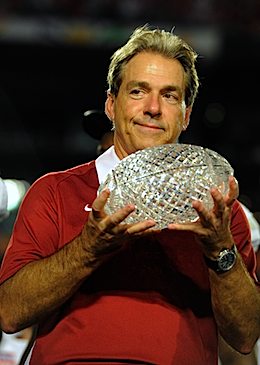 Saban says no to the NFL. (US Presswire)
Chip Kelly said no. Doug Marrone said yes. Brian Kelly is still listening. But no matter how many times he deflects the question, after three national titles in the last four years at Alabama, it seems Nick Saban will never be able to defeat the intrigue about a possible return to the NFL.
Barely 48 hours after insisting -- again -- that he's put his NFL ambitions to rest in the wake of his team's 42-14 thumping of Notre Dame in Monday night's BCS Championship Game, Saban responded to yet another inquiry about his future Thursdsay on ESPN's Mike & Mike in the Morning, with barely concealed frustration:
"It's closed," Saban said. "How many times do I have to say it? You all don't believe it. Any time I do an interview, I've got to say the same thing. You don't believe it, so why do I have to keep saying it? I don't understand it. The guy said it the other day at my last press conference, 'Will you close the door on all this?' So I closed the door.

"Now it's two days later and you're asking me to close the door again. The damn hinges are worn off!"
Of course, the last time Saban "closed the door" on a potential career move, impatiently telling reporters in December 2006 that "I am not going to be the Alabama coach" after just two years with the Miami Dolphins, it was only two weeks before he underwent an abrupt change of heart. (Before he left Miami, in the first of a month-long series of denials that he was a candidate for Alabama, Saban conceded the lure of the next level for successful college coaches: "When I was in college it was always about coming to the pros. This is the challenge I wanted.")
Six years later, Saban is remembered in the NFL primarily as "The Nicktator," an awkward interloper who attempted to exert too much control over his players; and the coach, now 61, suggested himself Thursday that he gets more satisfaction out of molding college players than balancing egos in the pros.
"Part of coaching to me, or the way I was brought up in it, is you try to help players develop personally, you want to see them graduate from school, develop a career off the field," Saban said. "You really want to see them be more successful in their life because they were involved in your program when they were in college. There's a lot of fun in all that, too.
"In the NFL, it's not that way. Everything is about people having success in their career as football players so they can make more money, you can win more games. It's a business and it's a little bit different from that standpoint."
Saban has spent the vast majority of his 40-year career on college campuses, including head coaching stints at Toledo (one year), Michigan State (five years) and LSU (five years) before he was offered the Dolphins job in January 2005; he proceeded to go 15-17 in Miami over the next two years.
When he was introduced at Alabama in January 2007, he insisted the job would be his last, a sentiment he and his wife, Terry, have consistently repeated as the championships have piled up. Maybe next year, when there another dozen vacancies to be filled in the league, Saban should just start arriving at press conferences in T-shirts that say "DON'T ASK ME ABOUT MY NFL FUTURE."
A year-end wrap-up of college football statistics you need to know from 2017

Stanford produces apps and Super Bowl participants

The Alabama QB has a new look after the Tide claimed another national title
Young was injured during Miami's Orange Bowl loss to Wisconsin

The movie will zero in on former Penn State coach Joe Paterno during the Jerry Sandusky sc...

Bidding for Salaam's trophy, which the auction house says was obtained legally, ends Satur...