Nick Saban presses issue for nine-game SEC schedule
Nick Saban continued to argue for a nine-game SEC schedule and cross-division rivalries at his Media Days appearance.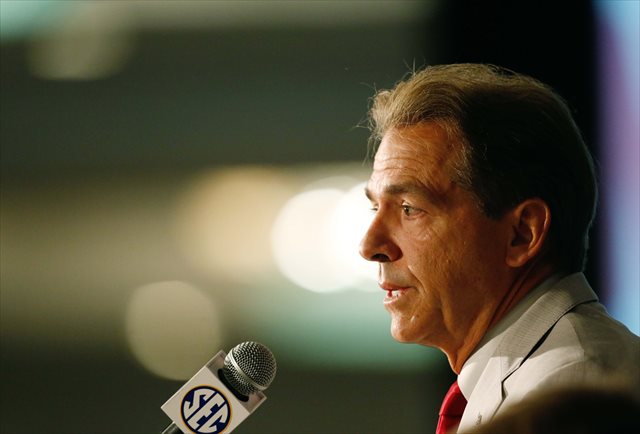 Wednesday, the disagreement between Gus Malzahn and Bret Bielema at SEC Media Days over a possible no-huddle slowdown got borderline-intense. The disagreement Thursday between Les Miles and Nick Saban over the SEC's future schedules was more cordial -- but Saban's time in front of the Media Days podium made it clear it's a disagreement all the same.
After Miles argued that the SEC's current "6-1-1" scheduling policy -- with six division games, one rotating cross-division opponent and one permanent cross-division opponent -- is unfair, Saban suggested that coaches asking the SEC to force the Tide to give up its cross-division rivalry with Tennessee may not "understand" the school's concerns.
As transcripted by ASAP Sports:
[T]here can never be an equal path to the championship.  Unless everybody plays everybody, that's the only equal path to championship ...

I understand where Les Miles is coming from. I coached at LSU. We played Florida every year, too. So if anybody understands it, I understand it. You understand? All right (smiling).

They may not have that same tradition. My question is, is do other coaches understand our circumstance? Do they understand Auburn/Georgia circumstance? Do they understand the other teams in our league that do have rivalries that are cherished by the fans?
Saban's solution to the inequity of cross-division opponents is a simple one he's argued for before, and did again Thursday: a ninth SEC game on the schedule.
"The things that I think are important in scheduling is ... every player plays every team in the SEC in his career. That means you must play at least two teams on the other side," he said. "I [also] have a tremendous amount of respect for the traditions that our fans enjoy, which our Tennessee game is a big game for our fans. So the only way to do that is play nine games."
A ninth game wouldn't completely solve Miles' dilemma (assuming the Tigers continued to play the Gators every year), but it would alleviate some of the dramatic differences in quality between single rotating opponents -- an issue Miles and LSU are particularly unhappy with in 2013, with the Tigers traveling to Georgia while Alabama plays Kentucky.
Without that ninth game (and maybe even with it), there's simply no way to make both Miles and Saban happy; the only way to come close is to leave the Alabama-Tennessee and Auburn-Georgia rivalries intact, and have everyone else rotate. But that's a major scheduling headache, and won't solve the inevitable complaint from the SEC's television partners that the Tide aren't playing the high-profile likes of Florida and Georgia often enough.
Which means the SEC will leave its Media Days precisely where it started -- where it started as soon as the league released its schedule for this fall: still stuck trying to solve the unsolvable paradox of an eight-game schedule in a 14-team league, and watching its coaches publicly bicker as those efforts inevitably go nowhere.
The Tigers are going worldwide for their next punter

Led by Heisman Trophy winner Baker Mayfield, the Big 12 finished with seven first-team sel...

Schiano would have made $4.4 million in Year 1 with annual raises as part of a six-year de...
Dykes spent this season as an offensive analyst at TCU

The 'Wyoming Wild Man' notched six tackles for loss as a junior in 2017

Zaycoven Henderson was charged with aggravated assault with a deadly weapon