One of the SEC's greatest coaching rivalries turns 10 games old this week. Nick Saban vs. Les Miles takes center stage as Alabama and LSU renew their series with high stakes.
There are, as usual, SEC West and national championship implications. Saban is trying to avoid multiple regular-season losses for the first time since 2010 and keep Alabama from going -- gasp -- three straight years without a national championship. Miles faces even more pressure to snap a four-game losing streak to Saban and keep LSU in the hunt for its every-fourth-year run at a national title (2003, 2007, 2011, 2015).
Saban vs. Miles: Tale of the Tape*
 
Alabama
LSU
Completion%
53.1
54.9
Pass TD/INT
13/6
9/12
Pass YPC
13.1
13.2
Rush YPC
3.8
3.3
Yards Per Play
5.3
4.8
Turnovers Forced
15
14
Field Goals
15/24 (63%)
12/17 (71%)
After early success by Miles, Saban is 6-3 against the coach who replaced him at LSU. The Saban/Miles series becomes the eighth SEC coaching matchup to play out for at least 10 straight games without a pause. The others are Bear Bryant vs. Shug Jordan (1958-75); Bryant vs. Charlie McClendon (1964-79); Bobby Dodd vs. Wally Butts (1945-60); Dodd vs. Jordan (1951-66); Mark Richt vs. Steve Spurrier (2005-15); Phillip Fulmer vs. Spurrier (1992-2001); and Butts vs. Jordan (1951-60).
The narrative of Saban's return to play LSU has long subsided. It got replaced by a fierce series filled with dominating defenses, NFL talent, and such old-school physicality that there's grudging mutual respect between both teams. It's this generation's Woody Hayes vs. Bo Schembechler. In five of the nine Saban-Miles games, the winning score came in the final 86 seconds of regulation or overtime. With all due respect to Alabama vs. Auburn, Saban vs. Miles is the SEC rivalry you can bank on virtually every year to deliver. As the series turns 10, here are the 10 best moments of Saban vs. Miles.
10. "Burn, Saban, Burn" (2008): There was nothing appropriate about this, but the pep rally symbolized how charged the environment was for Saban's return to Baton Rouge. On the night before the 2008 game, a couple hundred LSU fans burned Saban in effigy outside a student apartment complex. Saban had become a villain to LSU fans for going to Alabama after leaving the NFL, even though at the time Miles was 40-8 with a national title in his first four seasons. "Burn, Saban, burn," intoxicated LSU students shouted. When the Saban scarecrow vanished in flames within two minutes, some fans realized they were now cheering for a burning cross and had gone too far. "This isn't my scene," one LSU fan said. "I'm outta here."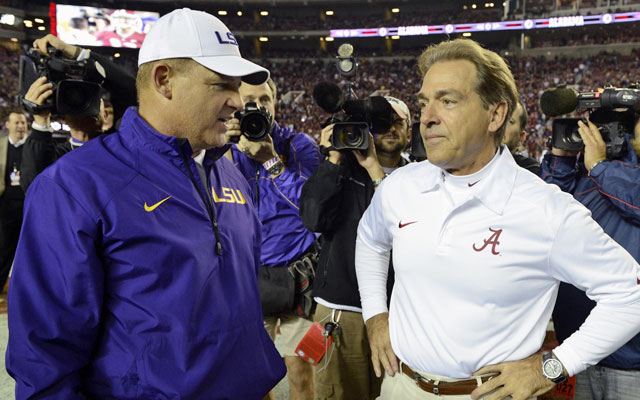 9. An actual Alabama-LSU touchdown! (2012 BCS Championship): It only took 115 minutes and 34 seconds (plus overtime in the first meeting) for a touchdown in an Alabama-LSU game during the 2011 season. With 4:36 remaining in the BCS Championship Game, Alabama running back Trent Richardson broke off a 34-yard scoring run for a dominating 21-0 victory in LSU's backyard in New Orleans. LSU had beaten eight ranked teams to be the clear No. 1, but gained only 92 yards in the Alabama rematch and didn't cross midfield until eight minutes left in the game. The win was Saban's second national title in three seasons. The loss started a four-game losing streak for Miles against Saban that continues to this day.
8. Upon further review, replay messed up (2009): With 5:54 remaining and Alabama leading 21-15, LSU cornerback Patrick Peterson clearly intercepted a Greg McElroy pass on the sideline. Peterson got his left foot down and possibly his right, too. But after a review, replay official Gerald Hodges upheld the call on the field. There was even an obvious divot on the field where Peterson's left shoe left a mark. Maybe LSU still wouldn't have won the game with possession, but the Tigers didn't get a shot and Alabama kicked a field goal to up nine. The missed call was another in a season of high-profile SEC officiating mistakes that saw one crew get suspended.
7. Screen and go for Julio Jones (2009): LSU led 15-13 in the fourth quarter with less than 11 minutes remaining when Jones caught a 2-yard screen pass and raced 73 yards for the go-ahead touchdown in Alabama's 24-15 victory. The screen was designed perfectly to counter LSU's aggressiveness and Alabama had noticed it was used by a Georgia tight end against LSU earlier in the season. Jones did not catch any of the five passes thrown to him when Peterson, the star corner, was defending him. But Peterson suffered cramps in the second quarter and was out on Jones' winning touchdown, which helped clinch a second straight SEC West title for Alabama during its 2009 national championship season.
6. Chad Jones sacks Saban's first chance vs. LSU (2007): Late in the fourth quarter of the first Saban-Miles game, LSU tied the score on a touchdown and then delivered the knockout blow on defense. Safety Chad Jones burst through the middle to sack Alabama quarterback John Parker Wilson and force a fumble recovered at the Crimson Tide 4-yard line. Two plays later, LSU scored the winning touchdown with 1:26 left to keep its national title hopes alive. The victory was huge for Miles, who faced persistent criticism that he was simply winning with players Saban left behind. LSU fans reveled in seeing Saban lose while wearing a rival's colors. "It ain't got nothing to do with me," Saban said in a fiery post-game news conference. During the early years of the series, everything about Alabama-LSU had to do with Saban.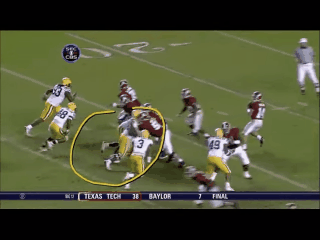 5. Unsportsmanlike conduct dooms LSU (2014): Alabama's T.J. Yeldon fumbled deep in his own territory, giving LSU the ball on the Alabama 6 with the score tied at 10 and 1:13 left. But LSU's chances of a go-ahead touchdown diminished when offensive guard Vadal Alexander was flagged for unsportsmanlike conduct, moving the ball back to the 21. Alabama defensive tackle A'Shawn Robinson had grabbed Alexander's leg as players were leaving a pile, so Alexander responded with a push. Some observers believed it should have been a no-call. Instead of a potential 17-10 lead, LSU kicked a field goal to go up three. After LSU's ensuing kickoff went out of bounds, Blake Sims drove Alabama 55 yards in the final 50 seconds for a tying field goal and the Crimson Tide won 20-13 in overtime. "That call was the single most significant piece of that game," Miles said angrily about the penalty. "That changed the whole complexion of the game." Alexander later called his penalty the most embarrassing moment of his life and said he learned from it.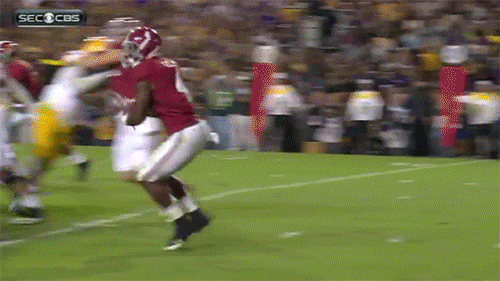 4. Third INT is the charm for Rashad Johnson (2008): In Saban's return to Baton Rouge, Alabama missed a 29-yard field goal at the end of regulation, forcing overtime. LSU got the ball first but quarterback Jarrett Lee threw his fourth interception -- the third of the game by Alabama's Rashad Johnson, tying a school record. Johnson read Lee's eyes as he rolled right and caught his overthrown pass for Brandon LaFell in the back corner of the end zone. Rather than play for a field goal, Alabama got a 24-yard gain to Jones and scored on a quarterback sneak by Wilson. The win kept the Crimson Tide's undefeated season alive and made Saban a winner before a rowdy crowd at the place he used to call home.
3. The Mad Hatter's 4th-down, grass-eating trickery (2010): Just before a crucial fourth-down play unfolded, Miles bent down, picked up some blades of grass and ate them. "I have a little tradition that humbles me as a man, that lets me know that I'm a part of the field and part of the game," Miles said.
What happened next was another audacious fourth-down call by Miles. LSU tight end DeAngelo Peterson gained 23 yards on a fourth-and-1 reverse to set up the Tigers' winning touchdown in the fourth quarter of a 24-21 win. The pitch first went to running back Stevan Ridley, who flipped it to Peterson as he came from the opposite direction. The loss knocked Alabama out of the national championship hunt and to this day marks the last time the Crimson Tide has dropped a second SEC game in one year.
2. A.J. McCarron's redemptive drive (2012): Alabama's hopes of a second straight national title were slipping away. McCarron had been abysmal at quarterback, having completed 1-of-7 passes for 0 yards in the second half before Alabama's final drive down 17-14. Alabama started at its 28 with 1:27 left. McCarron completed three straight passes to Kevin Norwood covering a total of 44 yards. Then with LSU blitzing, McCarron flipped a screen pass to Yeldon (then a freshman), who broke one tackle and faked out another defender to race 28 yards for the winning touchdown with 51 seconds left. After the win, the enormity and pressure of the moment overwhelmed McCarron, who was in tears as he embraced his parents in the stands. Alabama ended up repeating as national champion.
1. Eric Reid fights for interception (2011): In a so-called "Game of the Century" that featured no touchdowns, a pivotal defensive play appropriately helped decide the outcome. LSU safety Eric Reid wrestled the ball away from Alabama tight end Michael Williams near the goal line for an interception. In a game in which Alabama missed four field goals, Saban went for a trick pass by wide receiver Marquis Maze near the red zone. Williams broke free for a possible touchdown, but Reid hustled back to make a play on the ball. No one was sure who had it. The officials ruled an interception and the replay official agreed. LSU won 9-6 in overtime of the first of two meetings against Alabama in the 2011 season.
To this day, some Alabama fans swear Williams made the catch, but SEC officiating coordinator Steve Shaw said the officials got it right on a very difficult call. No play better summarizes the thin margin of error between winning and losing a Saban vs. Miles game.
Follow and read more from Jon Solomon on Facebook and Twitter.