No. 5 Baylor proves itself worthy with thrashing of No. 12 Oklahoma
No. 5 Baylor takes a while to get warmed up, but once it does the Sooners did not stand a chance. Baylor shows off a powerful defense to go with its much-hyped offense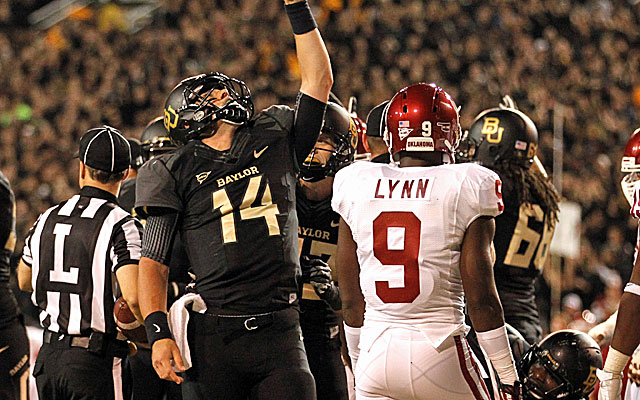 WACO, Texas -- Ahmad Dixon remembers the Baylor recruiting pitch for what it didn't include.
 The promise of a national title.
"Every school except for Baylor," the Bears' senior safety said. "This is the only school that didn't tell me, 'Oh, we're going to win a national championship.' "
Why would it? Waco was, for the longest time, the program where the Big 12 wiped its feet. Baylor had cobbled together infamous conference losing streaks of 29 (broken in 2002) and 13 (ended 2008).
So when they scoffed at Baylor's 7-0 start, that the Bears hadn't beaten anyone really, the doubt was totally understood.
"Tradition," coach Art Briles said, "does not die easy."
The next question for No. 5 Baylor on a frigid, decisive Thursday night was not so much who they've played, but who can the Bears play at the end of this season?
The doormat has become a doorway to a great wide open. A 41-12 evisceration of No. 12 Oklahoma, combined with Oregon's loss, meant that Baylor could be No. 3 in the BCS by Sunday.
"They're going to get bigger than this one?" coach Art Briles said, now able to joke in his sixth year of building this nouveau powerhouse.
The Bears finally played that ranked team and stomped Oklahoma like they had most everyone else. They did it with a defense that held the Sooners to a field goal during a stretch when OU snapped it seven times inside the Baylor 13. They did it despite five first-half personal foul penalties. Their quarterback got sacked for a safety.
They did it with a third-string tailback who had to deliver. When the top two guys -- Lache Seastrunk and Glasco Martin -- went out with injuries, Rashodrick Linwood entered in the second quarter and delivered 182 yards.
The script is starting to write itself. Linwood's nickname is "Shock."
"Nobody is going to believe it, until you do it," Briles said.
"We had to sell [recruits] on vision and hope and faith. We didn't have a lot of reality."
These Bears are veteran. They are fast. They are, if you squint, Florida State Jr. in style of play. That we can even have that discussion is amazing. A year ago the defense was 119th nationally. On Thursday, the nation's No. 11 defense unit held Blake Bell -- The Belldozer -- to five yards on eight carries and intercepted him twice. 
These Bears also maul. Oklahoma's first four first downs came by penalty, all because of personal fouls. One of them was cornerback K.J. Morton's targeting penalty that momentarily got him ejected. (After a replay review, Morton was allowed to stay.)
"They say we haven't played anybody yet," he said. "OU is supposed to be No. 12. We had a real, real, real big focus because Baylor has never been 8-0. We made a decision that the defense was going to play balls out."
And on the other side, despite a slow start, they were still Bryce Petty and the Pointmakers. On an off night -- the Bears' second-lowest point total of the season -- Petty accounted for five touchdowns (three passing). Petty, the kid who could have been Lane Kiffin's in his one and only year at Tennessee, started two of eight. He was eight of 18 at halftime.
"It was ugly. It was an ugly game, really," Petty said.
He was referring mostly to that start. A 28-0 Baylor run in the second and third quarters wiped out a 5-3 Oklahoma lead. The most efficient passer in the nation, is still very efficient. Petty has thrown more than 27 passes in a game only twice and no more than 32.
Who cares if Baylor needed two warm ups? For a team averaging 64 points, the pregame version should have sufficed. Instead, the biggest game in Baylor history threatened to become one of the biggest flops in Baylor history when the Bears sputtered.
In the end, it was the biggest thing at the Baptist-affiliated institution since they allowed on-campus dancing in 1996.
Things have loosened up a lot since then. The school president -- the one who investigated Bill Clinton during Whitewater -- now leads the freshman student body onto the field to welcome before each game.
Kenneth  Starr, take a bow. This is your creation too. Also AD Ian McCaw, an unassuming type who's been here a decade and also overseas a national women's basketball program and a top 25 men's hoops program.
But football pays the bills and a decade ago, no one expected this. 
"If you want to keep doubting us, that's your loss," Dixon said. 
When the Bears warmed up the second time -- on the field, in a flash in the second quarter -- it was over. 
Namely, Baylor's rep as a Big 12 doormat. The who-have-they-played stuff is dead.
So what are you going to rip now? 
On Baylor's big prom night, we're getting ahead of ourselves. It was still about this game, one in which the Bears broke open a grinder of a game with three second-quarter touchdowns in 8½ minutes.
Drives that covered 69, 93 and 38 yards made it 24-5 at halftime and showed what these Bears have been all season: Unstoppable.
When it ended Baylor had scored those 28 unanswered points to take a 31-5 lead. Sound familiar? The Bears have now scored at least 34 points in 14 straight games.
These Sooners had wiped their feet in the same place as the rest of the Big 12 all these years, winning 21 of 22 against the Bears prior to Thursday.
The same Sooners were playing back-to-back top 10 teams. Oklahoma handled Texas Tech last week. They held the door for Baylor this week. Meet the new Bears, not the same as the old Bears.
The nation's third-longest winning streak reached 12 games. One of the nation's oldest reputations died. The Bears are now 5-0 at home against top 25 teams since the start of 2011. 
Until further notice, Baylor the Pushover has become Baylor the Powerhouse.
"Every team we play is somebody," Morton said.
He almost sounded charitable.
The Alabama QB has a new look after the Tide claimed another national title

Young was injured during Miami's Orange Bowl loss to Wisconsin

The movie will zero in on former Penn State coach Joe Paterno during the Jerry Sandusky sc...
Bidding for Salaam's trophy, which the auction house says was obtained legally, ends Satur...

Locksley has been the offensive coordinator at Illinois and Maryland during his coaching c...

Many NFL-eligible juniors ignore advice provided by the league and risk going undrafted each...