No controversy here: Auburn-FSU to meet for final BCS title
ACC and SEC champs win easily. Take a bow, BCS. The final game -- likely Auburn vs. Florida State -- is the right conclusion.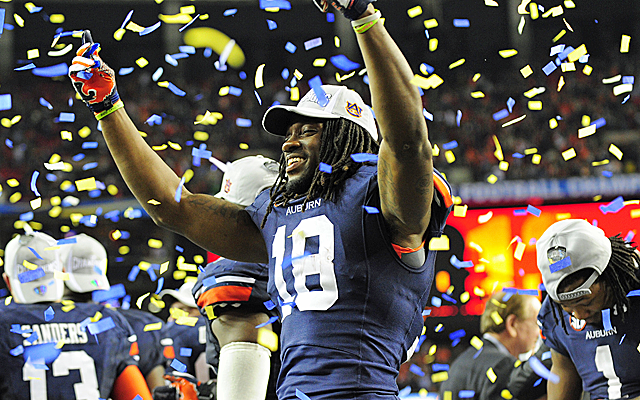 CHARLOTTE, N.C. -- Take a bow, BCS. Tip your hat. Then please exit the national stage quietly. Keep your mouth shut. No talking in this theater of absurd.
There will be no encore.
After 16 years, you got this last one right. Be happy with that.
After 16 years it's over, the BCS. After 15 weeks, so is the 2013 season. Well, at least the last regular season of the Bowl Championship Series which delivered a nice, clean, reasonable ending.
Florida State-Auburn.
From unranked to unbelievable.
From unknown Jameis to already famous.
Happy birthday, kid. FSU quarterback Jameis Winston will turn 20 the day of his next game which just happens to be the game. This one last BCS matchup would make a nice birthday present. That night he'll attempt to become the first freshman quarterback to win a national championship since Oklahoma's Jamelle Holieway in 1985.
"People were waiting to feel our presence," Winston said of FSU's first No. 1 ranking in 13 years. "People were waiting for Florida State to do what we're doing right now."
The champions of the ACC will meet the champions of the SEC. The BCS mechanics were easy. When No. 2 Ohio State lost to Michigan State, that allowed -- or should on Sunday -- No. 3 Auburn to move up one. FSU had been comfortably No. 1 for all of one week.  
Result: Unlikely (Auburn) vs. unrelenting (FSU).
Turns out those amazin' Tigers had one more miracle left. Well, if you count a 17-point bulldozing of Missouri in the SEC title game as divine intervention. The miracle label seems stale but frankly, we've run out of nicknames for whatever rabbits Gus Malzahn is pulling out of helmets these days.
For this one, Auburn's coach needed help. Michigan State delivered with a smacking down of the Buckeyes. Fifty-nine points and 304 rushing yards from Tre Mason against Missouri in Atlanta didn't hurt either.
In the ACC version of the play-in, FSU had covered the spread over Duke (29 points) with 6½ minutes left in the third quarter.
"They've just been blowing guys out of the water," Blue Devils tight end Braxton Deaver said. "They definitely smacked us tonight. I hope whoever they play in the national championship is ready to play them. The completeness of that team is pretty unbelievable."
Feel good, BCS. You're going into retirement with your computer indexes held high. You got it right. Better yet, it was clean, no controversy. It was that way the majority of times these past 16 years, we just don't remember.
There was so much bleating during the week that Auburn AD Jay Jacobs needed a muzzle. Nick Saban needed to fill out a W-2 form he had spent so much time Saturday on Gameday … just in case.
That just in case would have included a Duke upset as well as Michigan State beating Ohio State in the Big Ten title game. He got half his wish.
Jacobs has his title shot. Saban and Alabama likely have a berth in the Sugar Bowl.
The king and his chance for a threepeat may be dead but the SEC monopoly is alive. Auburn gives the Strength Everywhere Conference a chance at an eighth straight championship.
If the Tigers finish the deal, that national championship will have not left the state of Alabama since the previous decade. But you knew that.
"It's a big game," FSU tailback Karlos Williams said. "Two teams that have been at the top before. Now they're both back to where they used to be."
There was more controversy over the length of time Jimbo Fisher played his starters than Auburn's BCS worthiness. For some reason Winston and the offense played deep into the fourth quarter.
Tight end Nick O'Leary's ribs were exposed on a leaping grab in the end zone. A Duke defender was ejected. Winston was an ACL away from ceding the championship game job to another redshirt freshman, Sean Maguire.
What was the point? It certainly wasn't the Heisman. There's no one else left to win it.
"I built our program like we thought we needed to build for a championship," Fisher said. "We don't model ourselves after nobody."
A few months ago, after not knowing who their quarterback was going to be, the Noles may have found the best one in their history. Fifty-three weeks after a horrific Iron Bowl loss, Auburn went from losing eight SEC games to winning eight.
"We strained the dog out of our players in the spring," Malzahn said.
And you know how painful it is to have your dog strained.
Three years after winning a national championship, Auburn burned itself to the ground, then completely rebuilt itself into an SEC champion.
War Pasadena?
Florida State was expected to be here -- that would be Charlotte -- for a brief stop before proceeding to a national championship berth. Duke was game, briefly, before it wasn't a game.
FSU was held scoreless in the first quarter for the first time since 2012. Then the deluge came. Winston was the ACC champ game MVP after breaking the FBS freshman record for passing yards and touchdown passes in a season.
As we all know, he could have had a worse week.
"You've got years and years of five-star recruits," Deaver said. "You've got the best kids in the country going there over and over again. You're going to get the fastest, the biggest and the strongest kids."
Auburn's was one big Hail Mary of a season. Six wins by seven points or less. Florida State tomahawk-chopped its way through the schedule. It hasn't trailed since Sept. 28. Two opponents came within four touchdowns.
"They've been blowing guys out of the water," Deaver said.
Sixteen years ago in the first year of the BCS, Fisher was tutoring quarterbacks at Auburn under Terry Bowden. At the end of the BCS, he has to stop an Auburn quarterback.
Nick Marshall came to this place in history from Georgia, where he was a defensive back, and from Garden City, Kan., where he was playing junior college ball a year ago. The discerning eye of Gus Malzahn saw something in Marshall, in the Tigers.
"We used last season as motivation," said Mason, "thinking about all the hard times that we went through last year and being one of the worst teams in college football to now being one of the best." 
Take a bow, BCS. We largely have closure and clarity in the final year of the BCS. On the field. FSU is the best team with the best player. That much is clear.
Urban Meyer's last loss had been to Florida State ... until Saturday. The supposedly offensively-challenged Spartans scored 34 on Ohio State ending its 24-game winning streak. And any further disparaging, for now, of the Big Ten.
Michigan State is going to the Rose Bowl for the first time in 26 years, five days before Auburn-FSU meet. These are happy times. Those in which a freshman can make a run at the Heisman for a second consecutive year.
Those in which his Auburn counterpart can go from Kansas hinterlands to an SEC title -- and perhaps beyond.
Those in which an octogenarian in retirement -- BCS inventor Roy Kramer -- can be proud as his system is retired.
It's a nice bookend for Florida State. It played in the first BCS championship game following the 1998 season. Back then Bobby Bowden's Seminoles were in the process of playing in the first three BCS title games.
Now they'll play in the last one.
"There's only one coach Bowden," Fisher said. "There's only one man that walked that sideline, the winningest coach in college football history, and the integrity he did it with. He was my hero."
He'll also be watching on Jan. 6, on Famous Jameis' birthday. There may be something bigger to celebrate.
It just might have been the best game of the season so far

Projecting the new AP Top 25 poll college football rankings after Week 4

Stay with us all day Saturday for updates and highlights from Week 4 of the 2017 season
Georgia dismantles Mississippi State between the hedges Saturday night

The Horned Frogs looked a lot like their old selves on Saturday afternoon in Stillwater

Harbaugh also said that Trump's comments at an event in Alabama were 'ridiculous'