No Johnny Drama, Kenny Poise puts his stamp on explosive Aggies
Kenny Hill might have Johnny Manziel's talent -- and 511 yards passing in a rout of South Carolina is a great start -- but he has none off the Heisman winner's infamous attitude.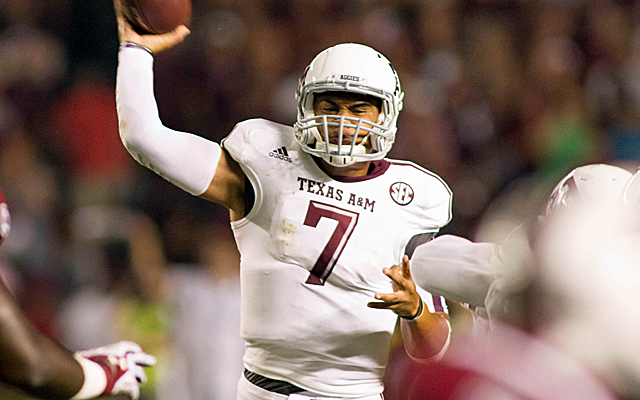 COLUMBIA, S.C. -- You may have noticed Thursday night, at no point did the Texas A&M quarterback's thumb meet a forefinger.
Refreshingly, that was about the fifth thing to love about Kenny Hill. First, you had to get past the school-record 511 passing yards in his first career start. The three touchdowns didn't hurt either in a shocking 52-28 smacking of No. 9 South Carolina.
Texas A&M Most Passing Yards in Game
Yards
Player
Opponent (Year)
511
Kenny Hill
S. Carolina (2014)
464
Johnny Manziel
Alabama (2013)
454
Johnny Manziel
Auburn (2013)
453
Johnny Manziel
Arkansas (2012)
449
Ryan Tannehill
Texas Tech (2010)
There was little scrambling that made the last guy to play the position in College Station so famous. There didn't need to be. Until this weekend -- or perhaps this season -- passes the Aggies' sophomore quarterback looks to have the best set of receivers in the country.
But somewhere down on the sweltering Williams-Brice Stadium turf on opening night, there was closure. A part of Johnny Football's swagger-laced legacy passed into history.
Meet, then, Kenny Poise. 
Not that he had to go very far to earn that label. Sportsmanship was not among Manziel's best character traits. Of the numerous and odd traditions at A&M, Hill was no part of the newest -- and possibly most divisive. We all remember the traditional rubbing together of the digits in Aggieland.
Cash money. It signaled another Johnny Football -- pick one -- a) touchdown, b) controversy and c) all of the above.
The Cleveland Browns backup quarterback continues to program talk shows by his mere existence. But among the other things that died Thursday was the dark side of that Jonathan Paul Manziel persona.
In A&M's first game post-Johnny Look-At-Me, Hill was just, plain ... money.
Money, because he's already miles ahead of where Manziel was after one start. Two years ago Kevin Sumlin didn't know what he yet had from the punky redshirt freshman in a narrow season-opening loss to Florida.
Hill won his first start, handily, running up the most yards ever against South Carolina and helping put up the most points by a visitor to Williams-Brice Stadium since 2003.
Oh, and he surpassing Manziel's single-game school passing record.
"I don't really like [the nickname] Kenny Football," Hill said.
Money, because Hill has waited patiently while the Manziel legend played out. Then he beat out five-star freshman Kyle Allen and was named the starter a couple of weeks ago.
"That was one of the reasons we announced the starter so soon," offensive coordinator Jake Spavital said. "Those kids were stressed out [from competing]. We started building that continuity from there."
Money, because Hill looked like he used that year to form a close relationship with Spavital. The fast-riser is only 29, having coached a former Heisman winner, and now the next prodigy.
"When I was being recruited, Coach Spav and Coach Sumlin told me I could be the guy to come in after Johnny," Hill said.
As the season's first upset was being played out CBSSports.com's Gary Parrish had the tweet of the moment: "Kenny Hill could beat out Brian Hoyer."
It seemed like it. Isn't this what the Fun 'N' Gun did to the SEC in the 90s? It was a painful look in the mirror. On Thursday, the Gamecocks D had problems, 99 of them in the plays run by the Aggies.
"I saw no nerves in him," A&M tackle Cedric Ogbuehi said of Hill.
"South Carolina was tired," he added. "They didn't say much. They were just tired. When they kept seeing that score go higher and higher and higher, you could tell they were frustrated."
Frustrated also describes Sumlin, who set the us-against-the-world mentality. In the postgame, he referenced an offseason spent by some scribes questioning whether A&M was a once-in-a-Manziel phenomenon.
"No one gave us a chance to be close in this game," Sumlin said. "What we did tonight kind of showed we're not a one-trick pony ... But we're not going anywhere anytime soon."
The coach kept hammering home the accomplishment -- being a double-digit underdog and breaking the nation's longest home winning streak (18 games).
"There was no doubt the second we touched down in South Carolina that we were going to win this game," Hill said. "Everybody was focused in. Everybody was wired."
If anything, Hill is a system quarterback --the system being pretty good. In two seasons plus a game, Sumlin's quarterbacks have beaten Nick Saban, Bob Stoops and Steve Spurrier while winning a Heisman.
Sumlin has done all this in his 17th game in the league. The Aggies' coach has built a program, just not a complete one. If his defense is merely average, it can challenge for the SEC title. Hill and his merry band of offensive weapons have that much promise. Twenty-three plays into the game, 12 Aggies had touched the ball.
Remember, after all the hype of the last two years the Aggies still have finished no higher than tied for second in the SEC West. The defense that finished 111th nationally in '13 looked marginally better.
There were many positives for the SEC newcomers on the SEC Network, big underdogs to (what some consider) the SEC East favorites.
The son of a former MLB pitcher was all the production, none of the drama.
Well, almost none. Hill was cited for public intoxication in the offseason. That harkened back to Manziel's legal run-in before his first season.
That was a foreshadowing of some wild, wacky, winning times to come. Hill has done his penance in private. His public coming out was time-stamped with this scene of what hopefully isn't going to follow.
As he left the field, a group of kids got him to come over to the stands for a brief audience. In the process, Hill accidentally nudged a state trooper.
"I'm sorry, sir," he said, leaving the field for the first time as Kenny Poise.
Rosen, a junior, will be eligible for the upcoming NFL draft

Find out which of your favorite team's players are among the nation's best entering the 2017...

Texas A&M has to be better defensively to stand a chance in the SEC West
A letter indicated that there is a growing awareness of the persistent problem in college...

The series will follow the Navy football program throughout the 2017 season

Should college football players still be tested and punished for using marijuana?