No, there are not too many bowls: A celebration of the postseason
Bowl season kicks off Saturday with Nevada and Arizona. Here's why that's a beautiful thing.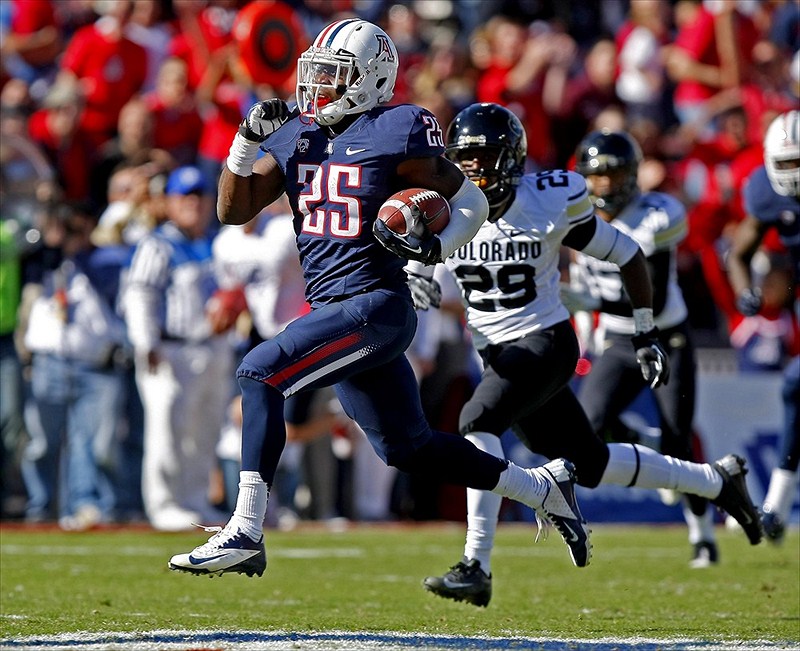 Ka'Deem Carey -- one of many reasons to be excited about bowl season. (US Presswire)
Every year, bowl matchups are announced. Every year, there's a game in the lineup like Central Michigan vs. Western Kentucky in the Little Caesars Pizza Bowl. And every year, the chorus from pundits and even many fans is the same: There are too many bowls. The postseason is too bloated. The games don't mean anything. Who wants to watch them?
The answer is: I do. All of them. 
Yes, even you, Little Caesars Pizza Bowl. It's not a matchup I'd ask my parents to schedule their 40th wedding anniversary celebration around or anything. But both teams will be fighting tooth-and-nail for a win (the Hilltoppers in their first bowl game, the Chippewas in their first under Dan Enos). Both teams have high-level talent worth tuning in for -- CMU's potential first-round tackle, Eric Fisher, Western's Quanterus Smith at defensive end or all-purpose back Antonio Andrews. And it's always worth a look at the Hilltoppers' Jim Harbaugh-designed (and Willie Taggart-imported) Stanford offense at work in any setting. No, the 2012 Little Caesars Pizza Bowl won't change your life, but it should be a quality college football game.
Isn't that reason enough to watch? If college football is a good thing -- and would anyone reading this say it's not? -- is the humble pairing of MAC and Sun Belt teams giddy to still be playing in 2012 somehow the point where there's too much of it? And doesn't the fact that virtually every single other bowl game set to be played this bowl season is an even better game, on paper, suggest that the point of "too many bowls" is still a handful of bowls away?
Answering "No" to that question, as so many do at this time of year, starts with the argument that this many bowls cheapens what it means to play in a bowl in the first place -- that in a sea of 35 bowls, many of them of the Little Caesars variety, giving traditionally higher-profile bowls like the Holiday or Capital One* and the (better) teams that play in them their proper attention becomes more difficult. Letting every Tom, Dick and 6-7 Georgia Tech play in the postseason means playing in the postseason doesn't mean a whole lot anymore, right?
That is, in fact, right. But it doesn't matter, or at least it doesn't matter as much as this: 18- to-22-year-old kids who typically put in a full-time job's worth of hours every week towards the sport they love getting some kind of concrete payoff for that effort and their success. Maybe not every team would necessarily see their bowl week as a just reward -- the guess here is that not every player at Pitt was doing cartwheels over a third straight trip to Birmingham for the BBVA Compass Bowl -- but it's something. And for the players at teams like Central Michigan and Western Kentucky, it's a lot more than that. Just ask the seniors at left-at-home Louisiana Tech. If option "A" is preserving the "dignity" of the bowl season (in the same sport that drives Maryland into the arms of the Big Ten) and option "B" is college players having a week of fun and playing a meaningful game at the end of a long season, is it really even a choice?
The other argument against the proliferation of bowls is simply that a game like the Little Caesars Pizza Bowl is a bad, uninteresting game. I'd disagree. But if that's your opinion, there's a mind-blowingly easy solution: don't watch it. That's better than telling the players they can't play the game in the first place or viewers who do want to watch it they can't, right? 
Of course, those are just the reasons why people who want to cut back the number of bowls are wrong. Why are those of us who can't wait for Arizona and Nevada to get things going on Saturday right? Here's a quick list:
We finally get to watch a lot of good teams and good players that we've been too busy to watch during the season. Take Saturday's New Mexico Bowl, right off the bat: the Wildcats' Ka'Deem Carey and Wolf Pack's Stefphon Jefferson happen to be the top two rushers in the FBS. But how many college football fans east of the Mississippi have seen either one take a handoff all year? Now, both will line up on the same field. Later Saturday night, Utah State will take the field -- the same Utah State that was a missed field goal away from beating Wisconsin in Madison, a couple of breaks away from beating BYU, and winding up where Northern Illinois is now. The Aggies boast an aggressive, well-coached defense, a quarterback in Chuckie Keeton who could start for virtually any spread offense in the country and have retained sought-after coach Gary Andersen. It won't be a shock if they use this year's WAC title as a springboard to a Mountain West title and possible BCS run. Tuning in Saturday means watching what's already one of the nation's better teams and one that could be a vital cog in the national college football gears in 2013.
And that's just the first day of bowl season. Remember: just because you haven't watched a team this season doesn't mean they're not worth watching.
We get to finally watch some quality cross-regional games. Rivalry week brings a handful of excellent nonconference games, but you have to go back to the opening weeks of the season to find anything like Baylor vs. UCLA, USC vs. Georgia Tech, South Carolina vs. Michigan, Navy vs. Arizona State, Oregon vs. Kansas State, etc. (Not that anyone's complaining about the Fiesta Bowl, mind you.) In a sport with only 12 regular-season games, the opportunities are few to throw everyone in a geographical blender and see what happens. Bowl seasons is the best one we have.
These are the final 35 chances we have to watch college football this season. For eight agonizing months following the BCS title game, the refrain from most college football fans is that they'd do anything to escape the drudgery of the offseason. Well, that offseason is only a month away ... and now's the time to turn up your nose at ULM trying to win their first bowl in program history, or Duke and Cincinnati lighting up the scoreboard, or Boise State going for yet another Pac-12 scalp, or Northwestern taking another shot at getting the bowl monkey off its back against an SEC favorite?
It's not. The bowls aren't perfect. The ticket guarantees that ensure so many of these games are a financial disaster for the teams involved need to be abolished. There will be some out-and-out clunkers in the mix. And the corruption and largesse that the system has created is a blight. But that's far, far better than the alternatives. Bowl season kicks off on Saturday, and it's still can't come soon enough.
*That the bowl's name has shifted from the Tangerine to the Citrus to the current moniker should tell you how much tradition really plays a role here.
McElwain will coach receivers and help coordinate the offense for the Wolverines

Nathaniel Watson Jr. was involved in a car accident that injured a passenger in early Febr...

The honorable Tom Fornelli presides over the ASU vs. UM case
Arkansas State is seeking $650,000 for a canceled home game last September due to Hurricane...

Friday Five is tackling the big questions this week

Two unnamed players are being investigated for an incident at an off-campus apartment