Northern Illinois belongs in BCS because Big Ten, Big East champs don't
Biggest day in NIU history?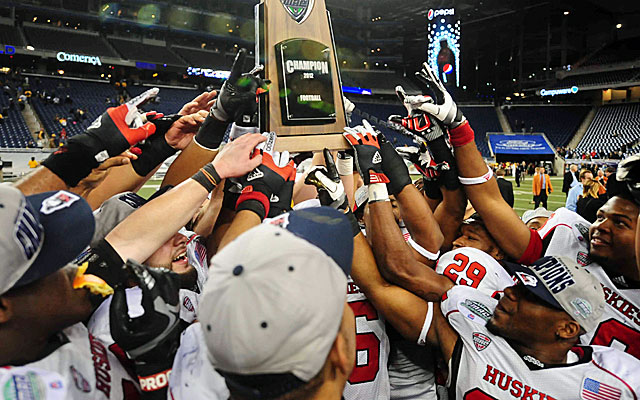 NIU caused a bit of consternation among elitists, but it earned its way in one of the best years in MAC history. (US Presswire)
Joe Novak had a chance to game the system. The 67-year old retired former Northern Illinois coach has a Harris Poll vote. With the Huskies lining up to be Sunday's lightning rod in the BCS, Novak wound up and voted them …
"Fifteenth," he said Sunday from North Carolina. "I didn't want to be a homer."
That's exactly where Northern Illinois finished in the final BCS standings making it the first non-BCS school to gain a BCS bowl with a loss. Thanks to the Big East's underachievement and Nebraska's embarrassing showing in the Big Ten title game, the Huskies only had to finish in the top 16.
Novak made sure of it, barely, moving his former team up from No. 16 last week.
"I was honest and fair with it," Novak said, "but in my heart I was pulling for them."
NIU may have caused a bit of consternation among elitists, but it earned its way in one of the best years in MAC history. The Huskies' only loss was by one point to Iowa. Yes, the Hawkeyes were Big Ten bottom feeders. But the Huskies, 12-1, won eight of their games by at least 12 points.
Oklahoma limped to the finish, winning its final three games by one, three and seven points while giving up more than 1,600 yards and 15 touchdowns. Georgia ? The Dawgs' argument is not with Northern Illinois in this case, it is with the BCS commissioners who set the rules. Conferences are allowed a max of two teams. The SEC was represented by Alabama and Florida. The Big 12 got only Big 12 co-champ (with Oklahoma) Kansas State.
Northern Illinois only did what it was told. BCS rules state that if a non-BCS champion finishes in the top 12 it is automatically in. The threshold becomes top 16 if it finishes in front of a BCS-league champion. The Huskies finished ahead of two -- Wisconsin and Louisville.
And if you think this is an anomaly, think again. If this had been 2014, NIU would have been guaranteed a spot in a playoff bowl as the highest-ranked non-BCS champion. There would be no top-12, top-16 standard to meet.
In other words, get used to it.
Northern Illinois was one of the first BCS busters before the term was born.  It started 7-0 in 2003 by beating Maryland, Alabama and Iowa State. That year MAC rival Miami (Ohio) finished 11th in the BCS.
"I'm not going to pat myself on the back. We set a good foundation," said Novak who went 63-76 from 1996-2007 with the program located in the west Chicago suburbs. "We were slow doing it. People were patient. I see guys getting fired. [Southern Miss'] Ellis Johnson got fired after a year. The guy at Colorado got two years. Good God, I should have gotten fired 5 times if that's the case."
Take away 2003 and Novak was 53-74 in 11 seasons.
Sunday, though, may have been the biggest moment in school history. The Huskies slingshotted six spots in the BCS  from No. 21 to No. 15 without a coach. Dave Doeren left Saturday to go to North Carolina State. It wasn't until Sunday night offensive coordinator Rod Carey was promoted to head coach.
The Huskies even have a Heisman candidate in quarterback Jordan Lynch. The potential embarrassment factor will be high for ACC champion Florida State playing in the Orange Bowl. This is the first time in three years a non-BCS school has qualified for a BCS bowl. The other BCS busters have been Utah, Boise State, TCU and Hawaii.  
The Huskies will actually earn more ($28.2 million) than the Seminoles ($23.6) for playing in the game. The trickle down of cash will reach all the way to Seattle University, Denver University and Arkansas-Little Rock. Seattle and Denver play basketball in the WAC. Arkansas-Little Rock is in the Sun Belt. Those basketball-only schools also get a share.
The biggest payday in MAC history, works out this way:
•  $7 million of the $28.2 million is divided between the five non-BCS conferences (Conference USA, Mountain West, MAC, Sun Belt and WAC).
•  Another $7 million is divided into 15 "units" based on conference strength. Because it is the No. 1 ranked non-BCS league, the MAC will receive five of those 15 shares, followed by the No. 2-ranked conference getting four shares, etc.
•  The MAC will get $8 million of the remaining $14 million as the participating conference.
•  The other $6 million will be split up into those 15 units.
Many NFL-eligible juniors ignore advice provided by the league and risk going undrafted each...

Snyder died in Manhattan, Kansas, on Wednesday

Locksley joined Alabama's staff in 2016
Saban reportedly wants to hire Freeze, but there may be things keeping that from happening

Florida State-Miami will be on Oct. 6, and the Seminoles will play Clemson on Oct. 27

Weis Jr. was an offensive assistant for the Atlanta Falcons in 2017