Northwestern OK'd to unionize; player welfare can't be ignored now
A regional National Labor Relations Board on Thursday allowed Northwestern players to unionize. While there is still a long way to go, the decision itself marks a demarcation line on the issue of student-athlete welfare.
ANAHEIM, Calif. -- The first inclination was to freak out.
What, the Northwestern players can unionize?! What's next -- a Wildcat strike?
(Labor buffs will see what I did there.)
I got the news while driving to the Honda Center here for the day-before interviews at the West Regional. Before I got off the I-5, CBS Radio News called wanting an interview. I had to grasp the significance of Thursday's announcement.
Yes, a regional National Labor Relations Board had ruled Wednesday the Northwestern players could unionize. The ongoing battle had taken a significant step. The issue still has to go before the national board. For now, any such ruling would only impact private schools.
Whatever happens, the case seems to be headed for the Supreme Court. It's that contentious. It's that important. It could also take years.
"Today, college athletes are employees in the eyes of the law."
That came from Ramogi Huma, president of the College Athletes Players Association, who had quickly returned my call. CAPA is the Southern California-based activist organization behind the union movement.
"We won," said player leader and former quarterback Kain Colter.
Former Missouri receiver T.J. Moe took to Twitter for a series of insightful 140-character analyses.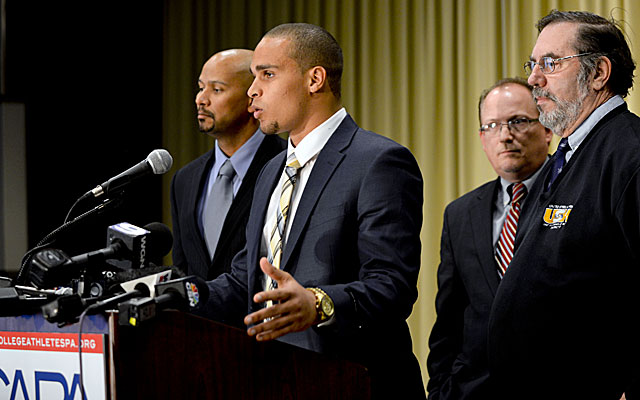 "No perfect solution," he tweeted. "Very, very complex situation. Union isn't the answer, but I think it's obvious that something needs to change."
I essentially wrote that in January. I'm not sure how this issue is going to end up, but it does indicate that players have become more self-aware. They are realizing they are a free labor pool that may not be properly protected medically and financially.
They now have legal representation in several lawsuits.
Student-athlete welfare is a front burner issue. And someone -- soon -- is going to have to deal with it. The most obvious someone is the NCAA. They happen to be way behind on this particular issue.
Northwestern and the association both issued statements expressing their "disappointment" with the decision. We're kind of way beyond that now.
The Chicago Tribune declared it was a "stunning decision" that could potentially "alter dramatically" big-time college sports. Significantly, the NLRB regional director said the decision means players have an economic relationship with the university.
We didn't need the NLRB to tell us high school kids are being recruited because of their football prowess. The system, in some places, is out of control. Anyone watch the HBO Real Sports piece Tuesday night? 
It's that now the players' plight has been formalized. There may be a day when players can collectively bargain gassers at the end of the practice. You can see a detailed list of the National College Players Association's demands here. They are not outrageous.
Players here at the Wednesday pressers were asked their reaction. Most of them weren't aware of the news. It's hard to ask a kid chasing the Final Four about collective bargaining.
But I sought out Arizona star guard Nick Johnson in the halls of the Honda Center. I explained to him that the unionization movement is essentially over athletes feeling they're being exploited. Sure, the scholarship is free, but concussion damage can last a lifetime.
I asked him if he felt exploited.
"I love what I do. My whole life has been basically playing sports," Johnson said. "I wouldn't be doing it if I felt it was doing a job."
Johnson then thought a moment.
"It's not easy getting up for preseason conditioning at 6 o'clock [in the morning]. Those are all the things you have to do to be a great team."
But here's what unionization and improved student-athlete welfare possibly means: Can you still be a great team if the players have a spot at the table to negotiate that maybe those drills should start at … 8 a.m.?
Byron Murphy reportedly sustained a foot fracture in practice

GoDawgs247 previews big-time college football recruits headed to Athens

Dig below the surface and you'll find a lot of intriguing matchups on the slate this Satur...
SportsLine tapped into its Vegas sources and found out pro bettors are all over No. 8 Michigan...

An early-season Big 12 game already has major conference and national implications

Top-ranked Alabama hits the road to take on upstart Vanderbilt in Nashville on Saturday