Northwestern sees football goals through union haze
Northwestern Wildcats face the delicate balance of preparing for a union vote while trying to improve on last year's 1-7 Big Ten performance.
• 3 min read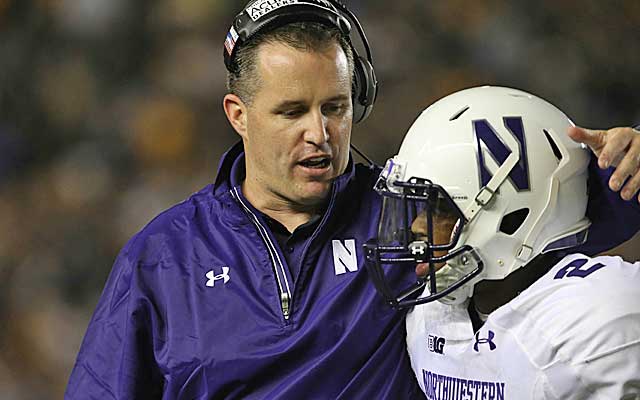 More college football: Bruce Feldman | Dennis Dodd | Jeremy Fowler | Latest news
EVANSTON, Ill. -- We're here to confirm that Northwestern is still playing football. They concluded spring ball Saturday with a lightning-shortened scrimmage at Ryan Field. Recruits were on campus, youth camps were scheduled for later that day and fans were allowed to approach players for autographs in the team's indoor facility.
That pesky union issue, the one that could shake the collegiate model at its core, never really dissipates. Players and coach Pat Fitzgerald were asked all about it in media scrums after the practice session.
But it's not like the players had to run off to immserse in labor law documents. Spring ball came and went as scheduled, and players were on the field getting better. Football without politics was welcome.
The Wildcats still have lofty goals for their season. Quarterback Trevor Siemian, who does not advocate a union, had to sneak in a few of those goals when fielding a union question about whether the situation has galvanized the locker room.
"Big Ten championship and Rose Bowl," said Siemian about the standard goal for his team, as it is for most in the conference.
If Siemian has his way, Northwestern will focus on the Rose Bowl campaign without collective bargaining meetings in between. He's one of a handful of Northwestern players that has spoken out against the union leading up to the April 25 vote orchestrated by the National Labor Relations Board.
Meanwhile, not one player has come out publicly as pro-union, and the reason for that is a bit unclear. A source familiar with the Northwestern union process said at least a few players have stated internally they are pro union. So it's safe to assume no one player speaks for the entire 85-man scholarship roster.
Assuming there's been pressure from the school to stay quiet would be an unfair leap and a compromise of the labor process.
Some players want to keep their voting preferences private -- "I feel everybody should," wide receiver Miles Shuler said.
However, Siemian suggests there's not much buzz in favor of College Athletes Players Association. 
"I speak for myself, but I think there's a good portion of the team that feels the same as me (against unionization)," Siemian said.
Official voting results might not become public for months, once Northwestern's appeal of the NLRB ruling plays out. Until then, players must coexist with Nortwestern officials while trying to improve on last year's injury-marred, 1-7 Big Ten finish.
That seemed natural enough when a group of linemen approached athletic director Jim Phillips after the scrimmage with a handshake or a bro hug, with Phillips encouraging them to keep their grades up.
The union process is not as awkward as it may seem, Shuler says. Players gather information behind the scenes and asks questions -- apparently Northwestern legal counsel has a 31-page file with the play-by-play from those questions -- but practice sessions have been relatively normal, players say.
"Everybody's supporting each other. Coach Fitz, he talks to us," said Shuler, a Rutgers transfer. "Everybody has each other's back."
Though he doesn't agree with the union premise, Siemian's hope is the process can strengthen the team.
"Any time you have conflict, it's a point for everyone to gather together," Siemian said.
On the field, Northwestern is still recovering from several injuries, contributing to the lack of a spring game for the second straight year.
From 2008-12, Northwestern averaged eight wins per year. Returning to that standard is the plan regardless of the vote.
"I've seen a great enthusiasm throughout this whole program," Fitzgerald said.
Paul Tyson is a three-star quarterback prospect for the 2019 recruiting class

College football bowl games were all announced on Sunday, and you can check out the entire...

SportsLine simulated every bowl game 10,000 times for pick'em leagues and confidence pools
Everything you need to know to watch and pick the Las Vegas Bowl on Saturday

Everything you need to know to watch and pick the Camellia Bowl on Dec. 16

Everything you need to know to watch and pick the New Mexico Bowl on Dec. 16