Northwestern's Colter at forefront of organizing college players
Can college football players unionize? Kain Colter wants the answer to be yes, and he's taking a leadership role in making it happen.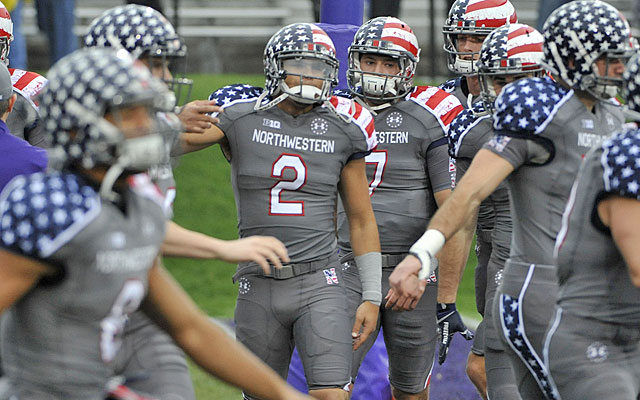 Northwestern players are contemplating unionization. The NCAA has countered with a simple rebuttal: Players are not employees essentially because college athletics is part of the overall educational experience.
We'll see, won't we?
The issue -- perhaps for all of college athletics -- has come to a tipping point. In a downtown Chicago federal building on Tuesday former Northwestern quarterback Kain Colter -- the face of the unionization movement -- will make his case at a National Labor Relations Board hearing.
Colter will testify in favor of the Northwestern players' petition to unionize. Ramogi Huma has called him the movement's "star witness."
"This is the most important hearing, I believe, in the history of college sports, at least in modern college sports," said Huma, founder of the players rights organization College Athletes Players Association. "I don't think there's ever been a bigger platform with a chance to change the nature of protections provided to players."
The basic issue during the NLRB hearing is whether college players receiving a free education have the right to collectively bargain their working conditions. The hearing will help determine whether the NLRB will recognize Northwestern football as a union. The process could last another year.
In the short term, it may not matter who wins. It's what the movement represents.
"It could be this case is the NCAA equivalent of the Curt Flood case," Notre Dame finance professor Richard Sheehan said in an email.
Sheehan is comparing the college unionization movement to Flood challenging baseball's reserve clause more than 40 years ago. Flood lost in the Supreme Court, "but [he] and his lawyers won based on the underlying economic logic."
You know the result of Flood's struggle as free agency in MLB.
In the college realm, Colter's testimony has opened up an age-old argument: Either that free scholarship is enough in return for players' services on the field, or they are being exploited for those services.
Colter's presence gives the movement ultimate credibility. He was the leader of a program that takes great pride in doing things "the right way." Northwestern football has a 97 percent graduation rate. But if that education -- priced at $63,000 per year -- is integral to the athletic experience as the NCAA contends, the association has backed itself into the corner of quite a debate.
Colter got the idea for unionizing while taking a class called "Contemporary Issues in the Modern Workplace". An instructor told Colter, according to the Chicago Tribune, that "I can't believe college athletes don't have a union with as much money as you guys bring in."
"It kind of clicked," Colter told the Tribune, "I thought, 'Why don't we?' "
The quarterback then called Huma and a movement was born. It's hard to argue against it being a shining example of the ruling body's message -- training the body and the mind under the NCAA's logo.
Well, except when that educational experience interferes with the function of the ruling body.
"He'll be very compelling in terms of what the labor board is going to be looking at," Huma said of Colter. "They're going to be applying the life of a Northwestern football player through the lens of whether those activities qualify Northwestern football players as employees."
We're at this tipping point because players are waking up to what they believe to be their rights beyond that scholarship. They control the labor force. Colter was among those who scrawled "APU" -- All Players United -- on their wristbands during the season.
During the NCAA Convention last month, Minnesota punter Christopher Hawthorne and Georgia receiver Chris Conley were outspoken about the players' lack of a voice.
Wake Forest president Nathan Hatch provided what might have been the watershed moment of the week. Conley rose to question the lack of the words "student-athlete" on a proposed NCAA governance structure handout.
"I don't know if we've wrestled with that substantially," Hatch said.
Even now, it hasn't been determined exactly how the voice of the student-athlete will be recognized as the NCAA reinvents itself.
"Student-athletes will have a spot at the table, a more active voice than they have in the past ...," Big 12 commissioner Bob Bowlsby said. "Are they going to end up with a voting seat on the board of directors? I don't think they will."
But should they, considering they are the free-labor force that allows the NCAA to exist in its current state?
The CAPA says it has the answer on its website. Among its goals:
• Increasing the value of scholarships.
• Guaranteeing medical coverage for sports-related injuries involving current and former players.
• Addressing the head-trauma issue.
• Establishing an educational trust fund to help former players complete their education and reward those who graduate on time.
• Allowing players to receive compensation for commercial sponsorship.
A majority of those issues are being addressed within the system as the NCAA figures out a new governance structure. A cost-of-attendance increase in the basic scholarship is almost a certainty. Guaranteed medical coverage may be part of that restructuring.
Several concussion lawsuits have been bundled in the Northern District of Illinois. They represent most of the compelling cases nationwide involving the NCAA.
The trust-fund issue has been hinted at by Big Ten commissioner Jim Delany, who wants to guarantee ongoing education for players. As for commercial sponsorships, the O'Bannon lawsuit may bring that issue to a head. NCAA members may have to bend on sponsorships or risk having that issue decided in the courts.
"The overwhelming weight of economic arguments is on the side of the players," Sheehan wrote. "Ultimately, they will win even if they lose these cases."
So what's left? A lot. Players could collectively bargain how often they practice and the intensity of those practices (full pads?). Imagine if athletes -- concerned about school work -- could mandate no Thursday night games?
Wouldn't that particular point be the essence of the NCAA ideal?
Colter told the Tribune that "there's nothing free" about that $63,000 annual tuition. Not when you factor in football, which at the highest level is a full-time job. That would suggest that the NCAA's weekly 20-hour limit spent on a player's chosen sport is a joke. Try 40 hours a week -- a full-time job.
"It appears to me," Sheehan said, "that the arguments that they do well in school, have a high graduation rate and are strongly supported by the school in their academics are all irrelevant to the question of whether they are employees."
It's whether those young adults are being treated fairly in a multibillion-dollar industry essentially controlled by the NCAA, athletic directors, commissioners and TV executives.
We'll see, won't we?
For the moment, what's strange is Sheehan's comments were offered from the Notre Dame office of public relations. Being a private school not subject to state right-to-work restrictions, it could be the next school targeted by the CAPA.
Huma already has thought of the recruiting advantages of players who could unionize.
"If Northwestern can get a union and have better protection, that's going to sway their [recruits'] decision ...," Huma said. "Recruiting is everything."
So what program is next for Huma, CAPA and its eloquent spokesman, Colter? The list of private FBS schools is not a not a long one.
"We're not commenting on our organizing strategy," Huma said. "This hearing is our primary focus."
For now.
Mayfield disappointed a lot of people with is most recent antics, NFL scouts among them

Gary Danielson previews the Iron Bowl on the 247Sports College Football Podcast

The Fornelli 50 ranks teams based on nothing but their performance in 2017
This week's best bets include Ohio State-Michigan, South Florida-UCF and UNLV-Nevada

The de facto SEC Championship Game between Auburn and Alabama headlines a big rivalry week...

The former Oregon coach is one of the hottest commodities on the coaching market