Northwestern's Fitzgerald not taking chances with job, Wildcats' future
Northwestern's Pat Fitzgerald has gone to five straight bowl games but looks to lift the Wildcats beyond their perceived private-school limits. He embraces his past and believes he's finally ready after feeling overwhelmed early in his career.
• 5 min read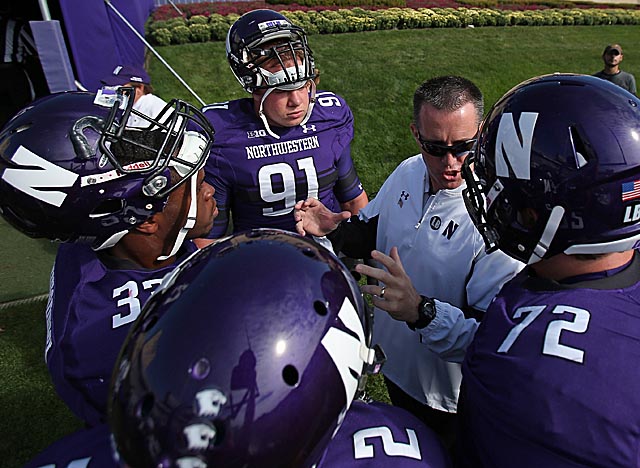 EVANSTON, Ill. -- This was the second day of spring practice. Apparently Pat Fitzgerald thought it was halftime of an October game in State College.
His voice ripped through the indoor practice facility. Players huddled around him to absorb the post-practice sermon in silence.
"Take some freakin' pride," Fitzgerald summoned of his Wildcats on Feb. 28. "Somebody's got to grab the broom and say, 'Follow me.'"
Fitzgerald's teams will practice with eyes wide-open, ears wide-open, ready to get coached, he told them.
"If you don't want that, then transfer," he said.
Think Northwestern is happy with its 10-3 finish? Coaches already are reminding players of those three blown second-half leads that shattered perfection in 2012.
Fitzgerald isn't taking any chances, in part because he knows his Wildcats can make a Big Ten run. Fifteen starters return.
But also for the responsibility he shoulders -- for Northwestern, for himself, for Randy Walker.
Walker, the former Northwestern coach who died of heart complications in June 2006, would be 58 right now. His contract ran to 2011. Maybe he would have been on a new deal by now, with Fitzgerald as a 38-year-old linebackers coach or coordinator or head-coach-in-waiting.
Instead, Fitzgerald is 50 wins, 39 losses and five bowl games into a coaching career spawned from under unfortunate circumstances.
 "I'd still much rather be the linebackers coach," Fitzgerald said. "I'd still rather follow Walk's lead and he'd still be alive and running the ship. But that wasn't in the cards. I'm just forever indebted and grateful for the relationship."
Fitzgerald is ready for such weight now. He always wanted to be ready. His loyalty to Northwestern wouldn't allow anything else. It'd surprise no one if Fitzgerald slept in a purple-and-white Onesie. He oozes NU nostalgia as a Chicago kid and two-time All-American linebacker for NU in the mid-90s.
But Fitzgerald was fooling himself early on. He wasn't ready. The enormity of the head coach title used to swallow him up.
Northwestern went from four to six to nine wins in Fitzgerald's first three seasons, but maturity was still a process.
"Looking back on it now, I was awful," Fitzgerald said. "I just don't think I did a very good job as a leader articulating the vision. I was trying to do too much. You have to have the ability to lead people to be a great coach."
After a while, Fitzgerald realized the importance of delegating, attending son Ryan's math projects at school, recruiting players who embody hard-nosed football more than a star ranking.
Fitzgerald believes the coaching truism -- you never know what it's like until you sit in the big chair.
That's why he doesn't think much about how things could be different.
"I could have been the defensive coordinator for 10 years and I'm not sure I would have been ready," Fitzgerald said. "I'm not sold on that. It's a very humbling profession. But when you kind of step back from football for a minute and see the power of influence you have over young men … it's an awe-inspiring profession."
Clearly Fitzgerald can inspire locker rooms and package double-digit wins. Now it's time to see how far this private school of around 8,400 students can stretch.
Northwestern belongs in the growing cluster of private schools with academic reputations now surging in football. Stanford is less novelty and more title contender, so much that Notre Dame had to learn how to keep up. Vanderbilt is at the front door, standing on what used to be its own doormat. Duke has room for Coach K and Coach C.
To be sure, Northwestern's resurgence under Fitzgerald shouldn't shock. Former coaches Walker and Gary Barnett both won conference titles. Sustained success has been the issue, and something Fitzgerald plans to provide.
The way this staff sees it, the program's perceived ceiling should be permanently torn off.
"We were three plays away from playing in the Big Ten championship," defensive coordinator Mike Hankwitz said. "Let's figure out how to get those plays back."
Northwestern has Fitzgerald locked up to do just that. In May 2011, Fitzgerald signed a 10-year extension worth a reported $1.8 million per year. The Wildcats repelled overtures from Michigan two years ago with two promises to Fitzgerald: a mushrooming assistant salary pool and an on-campus, lakefront athletic facility expected to cost around $225 million.
Facility plans are immersed in estimates and bids -- no shovels in the ground yet -- but this could be a game-changer for NU. 
Fitzgerald's deal is believed to include escalators that keep his salary up to date with Big Ten coaching peers.
NU president Morton Schapiro said Fitzgerald has been cooperative, never pushing back against recruiting boundaries because of academics standards. Fitzgerald's 2013 recruiting class ranked ninth in the Big Ten according to 247Sports.com, which Fitzgerald seems to revel in because he wants cohesion more than stellar 40 times.
"He's the classiest guy in the world," Schapiro said.
When asked about the notion that coaches can stay at schools too long, Fitzgerald said coaches typically have that late-November biological clock -- 'OK, what jobs are open?'
But he's finally ready for this purple beast now.
"To me there's no place better that fits me right now with the way we're supported," Fitzgerald said.
Antonio Callaway and Jordan Scarlett are two of the nine players under investigation

The SEC released its 2018 schedule in full Tuesday afternoon, and it's dripping with intri...

The 2021 Chick-fil-A Kickoff Game will feature Louisville and Ole Miss
The Fornelli 50 ranks teams based on nothing but their performance in 2017

Penn State better have its eyes wide open with a trip to Iowa City on deck this weekend

Ohio safety Javon Hagan has a rather unique personal tradition during games