Northwestern's Venric Mark out for season with broken ankle
Pat Fitzgerald confirmed Monday that All-American punt returner and all-purpose weapon Venric Mark will not return in 2013.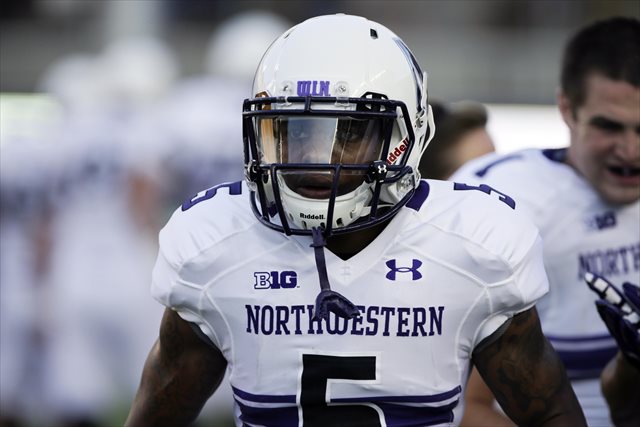 An All-American in 2012, Venric Mark won't be returning to help Northwestern battle for bowl eligibility in 2013, Pat Fitzgerald confirmed Monday.
Fitzgerald said that Mark is recovering from a broken ankle and "will not be returning to participation this season." The senior running back and all-purpose weapon has played in only three games this season and has only 97 rushing yards, after running for 1,366 in 2012 and earning All-American honors as a punt returner.
The news doesn't come as a surprise. Fitzgerald has publicly discussed Mark's chances of receiving a medical hardship waiver and extra year of eligibility from the NCAA, saying, per te Chicago Tribune, he had "talked to Mark about all the different variables."
But if the Wildcats won't be shocked by Fitzgerald's announcement, it also won't do anything to help them salvage their five-year streak of bowl appearances. After a 4-0 start, Northwestern has lost five straight, all in Big Ten play, and needs to win two of their remaining three games -- at home against Michigan and Michigan State, and at Illinois -- in order to reach bowl eligibility.
That's not the scenario Fitzgerald and the 'Cats had laid out at the beginning of the season -- and Mark's struggles to be healthy have been a huge part of that. If there's any silver lining, it's that his potential return in 2014 might help make that campaign the Legends Division challenger 2013 was supposed to be.
Conner Manning and the Panthers dominated the Hilltoppers in the Cure Bowl

You can only go to the well so often before it dries up

The Trojans beat LSU earlier in the year and now have their first 11-win season as a FBS t...
Saban has never been a fan of the early signing period and made it clear that hasn't chang...

Paul Tyson is a three-star quarterback prospect for the 2019 recruiting class

College football bowl games were all announced on Sunday, and you can check out the entire...