Not household names (yet): Coaches are talking about these 25 players
CBSSports spoke to more than 20 college coaches about players who haven't yet arrived or are underrated but make an impact on the field.
• 6 min read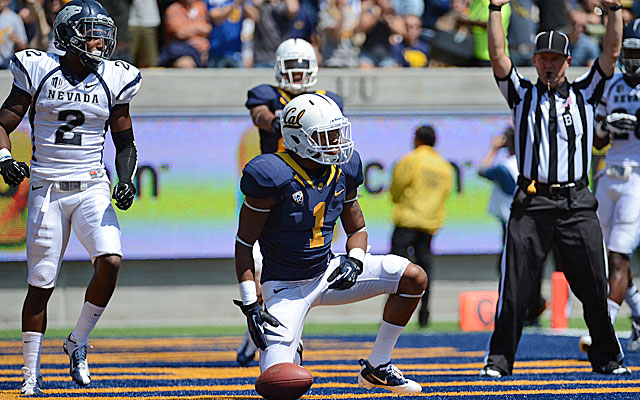 This offseason, more than 20 head or assistant FBS coaches gave me their thoughts on teams in their conferences anonymously.
Through those general impressions, sometimes a name would surface that I found interesting – someone that isn't a star yet, or might never be, but made enough of an impact for that coach to point them out.
These players varied from underrated players, unheralded veterans, potential breakout stars, surefire breakout stars or simply young players who have created a buzz.
They've never been on an All-conference first team. Second team is the threshold here. For example, one coach raved about Wisconsin linebacker Chris Borland as "one of the most underrated players in the country." Well, that's a nice quote, but Borland was All-Big Ten first team last year. Doesn't count. Neither does Michigan State cornerback Darqueze Dennard, also a first-teamer. No incoming freshmen, either. No frame of reference yet for these coaches.
Many from this list are recognizable to the ardent college football fans but haven't done enough to reach cornerstone status.
This is an inexact process. There are probably hundreds of these players around the country.
But these came up organically in conversation, which is sort of the point of this exercise. They stuck out on tape or in live action.
UCF OT Torrian Wilson
Year: Redshirt junior
Measurables: 6-4, 308
2012: Started 14 games, All-C-USA second team
Coach's take: "He is a tough, old-school type player. Doesn't say a lot and plays through pain. Can get movement in run game and protect."
California WR Bryce Treggs
Year: Sophomore
Measurables: 5-11, 175
2012: 21 catches for 216 yards and one touchdown
Coach's take: "He can really fly. He's perfect for that new offense they'll have. They can use him all over the field. (Running back) Brendan Bigelow might be their most explosive player but has a hard time staying healthy. Treggs has a chance to put up solid numbers."
TCU QB Casey Pachall
Year: Senior
Measurables: 6-5, 230
2012: Left team in October for substance abuse treatment.
Coach's take: "Very talented, good athlete, good thrower, helluva competitor. The competitor part, he's kind of like Collin Klein, who's not fastest in the world, not a great thrower, but a helluva competitor. Loves to play. Pachall is similar…If he's truly out of the doghouse, he's as good as anybody in our conference."
Oregon TE Colt Lyerla
Year: Junior
Measurables: 6-5, 238
2012: 25 catches, 392 yards, six touchdowns
Coach's take: "Just a heckuva player. Can flat out play. Stands out on film."
(Side note: Lyerla's backup, Pharaoh Brown, is creating some buzz, too. "Big, athletic and seems to be getting it," a coach said.)
USF DE Aaron Lynch
Year: Redshirt sophomore
Measurables: 6-6, 244
2012: Sat out due to transfer rules.
Coach's take: "The Lynch kid is a freak. They tell me he's better than Jason Pierre-Paul when he was there. I've been around some good D-lineman. If he does what he's supposed to do, he'll be dominant."
Iowa State RB Jeff Woody
Year: Senior
Measurables: 6-1, 242
2012: 40 carries for 193 yards and two touchdowns
Coach's take: "He didn't play for them much. We thought he was a load. Not sure why he didn't play more. I'm not sure if he's in the doghouse or injured. Not really sure there. Good running back, though."
Texas Tech TE Jace Amaro
Year: Junior
Measurables: 6-5, 257
2012: 25 catches for 409 yards and four touchdowns in seven games, All-Big-12 Second Team.
Coach's take: "He's a big guy, and they flexed him out. His numbers don't look that good, but we thought the world of him."
Alabama OL Ryan Kelly
Year: Sophomore
Measurables: 6-5, 290
2012: Played in nine games as a backup on Bama's stout offensive line. Made All-SEC Freshman Team.
Coach's take: "I hear they've got a young guy (Kelly) who is light years ahead of where Barrett Jones was. He's big time." (Checked with a Bama coach who wasn't ready to put him ahead of Jones on the trajectory, but confirmed he's got a chance to be great).
Arizona State QB Taylor Kelly
Year: Redshirt Junior
Measurables: 6-2, 203
2012: Second in Pac-12 in passing efficiency (159.9), 67.1 completion percentage, 29 touchdown passes, nine interceptions
Coach's take: "Apparently he's becoming a leader for that team. He has that little it factor to him where he'll get it done. He probably needs to tuck it more and take more sacks instead of trying to extend a play. He's got a nice future overall."
Ole Miss DE C.J. Johnson
Year: Junior
Measurables: 6-3, 233
2012: Ten starts, 6.5 sacks and All-SEC Third Team according to College Sports Madness.
Coach's take: "He's not as good as Jadeveon Clowney, but he's right in that next category as far as defensive ends in the league. Good burst and strength."
Michigan LB Desmond Morgan
Year: Junior
Measurables: 6-1, 227
2012: Started nine games with 81 tackles.
Coach's take: "Efficiently made plays within the structure of the defense."
Virginia CB Demetrious Nicholson

Year: Junior
Measurables: 5-11, 185
2012: Tied for ACC lead in pass breakups with 15, added 56 tackles.
Coach's take: "He's undersized but he's a good football player. He stands out for them, seems to have good instincts. Should be an emerging player."
Vanderbilt OL Wesley Johnson
Year: Redshirt senior
Measurables: 6-5, 285
2012: All-SEC Honorable Mention (AP)
Coach's take: "One of the most underrated offensive linemen in the country. Technician. Great motor. Incredible competitor. Lacks the girth to be a physically dominating player which leads to a very small margin of error."
North Carolina TE Eric Ebron
Year: Junior
Measurables: 6-4, 245
2012: 40 catches for 625 yards and four touchdowns
Coach's take: "That tight end, Eric Ebron, is impressive looking. He'll be a big part of what they do next year. Really versatile."
Ohio State RB Carlos Hyde
Year: Senior
Measurables: 6-0, 242
2012: 185 carries for 970 yards and 16 touchdowns.
Coach's take: "Could be a great one if he continues. Strong, powerful back with great pad level…He probably doesn't have elite speed downfield."  
Also noteworthy:
*Northwestern RB Venric Mark – "Kid is a game-breaker."  
*Michigan State WR Aaron Burbridge -- "He kind of came on midway through the season."
*New Mexico RB Kasey Carrier -- "Really good player."
*West Virginia receiver Kevin White -- "I think he can be a star for them."
*LSU fullback Connor Neighbors -- "A really tough kid."
*Oklahoma QB Blake Bell -- "I think he can spin it pretty good, too."
*Purdue RB Akeem Hunt -- "An active back with good feet in the hole. Not home run speed but can make good, solid runs."
*Maryland WR Stefon Diggs -- "A big-time player."
*Virginia Tech DE Dadi Nicolas – "He's going to be a great pass rusher."
*Arkansas RB Jonathan Williams – "He is going to be good for them. We liked him out of high school. He'll get plenty of opportunities in (Bret) Bielema's power run scheme."
Trust the Process as Tom Fornelli leads you toward his best bets for Week 13 of the season

This edition of the sport's greatest rivalry will go down in history as one of the most im...

Dennis Dodd makes his prognostications for the last and most important week of the regular...
Kelly is presently deciding whether to start anew with the Gators or Bruins

There are a handful of conference championship games still to be determined

SportsLine's top college football expert, on a 30-18 run, locks in his top picks for a loaded...