Not in the game: College football players want NCAA video game back
The cruel irony of EA Sports ending its popular NCAA video game in the wake of litigation over players' likenesses? Current players say they just want the game back.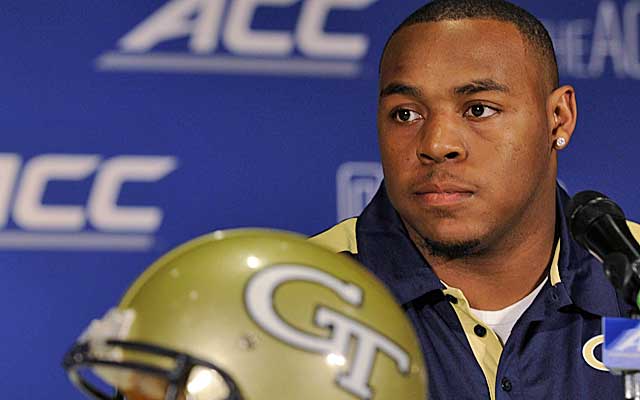 More: Florida State clear ACC favorite | Big 12 commish rips NCAA | Latest news
GREENSBORO, N.C. -- Georgia Tech offensive lineman Shaquille Mason didn't hesitate when he was asked the one thing he would change about college sports.
"Give us the NCAA Football 15 [video game]," Mason said. "We used to play it every day. We used to say during fall that would get us through the camp playing the game. That really was a blow."
As college football players prepare for the season, there's an unusual void in their lives. Electronic Arts announced last year it would not produce its popular NCAA-branded college football video game in 2014 due to litigation over the use of players' images and likeness in the game.
EA, Collegiate Licensing Company and the NCAA settled lawsuits over video games for a combined $60 million (with $20 million from the NCAA). If the settlements are approved by the court, about 100,000 current and former college football and men's basketball players will be able to claim up to $5,000 per year for past appearances on the NCAA video games.
As a federal judge prepares to rule in the Ed O'Bannon case, documents related to the use of athletes' names, images and likenesses (NILs) are being changed. USA Today Sports reported last week that the NCAA has eliminated a highly-debated, name-and-likeness release from the set of forms Division I athletes sign each year around this time.
Players who signed the form granted permission to the NCAA or a third party to use his or her name or picture to promote NCAA events without being paid. The NCAA maintains athletes were not required to sign the name-and-likeness form in order to be eligible.
However, during the O'Bannon trial last month, the plaintiffs alleged that some former athletes -- including some under the age of 18 -- were told they needed to sign the form to be eligible to play. When deposed in 2013, ACC commissioner John Swofford said he believed athletes would be ineligible without signing the name-and-likeness release.
Swofford told CBSSports.com on Monday he no longer views signing the form as necessary for eligibility. "Whether I was right about that impression or wrong about that impression, what became obvious is people had different impressions," he said. "If it's not an eligibility issue, what is the purpose [of the form]?"
Swofford said the ACC for the first time is developing its own release form for name and likeness. He did not discuss specifics of the form and said ACC lawyers are in the process of creating it.
"We're working on what it needs to say in terms of our contractual agreements because the NCAA is basically going away from it," Swofford said.
A key issue in the O'Bannon case has been whether athletes validly transfer their name-and-likeness rights to another party. O'Bannon attorney Michael Hausfeld said the NCAA's decision to eliminate the name-and-likeness form "appears to mean they don't have much principle attached to what they so aggressively defended for so long."
Some conferences have used name-and-likeness forms for several years, with the ACC becoming the latest. "What they're apparently trying to do is avoid association liability by having the conferences say, 'Gee, we as the NCAA haven't done anything,'" Hausfeld said.
Name and likeness discussions are coming
Who's to blame for no video game all depends on your perspective. Last summer, the NCAA said it wouldn't seek a new contract with EA due in part to the litigation. Soon after the NCAA announcement, schools and conferences began yanking their marks for the video game beyond last year's final edition.
At the O'Bannon trial last month, EA executive vice president of business affairs Joel Linzner testified the company wants to resume the video games if players' names and images are included. In the coming weeks, U.S. District Judge Claudia Wilken is expected to issue a ruling on the O'Bannon antitrust case that could, among other things, allow video-game payments to legally happen pending the inevitable appeals. The O'Bannon plaintiffs are seeking an end to the NCAA's rules preventing players from being paid from their NILs.
When asked about his confidence level of the NCAA prevailing in the O'Bannon lawsuit, Swofford replied, "I think it's going to be something that we're going to be living with for the next three years, five years, would be my guess. Ultimately, the legal system will determine that."
With increasing frequency, some people who work in college sports are expressing more interest in discussing if and how players should be paid for use of their NILs. <span data-shortcode= State" data-canon="North Carolina Tar Heels" data-type="SPORTS_OBJECT_TEAM" id="shortcode0"> athletic director Debbie Yow said she senses "strong" support within the Power 5 conferences to talk about the issue once they receive the ability next month to create some of their own NCAA rules.
Yow stopped short of supporting payments to players for live TV rights, saying she doesn't believe schools could afford it. But Yow said she is open to a "serious" discussion about money from items such as video games, jersey sales and other merchandise.
"We're not talking about a large number of student-athletes; we're talking about the cream of the crop," Yow said. "One of the issues that would have to be addressed is how do coaches feel about it in terms of the potential development of the haves vs. have-nots on the same team, when that money goes into an escrow, and when the student-athlete has access to that money. I've talked about it for 10 years and I'm ready for that conversation."
Swofford said he believes discussions will occur about items such as player autographs and jersey sales in relation to players' NILs. He said the NCAA's $20 million video game settlement "in essence says something during that process wasn't appropriately handled," not necessarily that players can or should be paid for their likeness.
"I think it raises the issue in terms of our consideration of it as part of our rules and regulations, and certainly from a legal standpoint it raises the issue as well," Swofford said. "I don't think it necessarily translates to paying players. I don't think you're going to see people running around using the names and likeness of players without really being careful and having appropriate approvals."
Georgia wide receiver Chris Conley, a member of the NCAA Student-Athlete Advisory Committee, said figuring out the answer to video games needs to happen.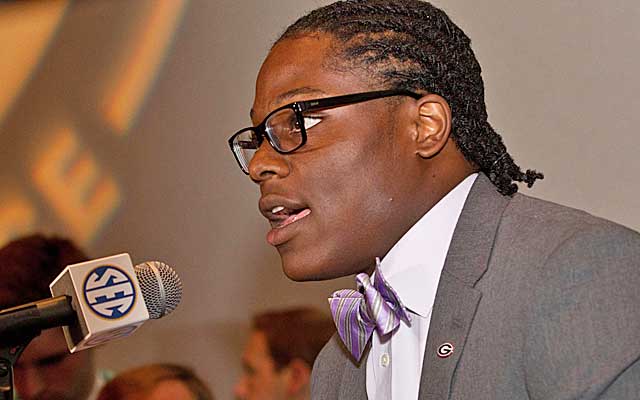 "Put it this way: There's no way you can tell me that a guy who's 6-3 from Georgia, has my skin tone and wears my number and lines up in the same place is not me in the video game," Conley said. "So that rubs me wrong. Now the way we go about it, whether it's canceling the game or finding compensation, we have to look at that."
'Exciting' to be yourself in video game
Here's the kicker of the video-game debate. Many current ACC and SEC players interviewed for this article say not only are they unaware they could eventually be paid for past video game appearances, they say they don't care about being paid.
They just want their video game back.
"I listened to somebody argue about it on YouTube [whether players should be paid for their NILs]," Virginia Tech defensive tackle Luther Maddy said. "There was a lot of good points about why they should, but for the most part, it's just a fun game. I don't think you deserve to get money just because you're on the game."
Boston College center Andy Gallik said players sometimes discuss getting paid, "but at the same time we've come to the realization where I'm at a school where I don't have to pay a dime of my $250,000 for tuition. ... I'm a little disappointed the game is gone. Every year all of the college guys would be excited to see our faces in the college game and pretend to be ourselves."
Florida State quarterback Jameis Winston, last year's Heisman Trophy winner and a two-sport star, said college athletes are blessed to get a "free education."
"That's enough money for me because my love is for the game and I know one day, hopefully God willing, that I will have the opportunity of football being my job and baseball being my job," Winston said.
If the NCAA's new governance structure passes, college athletes in the Power 5 conferences would have 15 of the 80 votes for creating certain types of legislation. Conley said athletes need to leverage their voices on issues, such as NILs, by effectively speaking up more.
"A lot of people will get into their last two years of college and say when this stuff changes, it's not going to affect me," Conley said. "What they have to realize is the people behind them are going to benefit. They'll see your sacrifice and what you've done and they'll start working on those things earlier on the front end."
But, Conley cautioned, athletes can't think they know what every athlete wants without polling them to see what they really think.
Maddy, the Virginia Tech defensive tackle, just wants his NCAA Football game back. He didn't realize it was definitely gone in 2014 until a reporter told him.
"I thought that was just a thought," Maddy said. "Man, that's crazy. That was the game I played the most. That's what I was best at."
Schiano would have made $4.4 million in Year 1 with annual raises as part of a six-year de...

Dykes spent this season as an offensive analyst at TCU

The "Wyoming Wild Man" notched six tackles for loss as a junior in 2017
Zaycoven Henderson was charged with aggravated assault with a deadly weapon

Patterson is a former No. 1 recruit in the country

Baker Mayfield and two Sooner teammates made the first team