Notre Dame AD explains -- sort of -- why the Michigan series ended
Jack Swarbrick basically says there was no room on the schedule for Michigan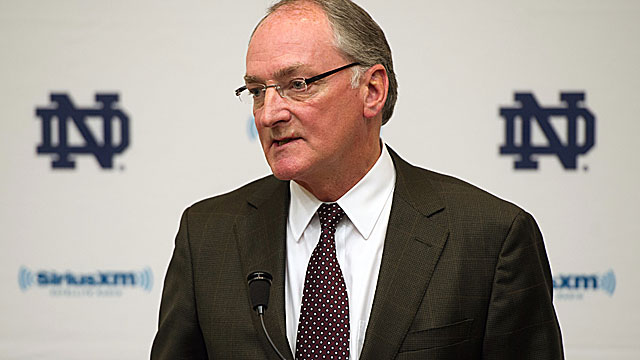 AMELIA ISLAND, Fla. -- Jack Swarbrick didn't look like he had chickened out.
"You know it's a slow news day when you guys start telling me stuff that's said in booster clubs," the Notre Dame AD said Wednesday at the ACC spring meetings.
That's essentially what this faux, overblown dust-up over the end of the Notre Dame-Michigan series has become -- the month of May. The offseason. Nothing to see here when comments by Michigan coach Brady Hoke at a Grand Rapids, Mich., booster event carry more weight than they should.
You remember that Hoke said recently Notre Dame "chickened out" when it chose to end the series with the Wolverines.
"We all recognize that stuff you say at a booster club or a pep rally generally [can be like that]," Swarbrick said. "I take no umbrage at what someone says at either of those two functions."
Notre Dame defensive tackle Louis Nix did take issue with Hoke.
Everybody facing with swords drawn? Calm down. Swarbrick explained the rationale for dropping Michigan.
"The math is pretty simple for us," he said.
Most BCS conferences operate with an assumption there will be seven home games and five road games. Notre Dame, Swarbrick explained, would have four of those road games spoken for every year. ND hopes to maintain the rivalries with Navy, Stanford and USC. Then factor in the five ACC games the Irish will begin playing in the new scheduling agreement. Two or three of those are going to be on the road each year. 
The four road games are going to look like this:
No. 1 road game, ACC
No. 2, ACC
No. 3, ACC or Navy
No. 4, USC or Stanford
That leaves one game available for a home-and-home opponent. 
"We are making, and will continue to make, tough choices," Swarbrick said.
It sounds like Notre Dame would have had to make a choice in dropping Navy, USC or Stanford to make room for Michigan. That wasn't happening. But that still doesn't answer why Michigan was dropped instead of, say, Purdue or Michigan State from the Big Ten.
Stay tuned to the booster club circuit for more details. 
Getting Leavitt back was obviously high on Cristobal's list of priorities

Cristobal's first game at Oregon ended the same way Chip Kelly's did

Conner Manning and the Panthers dominated the Hilltoppers in the Cure Bowl
You can only go to the well so often before it dries up

The Trojans beat LSU earlier in the year and now have their first 11-win season as a FBS t...

Saban has never been a fan of the early signing period and made it clear that hasn't chang...