Notre Dame gives Michigan a blowout to remember them by
Lou Holtz on ending the Michigan series: "We're not playing you because we're trying to upgrade the damn schedule!"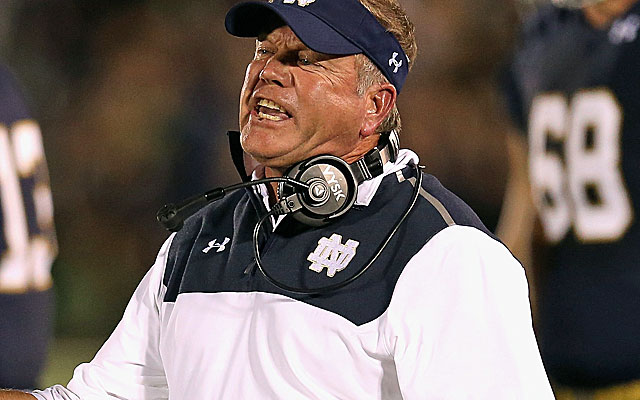 SOUTH BEND, Ind. -- The script couldn't have been written better Saturday night if Rudy had penned it for Hollywood.
With Michigan still throwing the ball, down 31-0 in the final seconds, quarterback Devin Gardner tossed an interception that Notre Dame returned 62 yards for a touchdown. The final play of the Michigan-Notre Dame rivalry until who knows when was going to end on a Notre Dame pick-six with the Michigan quarterback getting laid out on a blindside hit.
Except there was a defensive penalty. No touchdown.
"It's OK," one Notre Dame fan on the sideline said while holding a recorder. "I've got it on video."
You can't help but think that's how countless Notre Dame fans will remember the ending of Notre Dame 31, Michigan 0. Revisionist history is part of the lore of rivalries, after all.
"I'd be lying to tell you it doesn't feel great to shut out Michigan 31-0," Notre Dame coach Brian Kelly, the emphasis in his voice on 31 in case anyone forgot Notre Dame's final score.
How could anyone forget? Irish fans relished the finale as the game ended, snapping pictures of the scoreboard and chanting the "good-bye" song.
The school that often gives Notre Dame such heartbreak? To the smiling Irish eyes, that 31-0 scoreboard is what Michigan fans will have to digest for a long, long time. 
The "chicken dance" song Michigan played after winning last year's final game in Ann Arbor because Wolverines fans mocked Notre Dame for ending the series? That 31-0 score helps ease the pain.
Michigan's NCAA-record of 365 games without getting shut out ended, dating back to 1984. It was a game Michigan coach Brady Hoke characterized as a "total butt kicking" while Michigan AD Dave Brandon listened to Hoke's news conference from the back of the room. And yet, oddly, Michigan actually outgained Notre Dame in yards 289-280.
In a tale of two quarterbacks, Everett Golson continued to play brilliantly, and Gardner looked like the Gardner of 2013.
Golson made accurate and strong throws in tight windows on a three-touchdown night. "I think it all started when he really got an opportunity to learn how to protect himself and protection really, for me, is the catapult for quarterbacks in their development," Kelly said.
With Notre Dame's upcoming schedule and the play of Golson and its defense, it's quite possible the Irish will be undefeated headed to No. 1 Florida State on Oct. 18. That doesn't mean Notre Dame is a national title contender. But the Irish's start gives its fans hope that five suspensions due to an academic fraud investigation may not derail the season after all.
Meanwhile, Gardner forced throws and constantly got hit due to a leaky offensive line during a three-interception night. "He's our quarterback, unless he somehow doesn't come to work every day," Hoke said of Gardner in a less-than-ringing endorsement.
Michigan could not have looked worse. Hoke was asked what's the difference to get over the hump given that he's 0-4 against his major rivals on the road over the past four years.
"Winning," Hoke said. "You win the game. You play. You don't turn over the ball. You don't give up big plays."
Could it be mental?
"You talk about it enough to be a mental thing," Hoke said. "I don't think it's a mental thing."
At a pep rally on campus Friday night, former Notre Dame coach Lou Holtz fired one of the last shots of the Notre Dame-Michigan rivalry.  
"I want all Michigan alum and everybody in the administration to understand, we're not playing you because we're afraid of you," Holtz said. "We're not playing you because we're trying to upgrade the damn schedule!"
The interception-for-a-touchdown script didn't hold up. Instead, dozens of Michigan players had to come back out of the locker room as the Irish ran one last play.
Humiliation got amplified for eternity.
CBS Sports HQ Daily Newsletter
Get the best highlights and stories - yeah, just the good stuff handpicked by our team to start your day.
Please check the opt-in box to acknowledge that you would like to subscribe.
Thanks for signing up!
Keep an eye on your inbox for the latest sports news.
Sorry!
There was an error processing your subscription.
Santino Marchiol is a former four-star prospect who attended IMG Academy

Da'Leon Ward was Texas Tech's leading rusher in 2016

Ingram was arrested by DeSoto Police on Aug. 2, and suspended indefinitely Aug. 3
The senior has been inspiring teammates, friends and family from Plano High School in Texa...

The two programs have only met one another once before

The WBC king brought some words of wisdom to the Crimson Tide