Notre Dame removes 4 players from team amid academic investigation
Four key Notre Dame players have been removed from the team due to an ongoing academic investigation.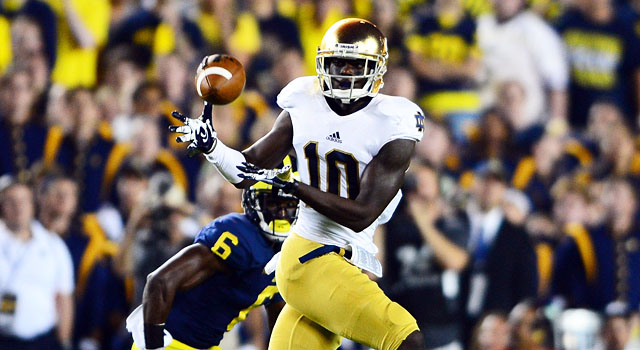 The results of an internal investigation into academic fraud has cost Notre Dame the services of four key players as it readies for the 2014 season.
Notre Dame confirmed in a statement issued Friday afternoon that "the University of Notre Dame is investigating suspected academic dishonesty on the part of several students, including four members of the football team." Those players "will be held out of practice and competition until the conclusion of an ongoing investigation and the University honor code process."
247Sports' Blue and Gold Illustrated reported Friday that cornerback KeiVarae Russell, defensive end Ishaq Williams, linebacker Kendall Moore and wide receiver DaVaris Daniels were not with the team at its Friday practice. Notre Dame declined comment on those players' absences.
CBSSports.com's Jeremy Fowler confirmed Russell, Williams, Moore and Daniels have been removed from the team:
Can confirm reports 4 ND players removed from team while school conducts investigation. Awaiting word on whether they have chance to return

— Jeremy Fowler (@JFowlerCBS) August 15, 2014
The Notre Dame statement indicated that the NCAA had been notified of the investigation, and that if it "determines that the student-athletes would have been ineligible during past competition, Notre Dame will voluntarily vacate any victories in which they participated."
According to the statement, "evidence that students had submitted papers and homework that had been written for them by others" was supplied to the Notre Dame athletics compliance office in late July.
"Other students" outside of the football team have also been also part of the investigation and could face discipline from the school. The South Bend Tribune reported that a "former player or players" could also have a role in the investigation.
"The University is committed to thorough resolution of this matter, consistent with its commitment to academic integrity and adherence to NCAA rules," Notre Dame president Rev. John I Jenkins said.
Everett Golson was named the team's starting quarterback after missing the 2013 season through academic suspension and applying for re-enrollment this past spring. Daniels missed spring camp over what he told CBSSports.com's Jeremy Fowler was an academic suspension for poor grades, but was reinstated in May. 
Daniels is the Fighting Irish's leading returning receiver, having finished second on the team in receptions and yards behind senior TJ Jones. A junior, Russell has started all 26 games for the Irish in his career. A senior, Williams has appeared in 35 games, making one start and collecting one  sack last season.
Many NFL-eligible juniors ignore advice provided by the league and risk going undrafted each...

Snyder died in Manhattan, Kansas, on Wednesday

Locksley joined Alabama's staff in 2016
Saban reportedly wants to hire Freeze, but there may be things keeping that from happening

Florida State-Miami will be on Oct. 6, and the Seminoles will play Clemson on Oct. 27

Weis Jr. was an offensive assistant for the Atlanta Falcons in 2017