Notre Dame sucks the life out of Oklahoma with monumental win
Notre Dame Defense stifles Sooners and proves Irish are for real.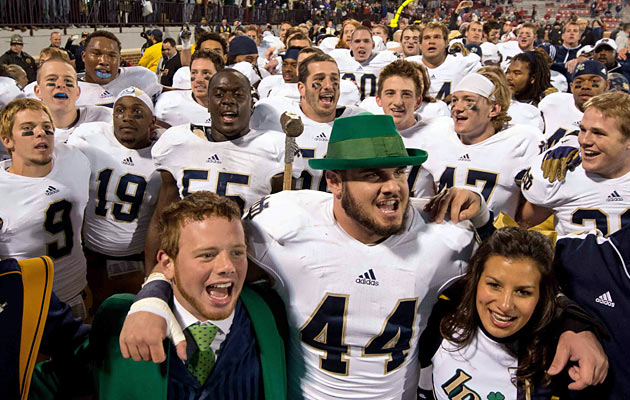 The nation is quickly learning what the Irish Nation already know: Notre Dame football is definitely back. (US Presswire)
 NORMAN, Okla. -- All the stereotypes were in effect.
 The chin-strap bearded mascot danced a jig. They call Bryce Burton a leprechaun more than a student at Notre Dame but only for purposes of pleasing guys like Ned McDonald. He was one of the legions of ND fans, this one middle-aged with kids, in the first row behind the Irish bench near tears at an historic, throwback of game that had to impress even the SEC.
"You guys are the best, thank you," McDonald screamed at his team as the seconds ticked down in Notre Dame's 30-13 win here over Oklahoma. "God bless you."
Ned's grandfather passed away seven years ago. Grandson just knew that grandpa was watching from heaven Saturday night. Except that heaven was Notre Dame's playground here as the Irish, the leprechaun and real, live thoughts of Irish legitimacy danced off the Memorial Stadium turf.
They're remade, all of them. The leprechaun, the misty-eyed fans and the players themselves. They can stand tall and answer the second-most asked question of this season: Is Notre Dame for real?
"We have not in any way shape or form arrived," Brian Kelly said.
Yes, but after a 30-13 thrashing of No. 8 Oklahoma, Notre Dame isn't going away.
As for the most asked question this season -- "Who is Alabama demoralizing this week?" -- well, Notre Dame may eventually get a chance to match up with the almighty Tide and the SEC mystique. Think of those historic implications. The Irish are going to be at least No. 4 on Sunday.
"We're going to Miami [for the BCS title game]," a Notre Dame fan called down to yellow-coated Fiesta Bowl scout Steve Whiteman.
"Nobody likes us," Whiteman said.
Not for a while in South Bend as the brutal schedule finally flattens out. There are dreams to be had and history to be made. This particular piece of history ended in Bob Stoops' fifth home loss in 14 years here. There have been three in his last seven but who cares? This was Irish special. Notre Dame is 8-0 for the first time since Tyrone Willingham (2002).
Pollsters and computers everywhere have to take notice. They will have to admit that redshirt freshman quarterback Everett Golson played the best game of his career in the seventh game of his career. Still-green Golson set up the winning touchdown throwing 50 yards to freshman Chris Brown on a post pattern in the fourth quarter. Brown's first career catch just happened to be the biggest passing play of ND's season (50 yards).
"He's growing up …," said coach Brian Kelly of Golson. "You could sense that he was leading. He was communicating. He was talking. He was confident. He was calm, all the things you need to see from your quarterback when you're on the road."
The defense that hadn't allowed a rushing touchdown, finally did. No matter, Notre Dame responded from that 13-13 tie created in the fourth quarter with perhaps the program's biggest touchdown drive in six years. That would be how long it has been since the last BCS bowl.
The coach who once won a Big East title having to play five different quarterbacks (at Cincinnati) is starting to lean on one. The coach who was brought to Notre Dame because of his offensive mind has seen something strange and perhaps unplanned develop this season.
A team that has had to win despite its offense.
"We knew we were going to have to build [the team] around our defense because we knew we were committing to an inexperienced quarterback," Brian Kelly said. "The way we went about doing this was … try to evolve on offense."
Also, it is now OK to speak openly about Manti Te'o for Heisman. The spiritually uplifting and physically punishing linebacker was on pace for 32 tackles after one quarter. He settled for 11, to go along with a diving interception and his first sack of the season.
"I finally got one," Te'o said as if he'd been struggling.
We know all this because No. 5 Notre Dame was darn near perfect. They snapped it 66 times with one penalty and no turnovers. They survived Oklahoma's withering hurry-up offense and then slowly, inexorably imposed their own tempo on the Sooners.
"It's the first time somebody probably ran at us like this," said OU defensive coordinator Mike Stoops.
But how? Clearly the Sooners had the better athletes and playmakers. Besides the luck and the network and the following, maybe these Irish had better wills.
"A confidence," safety Zeke Motta called it, "that isn't too showboaty."
We have to admit that Notre Dame is for real because nine weeks into the season, the frauds are beginning to fall. Five unbeatens went down on Saturday, Florida being the most significant. ND is basically the Gators without the turnovers: Run it between the tackles, move the quarterback around, hit some play-action, play defense.
Except that Florida turned it over six times in losing to Georgia on Saturday. One half of the Cocktail Party was ruined. Another was just getting started at Irish fans, part of the largest crowd ever at Memorial Stadium, poured into the Norman streets.
Notre Dame has hung in this far with the nation's 98th-rated passing game playing a schedule that -- at the beginning of the season -- was one of the toughest in its history. In the middle of that schedule, in the face of Oklahoma's rush, before the largest crowd in OU history, Golson matured.
And survived.
A hit by OU safety Tony Jefferson knocked the wind out of him for a play at the end of the third quarter. Tommy Rees then entered to hit a key first-down pass on his only snap of the night.
So much for the questionable passing and overachievers.
"What we had been hearing is a lot of people didn't think we could win this game," Golson said. "That just added that fuel to my fire that was burning."
"Today," Te'o added, "was no surprise."
Is Notre Dame for real?
Glimpse this is a snapshot of how the Irish can win -- all of them. On the ND's fifth snap of the game, OU's safeties were caught cheating up. That left Cierre Wood nothing but turf after breaking through the line. Sixty-two yards later Notre Dame had its longest run of the year. The longest pass of the year followed, ending in the biggest win of the year.  
Is Notre Dame for real? Cue the stereotypes. They seem to have worked to this point.
Florida's roster got a boost on Tuesday with the return of several key members of the prog...

Tom Hutton joins the ranks of former Aussie rules footballers joining the college football...

The freshman is already on Heisman lists after throwing the walk-off score in the national...
These seven teams should make the most noise down the homestretch towards signing day

Air Force was forced to cancel 11 athletic events because of the 69-hour government shutdo...

Olson has a lot of the tools offensive coordinators want in a quarterback