Notre Dame TE Troy Niklas declares for the draft
The Fighting Irish's third-leading receiver becomes the team's fourth junior to go pro after the 2013 season.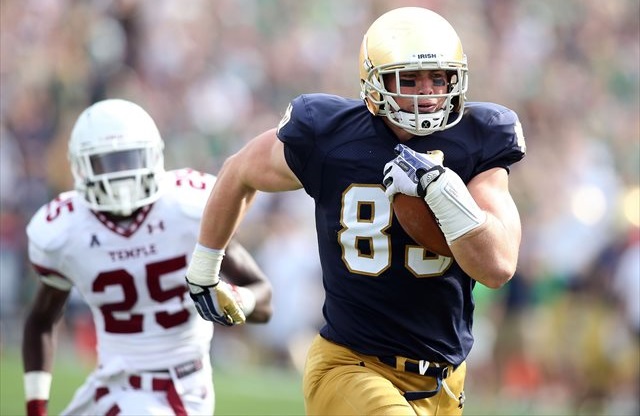 More Irish: Report: Switch to Under Armour | Nab Army Bowl commits
It hasn't been an easy offseason for Brian Kelly. Both of his coordinators have accepted head coaching jobs elsewhere. His best defensive linemen are going pro. Just this week, junior wideout Davaris Daniels was suspended for the spring semester for academic reasons.
But things still only got tougher Thursday when junior tight end Troy Niklas also declared for the draft, joining defensive tackle Louis Nix III, defensive end Stephon Tuitt and tailback George Atkinson III as the fourth Notre Dame player with eligibility remaining to forgo his 2014 season in South Bend. 
"I have made the very difficult decision to pursue my childhood dream," Niklas said in a statement, per the Associated Press. 
Niklas finished 2013 as the Irish's third-leading receiver, collecting 32 catches for 498 yards and five touchdowns. A converted outside linebacker, Niklas spent one season as Tyler Eifert's blocking-first understudy in 2012 (catching only 5 passes) before emerging as a receiving threat as a junior.
The 6-foot-7, 260-pound Califonia native is currently ranked as the No. 12 tight end in the 2015 draft by NFLDraftScout.com, which has not yet added him to the 2014 rankings. Niklas reportedly earned an "early-round grade" from a draft evaluation submitted by Kelly.
Until this offseason, Kelly had seen only one Irish player leave school with eligibility remaining -- current Minnesota Vikings tight end Kyle Rudolph -- and as the AP documents, Niklas, Tuitt and Atkinson are only the fifth, sixth and seventh players to leave South Bend after only only three years in campus since 1995.
All of which no doubt only makes the departures that much tougher to stomach; Niklas said Kelly "definitely wasn't happy about" his decision, per IrishIllustrated. But sophomore Ben Koyack appears to be a ready-made replacement for Niklas at tight end, quarterback Everett Golson is back, and Kelly's no stranger to staff turnover. Things could be better for the Irish this young offseason -- but if this is the low point, it's safe to say things could be worse, too.
Olson has a lot of the tools offensive coordinators want in a quarterback

The Tigers have a wealth of talent at their biggest position

Pineiro received the award for stopping an attack the morning of Oct. 15, 2017
The first opening weekend lines for college football in 2018 have been posted

A year-end wrap-up of college football statistics you need to know from 2017

Stanford produces apps and Super Bowl participants