Notre Dame vs. the ACC: How have the Irish fared?
With the news that Notre Dame will be playing five ACC teams per football season, it's time to look at how the Fighting Irish have fared against the current iteration of the conference.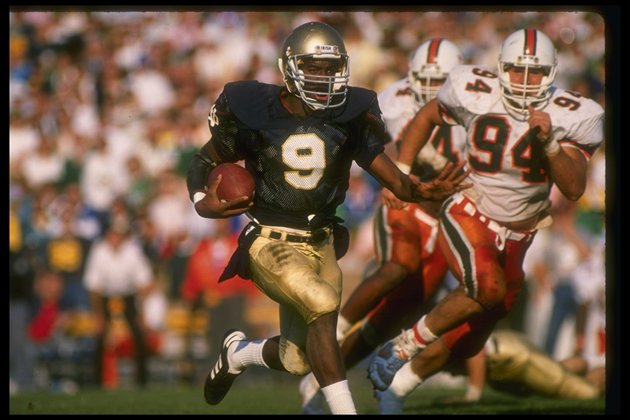 Will the Miami-Notre Dame rivalry return to the glory days of Tony Rice and "Catholics vs. Convicts"? (No, but they'll try.) (Getty Images)
Notre Dame and the ACC have stunned the college athletics world by announcing the Fighting Irish's full membership in the league outside of football, where they'll enter a scheduling agreement to play five ACC members per season. Depending on how the scheduling rotation is finalized, the Irish could play all 14 (future) ACC opponents in as a few as three seasons.
So with those meetings set to drastically increase in frequency, it's a good time to look back at the Irish's rich history against the current ACC -- a conference whose current and future members they've gone 8-2 against since 2009. Going division-by-division, team-by-team, from most all-time meetings to fewest:
Atlantic Division

BOSTON COLLEGE. Notre Dame's all-time series record: 12-9. Most-recent meeting: The 24th-ranked Irish hosted an Eagles team on its way to a 2-10 record in the next-to-last week of the 2011 season. The Irish slogged to a 16-14 win. Memorable meeting: The Irish had only been at No. 1 for a week late in the 1993 season (see below) when quarterback Glenn Foley brought the No. 16 Eagles to South Bend and threw for 315 yards to lead B.C. to one of the most famous upsets in college football history:

FLORIDA STATE. All-time record: 2-5. (The Seminoles are the only ACC team the Irish have played more than once and have a losing record.) Most-recent meeting: Just last season, when the No. 25 Seminoles put the defensive clamps on Tommy Rees and Co. for an 18-14 win in the Champs Sports Bowl. Memorable meeting: The 1993 matchup between the top-ranked (and supposedly unbeatable) Seminoles and the No. 2 homestanding Fighting Irish proved to be one of the most indelible college football games of the decade, as soon-to-be Heisman winner Charlie Ward couldn't complete a late 'Noles comeback and Lou Holtz's team earned a 31-24 victory:

SYRACUSE. All-time record: 3-3. Most-recent meeting: The Orange upset the heavily favored Irish 24-23 late in the 2008 season, Greg Robinson's final campaign as the Syracuse head coach. Memorable meeting: Despite neither team being ranked, that game also doubles as the most notable game played between the two teams -- the 2-8 Orange were 19-point underdogs on Notre Dame's Senior Day, but scored on a Cameron Dantley touchdown pass with 42 seconds remaining to cast a heavy pall over Charlie Weis' fourth season in charge.

MARYLAND. All-time record: 2-0. Most-recent meeting: The Irish and Terps met at FedEx Field last fall, resulting in an easy 45-21 Irish victory, Randy Edsall's sixth consecutive defeat on his way to a 2-10 debut. Memorable meeting: Tyrone Willingham's 2002 debut as Notre Dame head coach came against none other than the 21st-ranked Terps, a surprisingly easy 22-0 win in the since-defunct Kickoff Classic that set the tone for his team's 7-0 start.

CLEMSON. All-time record: 1-1. Most-recent meeting: Danny Ford's No. 16 Tigers came to South Bend in 1979 for the regular-season finale and walked away 16-10 winners, helping coach Dan Devine to the least-successful season (7-4) of his six-year Irish tenure. Memorable meeting: The only other game in the series was a doozy, a matchup between Devine's No. 5 Irish and Charley Pell's No. 15 Tigers in 1977. Notre Dame pulled out a 21-17 road victory on its way to the 1977 national title, the narrowest margin in any of their 11 victories that season.

N.C. STATE. All-time record: 0-1. Only meeting: Willingham's debut 2002 season ended as it began, at least in terms of facing ACC competition, but the result was very different: This time the No. 11 Irish were pounded by Chuck Amato's Wolfpack 28-6 in the Gator Bowl.

WAKE FOREST. All-time record: 1-0. Only meeting: The Irish and Demon Deacons met for the first time just last Nov. 5 in Winston-Salem, when the Irish shut out the Deacons in the second half to turn an early deficit into a 24-17 victory.
Coastal Division

PITT. All-time record: 46-20-1. Most-recent meeting: In one of the uglier games anywhere in college football in 2011, the Irish edged Todd Graham's Panthers 15-12 to even their record at 2-2. Memorable meeting: Gerry Faust didn't have many big wins as Irish head coach, but he did have this one -- a shocking 31-16 upset of the undefeated and top-ranked Panthers in 1982. The Notre Dame defense kept Dan Marino in check while freshman running back Allen Pinkett announced himself with a 76-yard touchdown run that put the unranked Irish in command.

GEORGIA TECH. All-time record: 27-6-1. Most-recent meeting: The first sign that 2007 was going to be a long, long season for Weis and the Irish came in their opener vs. Chan Gailey's Yellow Jackets, who routed the Irish 33-3. Memorable meeting: The 1953 battle between coaching titans Bobby Dodd (for Tech) and Frank Leahy (for Notre Dame) would have been big enough even without the Irish's No. 1 ranking or the No. 4 Jackets' 31-game unbeaten streak. But the game passed further into college football lore when Leahy collapsed at halftime with what was later diagnosed as an attack of pancreatitis -- a situation so serious that a priest was summoned to the Irish locker room and performed Leahy's last rites. Despite their coach's absence, the Irish built on a 7-0 halftime lead to defeat Tech 27-14 and snap the Jackets' streak.

MIAMI. All-time record: 16-7-1. Most-recent meeting: Two teams on very different trajectories met in the 2010 Sun Bowl, as the Irish completed a four-game winning streak to finish Brian Kelly's first season with a 33-17 win over the 7-5 'Canes -- a campaign that got Randy Shannon fired. Memorable meeting: In the late 1980s, no rivalry in all of college football was as big as the so-called "Catholics vs. Convicts" series, and that series was never better than in 1988. Holtz's fourth-ranked Irish played host to Jimmy Johnson's No. 1 Hurricanes -- the latter riding a 36-game regular-season winning streak -- and took a 10-point lead into the fourth quarter. But it took a failed two-point conversion pass from Steve Walsh to seal the victory -- one that would send the Irish on their way to a national championship.

NORTH CAROLINA. All-time record: 16-2. Most-recent meeting: The Irish started the 2008 season 4-1 but were still 8-point underdogs when they visited the No. 22 Tar Heels, and sure, the Irish fell to 4-2 after a 29-24 UNC victory. Memorable meeting: Only once has this series matched two ranked teams -- 1950, when Leahy's No. 1-ranked Irish played host to Carl Snavely's No. 20-ranked Tar Heels in the season opener. The Irish held on for a 14-7 win, but would say goodbye to the top spot the following week after a loss to Purdue.

DUKE. All-time record: 3-1. Most-recent meeting: It's something of a testament to Duke football that even the hapless 2007 Irish had little trouble with the Blue Devils, winning 28-7 in Ted Roof's final season. Memorable meeting: Not much to choose from, but the 64-0 victory posted by Ara Parseghian's No. 1-ranked Irish in 1966 was the controversial future national champions' widest margin of victory of the season. Sorry, Devils.

VIRGINIA. All-time record: 1-0. Only meeting: George Welsh's Cavaliers would go on to win 10 games and an ACC title in 1989, making it one of the most successful seasons in Virginia football history. But Virginia was still no match for Tony Rice and Holtz's second-ranked Irish in the Kickoff Classic, losing 36-13.

VIRGINIA TECH. All-time record: 0-0! The Hokies are the only ACC team the Irish have never played. No games vs. Tech, only one vs. Virginia ... what do you have against the Old Dominion State, Irish?
The movie will zero in on former Penn State coach Joe Paterno during the Jerry Sandusky sc...

Bidding for Salaam's trophy, which the auction house says was obtained legally, ends Satur...

Locksley has been the offensive coordinator at Illinois and Maryland during his coaching c...
Many NFL-eligible juniors ignore advice provided by the league and risk going undrafted each...

Snyder died in Manhattan, Kansas, on Wednesday

Locksley joined Alabama's staff in 2016