Notre Dame will break ground on stadium renovations in November
Campus Crossroads, the $400 million construction project for Notre Dame, will add three academic buildings and thousands of premium seats to Notre Dame Stadium.
• 1 min read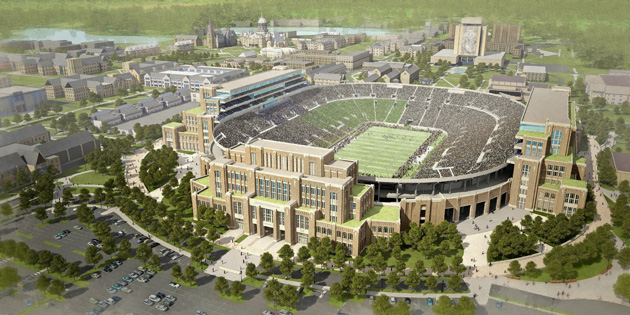 Notre Dame will begin construction on the "Campus Crossroads" project in November, just days after the Fighting Irish conclude its home schedule against Louisville on Nov. 22.
The $400 million construction project will add three academic buildings onto Notre Dame Stadium along with premium seating and outdoor terraces for fans. According to the South Bend Tribune, the project is expected to add 2,000 seats to the stadium's capacity.
Further changes to the seating have not been finalized, as the Tribune noted that the school is still exploring its options regarding the existing bowl seating. 
The Campus Crossroads project, which was approved in January and is scheduled to be completed by Aug. 2017, is intended to "make the stadium a year-round hub for academic and student life." No home football games for 2015 or 2016 will be affected, though at least two commencement ceremonies will be moved indoors because of construction.
The new buildings added on to the stadium include a nine-story student center on the west side, a nine-story anthropology/psychology building on the east side and a six-story music building on the south side.
The Nittany Lions came up huge when they needed to against Iowa

It just might have been the best game of the season so far

Projecting the new AP Top 25 poll college football rankings after Week 4
Stay with us all day Saturday for updates and highlights from Week 4 of the 2017 season

Georgia dismantles Mississippi State between the hedges Saturday night

The Horned Frogs looked a lot like their old selves on Saturday afternoon in Stillwater