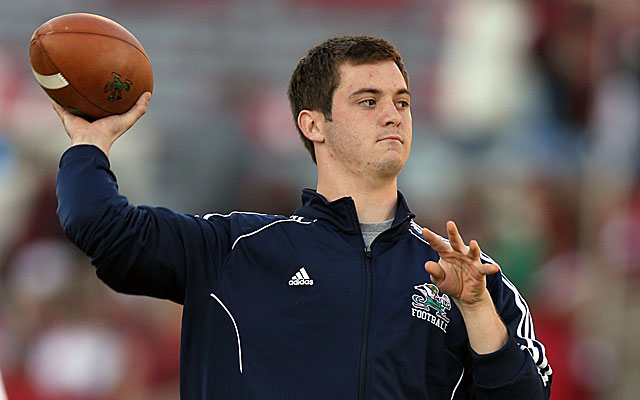 SOUTH BEND, Ind. -- No one expected Notre Dame's follow-up to a magic 2012 coming down to this unlikely realization: There's no Tommy Rees to back up Tommy Rees in 2013.
No Captain Clutch to bail out the Irish. No bench jockey turned hero. That's because ND's best bullpen man in 2012 is the man in '13. Notre Dame's senior quarterback was minding his business like the rest of us that day in May when incumbent Everett Golson dropped the bomb heard 'round ND Nation.
When Golson was suspended for the 2013 season following an "academic violation" he effectively screwed his teammates, his program and -- at least for now -- himself.
Off-field hijinks are one thing, even breaking the law. Rees himself was suspended last season for a game after pleading guilty to two misdemeanors stemming from a campus party. But the starting quarterback for the most visible program in the country coming off a 12-1 season messing up this bad? Borderline unforgiveable for Golson.
Does Notre Dame know how lucky it is to be able to have Rees?
"I don't even know how to answer that," he said.
Rees doesn't say much of anything quotable. The son of a coach, he glazes over at the slightest inquiry into anything slightly colorful. Maybe his dad Bill, who worked at UCLA and in the NFL, taught him that way. Keep it in the locker room. Keep it inside.
We do know there would have been no magic, no 12-1 had Rees not come off the bench to save the Irish against Purdue, Michigan and Stanford in relief roles last season.
"He still has a chip on his shoulder and still has something to prove," teammate Chris Watt said.
But no matter how you look at it, the depth chart is diminished. Rees can't be that comeback kid as long as he is the starter backed up by senior Andrew Hendrix and freshman Malik Zaire. His detractors -- there are plenty of them -- will readily dismiss Rees' 14-4 record as a starter and his ownership of the fifth-best passing season in school history (2011). Maybe it's enough to say that Rees gives the Irish a chance -- after Everett almost wrecked Notre Dame's season.
"In his instance," Kelly said of last year's Rees suspension, "it was part of a young man growing up."
Funny how perspective changes when that season hangs in the balance.
"He loves Notre Dame," offensive coordinator Chuck Martin said of Rees. Yeah, right, they all do except Rees couldn't have been blamed if he transferred at some point or lobbed a giant middle finger at the place he loves. The road has been that tortuous.
"Hard to lead a two-minute drive at home when he's getting booed off the field," Martin said.
The story wouldn't be as good had not Kelly called on Rees with two minutes left in a tie game to that round of boos against Purdue in Week 2. Rees then led the Irish down for the winning field goal.
After that day, "I was going to be in his corner all the way," Kelly said. 
Except there are those who still remember Rees as "Turnover Tommy", the 2011 starter who gave it away (19 turnovers) more than 32 times that season. They not-so-fondly recall his average arm strength and lack of mobility. Now they have to live with Tommy Rees because they know exactly what they're getting from Tommy Rees.
And in the rush to stay relevant -- to be the old Notre Dame -- they have to trust Rees because they cannot trust Golson. Not right now and perhaps not in the future.
"Were you ever a teenager?" Martin said, referring to Golson, who turned 20 in January.
"Did you ever have teenage kids? That's what I don't understand when people say, 'I can't believe [Everett]. No you can't because he's a Notre Dame football player, starting quarterback. We forget if you take the quarterback [title] off he's just a bumbling teenager trying to figure out life."
Golson will spend this semester tutoring with George Whitfield, the current quarterback guru to the stars, out in California. The fallen quarterback says he'll back in the 2014 winter semester. That's part of the incongruity of it all. By that time Rees' career will be over. He never met Whitfield, never met the first family of football at the Manning Passing Academy, never got invited to the Elite 11.
Sometimes in the fairy-tale world of Notre Dame, it's good to be the tortoise.
The haters -- still around -- will point out this is the first time Rees has started a season. The will remind that Kelly continues to say that Rees is the starter for the opener only (Temple, Aug. 31.) Part of that stance is to eliminate complacency and stoke the competitive fires of Hendrix and Zaire.
Meanwhile, that 21-year old senior tortoise awaits his next chance.
"I don't think the story is written," Kelly said of Rees. "I think you write the story after he completes his journey here at Notre Dame. You know what, it could be a really interesting story."