Notre Dame's gutsy win over Stanford gives Manti Te'o another chance to heal
Notre Dame's gutsy win over Stanford gives Manti Te'o another chance to heal
• 5 min read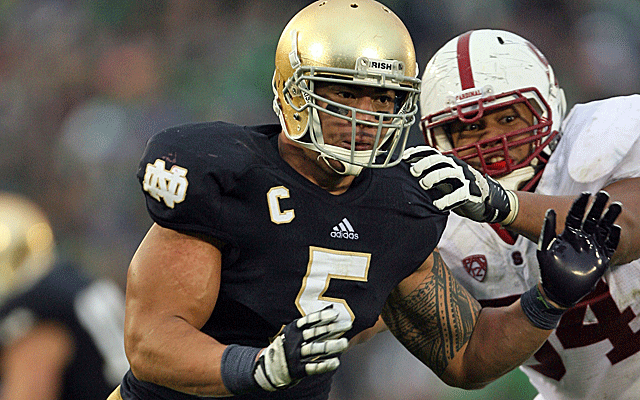 Manti Te'o registers 11 tackles in a win over Stanford.
(Getty Images)
SOUTH BEND, Ind. -- The tears were gone.
This night was for healing.
Manti Te'o bent over slightly, just enough for his mother, Ottilia, to grab his neck for a hug. His proud father, Brian, wearing a blue No. 5 Te'o jersey, stood behind and waited his turn, as did dozens of family friends engulfing the trio.
Fans snapped pictures with their Iphones and screamed "TEEEEE'OOOO," which echoed loudly in the dark concourse of Notre Dame Stadium. Meanwhile, a security guard tried to muscle out the fans to give Te'o some privacy.
Te'o, wearing an orange-beaded lei, was about an hour removed from the Irish's biggest stop of the year -- one that could become a classic snapshot in Notre Dame folklore.
Fourth and goal from the 1, Stanford down 20-13 in overtime, stacked with blockers for one last push through the middle, and the Irish muscled up. A sea of Notre Dame defenders stopped running back Stepfan Taylor, who eventually twisted his way into the end zone but was too late. The officials had blown the whistle.
Brian warned his son that joys like this were coming, that the pain of losing his loved ones would subside eventually. Te'o's emotional turmoil has been well-publicized in recent weeks, losing his grandmother to an extended illness and his girlfriend to leukemia on the same horrific September day.
Brian urged his son to follow a tried-and-true custom of their Hawaiian roots, which exemplifies the grace in which Te'o -- who registered 11 tackles Saturday -- has channeled his emotion and led Notre Dame (6-0) into becoming a surprise national-title contender.
"As long as your pinkie's still moving," said Brian, who made the 10-plus-hour trip from Hawaii with Te'o's mother. "That's what I've told him since he was a little boy. No matter what happens, you want to live with no regrets. You don't want to look back at this season and wonder woulda, shoulda, coulda."
That's why Te'o tells his team, "I love you," at every turn. He told the defense that seconds before lining up for fourth down. Seconds later, Irish players were sprinting jubilantly toward the student sections to celebrate their perfect start and 16 straight quarters without yielding a touchdown.
In a rain-soaked game like this, with stalled drives and costly turnovers and backup quarterback heroics, players needed each other more than ever.
These Irish are flawed -- look no further than five offensive fumbles, three for turnovers -- but they have an identity. They're built on stout play from the line of scrimmage and an efficient running game, even if those 3.4 yards per rush on 44 attempts against Stanford didn't exactly validate that claim.
Stanford was too ferocious up front and battered quarterback Everett Golson all night, eventually knocking him out of the game with a helmet-to-helmet hit in the fourth quarter, setting the stage for backup Tommy Rees to orchestrate the winning drive in overtime.
Stanford appeared the tougher team for parts of the game, but Notre Dame made more timely plays.
There was Golson's 24-yard touchdown strike to Tyler Eifert down the sideline early in the fourth quarter, a play that assures the Irish they have a quarterback they can work with.
There was cornerback Bennett Jackson's end-zone interception in the first quarter when the defense appeared to be reeling and Stanford crept into the red zone.
There was Rees' touch pass to Theo Riddick to set up the OT touchdown, a 7-yard pass to receiver T.J. Jones.
The type of plays that will elevate the Irish into the national top five starting Sunday.
"When you're talking to your team about a heavyweight match, and you can't keep taking body blows. ... Sooner or later, you've got to be the one that delivers," coach Brian Kelly said.
Rees keeps popping up for the Irish (Golson missed part of a Miami win because of a violation of team rules), and Golson does just enough to stay in the team's good graces. Kelly is prepared for anything with his quarterbacks.
"I'm just letting it happen," he said.
The game was so tense, Stanford coach David Shaw said in his post-game press conference that he's "not here to talk about Notre Dame," had "no comment" about two costly penalties against his defense late in the fourth -- and took notice of how officials spotted the ball a few yards behind the correct spot for his offense on a second-half drive.
None of that would have mattered if Stanford imposed its will on the final two running plays from the 1.
On the clincher, Notre Dame knew what Stanford was about to do, Stanford knew that Notre Dame knew, and it was a battle of raw strength up front.
Irish defensive tackle Louis Nix said he couldn't even tell whether Taylor got in.
"Just a lot of men stacked up on top of each other," Nix said.
Nix was doing his job, if he couldn't tell. Te'o had a clear view from his linebacker spot, where he saw the line dominate. He jumped into the pile for clean-up duty, then dashed toward the sideline after he heard the whistle.
He looked for his parents in the stands and pointed to them before joining the student section.
His grandmother, Annette Santiago, and girlfriend Lennay Kekua were with Te'o as always, even though Kekua might not be happy with the Stanford loss -- Te'o said she went to Stanford.
After sharing hugs with friends and his parents, the group slowly walked toward the exits. Fans still followed.
Turns out everyone on Notre Dame's campus is along for this miraculous winning ride.
"As long as we're getting closer to No. 1, that's all I care about," Te'o said.
Led by Heisman Trophy winner Baker Mayfield, the Big 12 finished with seven first-team sel...

Schiano would have made $4.4 million in Year 1 with annual raises as part of a six-year de...

Dykes spent this season as an offensive analyst at TCU
The 'Wyoming Wild Man' notched six tackles for loss as a junior in 2017

Zaycoven Henderson was charged with aggravated assault with a deadly weapon

Patterson is a former No. 1 recruit in the country