O'Brien hopes NCAA will meet Penn St. 'halfway' on sanctions
Bill O'Brien confirmed Friday that he's hoping the NCAA will reduce its sanctions against the Nittany Lions program.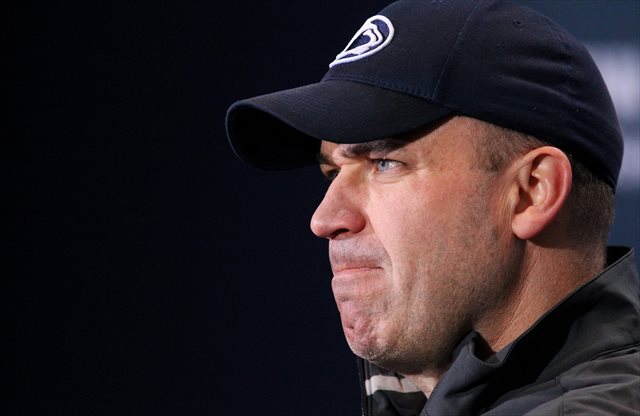 Last week, Penn State football coach Bill O'Brien reportedly met with university trustees to discuss a "potential proposal" asking the NCAA to relax its unprecedented sanctions against the Nittany Lions program.
Speaking on a conference call Friday to discuss Penn State's recently announced 2014 season opener against UCF in Dublin, Ireland, O'Brien would not confirm such a proposal was in the works. But he did say he would like the NCAA to revisit its decision "at some point in time."
"I believe that this football program is being run the right way. ... I think we work very, very diligently to stay in compliance, just like every program around the country," O'Brien said, according to the Allentown (Pa.) Morning Call. "I think we're in compliance, and hopefully at some point in time the NCAA, the governing body of college athletics, will look at that and they can meet us halfway."
Per the Morning Call, trustees have said any official request to the NCAA to have the sanctions reduced would have to be made by PSU president Rodney Erickson. Athletic director Dave Joyner said on the call that there are no current plans to appeal the penalties.
"We're focused on dealing with the sanctions right now," Joyner said. "Whatever may or may not happen down the line is always contingent, and we're not planning on anything happening."
Among the sanctions handed down by the NCAA in the wake of the Jerry Sandusky sex-abuse scandal were heavy scholarship losses, a $60 million fine, and a four-year bowl ban. The NCAA has said the penalties are "not subject to appeal." 
Despite that statement, it looks increasingly likely the school -- led by trustees who have never been shy about hoping to see them reduced -- will make the effort to make some kind of appeal nonetheless.
Saban isn't going to win Alabama's special election, but the Crimson Tide coach got some l...

The Tigers are going worldwide for their next punter

Led by Heisman Trophy winner Baker Mayfield, the Big 12 finished with seven first-team sel...
Schiano would have made $4.4 million in Year 1 with annual raises as part of a six-year de...

Dykes spent this season as an offensive analyst at TCU

The 'Wyoming Wild Man' notched six tackles for loss as a junior in 2017