O'Brien says Penn State game in Ireland 'in the works'
The Nittany Lions (and an unspecified opponent) could be the next team (or teams) to travel to Dublin for a regular-season game.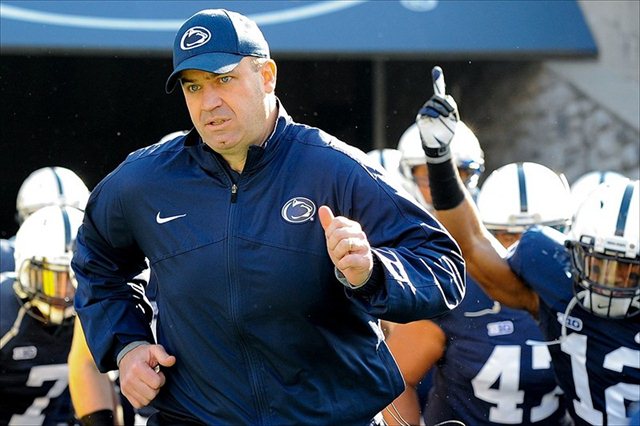 Bill O'Brien says his program is 'definitely' interested in playing overseas. (US Presswire)
The NCAA has decreed that for the time being, Penn State can't take the same team-wide trip to some far-off exotic location (like, say, Jacksonville) like the rest of its bowl-bound brethren. So maybe it's no surprise coach Bill O'Brien and the Nittany Lions administration are doing their best to take that particular matter into their own hands.
In 2012 Notre Dame and Navy became the first college football teams to play a game in Ireland since 1996*, kicking off their respective seasons at the Aviva Stadium in Dublin on (early-morning) national TV. O'Brien told reporters Saturday night that the Nittany Lions have already begun the process of following in those footsteps.
"We are definitely looking into playing in Ireland, no question about it,'' O'Brien said, per the Patriot-News.
"We're working on an opponent, and we're working with the Big Ten on that. So that's something that's definitely in the works.''
O'Brien did not specify whether the game would open the Nittany Lions' season or come at the end as a de facto "bowl game." Alabama scheduled road games at Hawaii to end its seasons in 2002 and 2003 as a (sort of) solution to a bowl ban, but that path was smoothed by the NCAA's exemption allowing teams to schedule a 13th game if one of them is a visit to Hawaii to play the Warriors. O'Brien may be more interested in kicking off a future season in Dublin after watching the Irish's 50-10 thumping of Navy jumpstart their run to an undefeated season and BCS championship berth.
In any case, if O'Brien was vague on the specifics, he clearly wasn't on his intent to reward his team with a once-in-a-career football experience. Even if the logistics for Ireland can't be worked out, expect him and the PSU brass to find something roughly similar. And at the very least, the bright prospect of an overseas spotlight will be welcome news for a Penn State fan base that Sunday once again found itself being divided, disrupted and possibly depressed by the continuing Jerry Sandusky scandal fallout.
*Boston College and Army played the first Irish game way back in 1988, with Notre Dame making their across-the-pond debut eight years later.
Paul Tyson is a three-star quarterback prospect for the 2019 recruiting class

College football bowl games were all announced on Sunday, and you can check out the entire...

SportsLine simulated every bowl game 10,000 times for pick'em leagues and confidence pools
Everything you need to know to watch and pick the Las Vegas Bowl on Saturday

Everything you need to know to watch and pick the Camellia Bowl on Dec. 16

Everything you need to know to watch and pick the New Mexico Bowl on Dec. 16