Official word on Lattimore injury: extensive ligament damage, no fracture
South Carolina issued a statement on the extent of Marcus Lattimore's season-ending injury.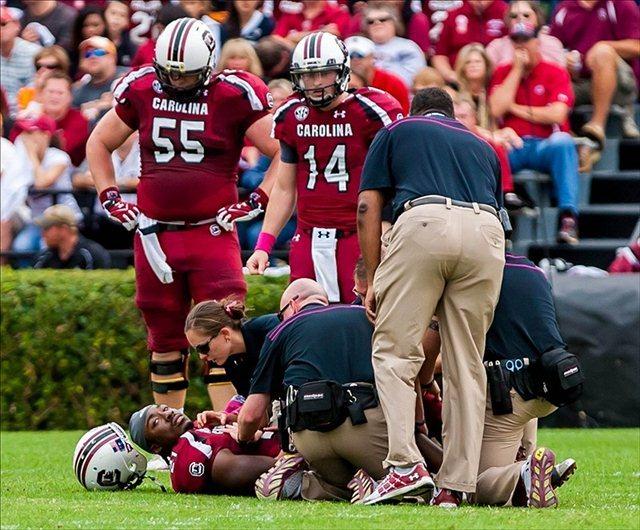 Marcus Lattimore suffered a second straight season-ending injury Saturday. (US Presswire)
The South Carolina team physician announced Sunday that Marcus Lattimore suffered "injury to several ligaments" in his ugly season-ending collision against Tennessee Saturday, but did not suffer a fractuce or other injuries.
The Gamecocks issued a statement on the diagnosis of Dr. Jeffrey Guy, stating that Lattimore "suffered a significant impact to the front of his right knee" resulting in the "hyperextension of the knee" and ensuing ligament damage.
But contrary to reports circulating on social media Saturday night, "there were no fractures or additional injuries."
The statement did not specify whether the ligaments had been torn or which ligaments had been injured.
Steve Spurrier said in his Sunday meeting with reporters that Lattimore's knee had been dislocated and that the injury was substantial. While optimistic that the injury would not be career-ending, Spurrier speculated that it could be the 2014 season before Lattimore could return to the football field. 
"We're optimistic his football days are ahead of him," Spurrier said.
A source with knowledge to the situation told CBSSports.com's Dennis Dodd that Lattimore's injuries could be similar to those suffered by Willis McGahee in the 2002 Fiesta Bowl. Despite damage to his ACL, PCL, and MCL, McGahee recovered and is currently in the ninth season of his NFL career.
The complete text of South Carolina's statement reads as follows:
University of South Carolina junior running back Marcus Lattimore suffered a significant impact to the front of his right knee during the Tennessee game on Saturday. The ensuing hyperextension of the knee resulted in injury to several ligaments. There were no fractures or additional injuries, according to team physician Dr. Jeffrey Guy. Lattimore's surgically repaired left knee was uninjured during the play.

Lattimore is resting comfortably and will continue to be evaluated over the course of the week. Marcus has already begun the process of prehabilitation prior to surgery and to his eventual return to football.

Lattimore, a six-foot, 212-pounder from Duncan, S.C., was injured late in the second quarter of the Gamecocks' 38-35 win over Tennessee. Prior to the injury, he gained 65 yards on 11 carries, including a 28-yard touchdown run, against the Vols.

Lattimore was the Gamecocks' leading rusher this season, gaining 662 yards on 143 carries (4.6 yards per carry), with a team-leading 11 touchdowns. He was also the top receiver with 26 catches for 173 yards. He was coming off a season-ending left knee injury suffered against Mississippi State in the seventh game of the 2011 campaign.

For his career, Lattimore has rushed 555 times (fourth in school history) for 2,677 yards (sixth in school history) with 41 total touchdowns including 38 rushing touchdowns, both school records.
The Alabama QB has a new look after the Tide claimed another national title

Young was injured during Miami's Orange Bowl loss to Wisconsin

The movie will zero in on former Penn State coach Joe Paterno during the Jerry Sandusky sc...
Bidding for Salaam's trophy, which the auction house says was obtained legally, ends Satur...

Locksley has been the offensive coordinator at Illinois and Maryland during his coaching c...

Many NFL-eligible juniors ignore advice provided by the league and risk going undrafted each...