Ohio St. strength coach Marotti gets buy-in, leadership, development
What's the secret to Urban Meyer's success? It's all in his fanatical approach to teaching and coaching, explains Ohio State Assistant AD for Football Sports Performance Mickey Marotti.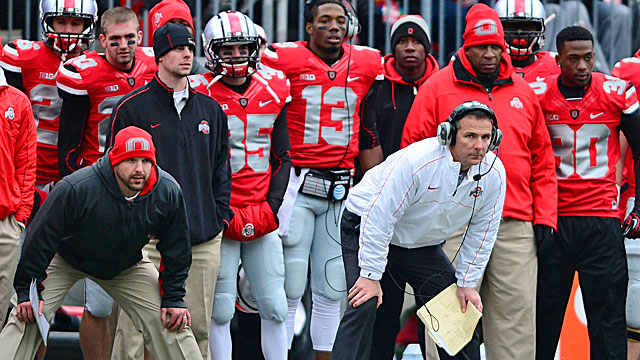 COLUMBUS, Ohio -- So this is Year Two of the Urban Meyer Era at Ohio State, which typically means his program is set to make a big jump. In Meyer's first stint as a head coach, at Bowling Green, the Falcons made modest improvement, going from 8-3 to 9-3, but since then things have certainly perked up in more profound ways as Meyer has evolved as a head coach. At Utah, the Utes went from 10-2 to 12-0 and a No. 4 finish. At Florida, the Gators went from 9-3 to 12-1 and a BCS title.
How can the Buckeyes, a 6-7 team the year before Meyer's arrival in Columbus, improve on a 12-0 season in a year plagued by NCAA sanctions? It'd seem like the only way would be another BCS title. To do that, and end the SEC's stranglehold on the college football world, a young team that has to replace almost its entire front seven on defense will need to continue to make the type of strides that Meyer teams have in the past early in his tenure.
How exactly does that happen? Start with Mickey Marotti, Meyer's right-hand man, a no-BS guy who has been around him for two decades, including at Florida. When Meyer got hired at Ohio State, he brought Marotti with him and named him his assistant athletic director for football sports performance, a fancy title that might as well be called director of development. He says there is no simple explanation as to why Meyer's teams improve the way they do.
"I think a lot of that has to do with the adjustment to the program of how he does things, to how we do things," Marotti said. "Then, there's the buy-in factor. There's a time period of adjusting to it. These kids had to adjust to us doing things different. We do do things differently -- and that's not to say it's right or wrong, but it is different, and it took 'em awhile. They weren't used to it. 'What is this?' There was a lot of evaluating going on. 'Well, we did it this way.'
"'Just shut the hell up. Just follow our lead and good things will happen.' I think it's an adjustment period."
It also doesn't hurt that Meyer's track record of two national titles and five top-five finishes in his past eight seasons will get players' attention.
A good example of the dynamic emerges when Marotti is asked about who the leaders of this Buckeye team are. He mentions two players: Jack Mewhort, an offensive lineman and Christian Bryant, a safety. Mewhort was "on board" when the new staff arrived, Marotti said. Bryant wasn't -- although judging by comments from the Buckeye DB last spring, this is where the process can get murky for players adapting to transition.
"If you're still here, you've bought in," Bryant told the Columbus Dispatch when asked about the coaching transition in April, 2012. "When [the new coaches] first got here, it was a nice little transition; everybody wasn't used to what they were bringing to the table."
In truth, Marotti says Bryant probably didn't actually "get it" until mid-summer of 2012. And this meshes with something the coach later says, pointing to a few younger players training outside his office window: "They don't know what they don't know."
"I almost fought him," Marotti said of Bryant. "We almost got into a fist fight literally the first day. He said something to one of my assistants, 'Come on brother, easy.' One of the guys that I brought in said, 'A: I'm not your brother. B: Do the [bleep] right.' We were gonna go at it. Now he's one of my closest players.
"It was funny because with Christian's push-back and his 'anti-ness,' you'd see it in academics, you'd see it in the training room. Last guy to come into the weight room. He's supposed to be here at 2. He comes in at 1:59. You can't be like that. A leader is as a leader does."
Last season, the 5-foot-10, 192-pound Bryant was the Buckeyes' second-leading tackler and made second-team All-Big Ten.
"He has been unbelievable this winter," Marotti said. "He has really gotten a lot of our younger kids to buy in quicker because he's buying in. And that's what it takes. It's leadership. It could've gone the other way, and it was probably going the other way when he was in that 'I don't like this.' To where it's now 'OK, I'm into this.' I imagine there was some locker-room lawyer-ship going on in there."
Marotti concedes he had his doubts about whether they'd lose Bryant in the transition last year, but one of the keys to the Meyer regime has been increased connectivity within their program. The chain of command for this process is interesting. The athletic trainer, the equipment manager and nutritionist, among others, all report to Marotti.
"We talk everyday," he said. "We have a performance team that I am in charge of and that's our trainers, our nutritionists, our doctors, the player development people, academics -- anybody that touches a kid day to day -- the 'grind people.' And we have that twice a week and we talk about players, everybody, so there's no stone unturned. In our staff meetings, all the time, we do personnel and we talk about every kid. They get an effort and attitude score from the training room to the weight room, academics, and if it's not a 10 or he's not getting better, 'Why is it not a 10? Why is he not getting better?' We stomp on the problem before there's a problem."
All programs preach accountability. They did at Florida when Marotti was there too, but at Ohio State, the process has been streamlined.
"We had the accountability with the players, but we didn't have the model as tweaked as it is here," Marotti said. "With the experience of Florida, now everybody's involved instead of just the position coach and the head coach and maybe the strength coach knowing (if something is going on with a player). Now everybody knows. If a kid has some problems at home, and they go and see the trainer, that trainer knows. If they go to see our nutritionist and get a shake, 'How's it going? How's your girlfriend doing?' They feel connected. You want to talk about family. I know everybody says that -- '1, 2, 3, FAMILY!' All over the country they talk about 'family' but are they really doing that like a family? I know those kids feel that way."
Tom Herman, the Buckeyes 38-year-old offensive coordinator, raved about Marotti and the communication process at OSU. "He's as good as it gets in terms of the pulse of the team, whether it's the team's No. 1 player all the way to its No. 105 player."
Random Buckeye stuff
• Marotti on the difference in Meyer from his days at Florida: "He's a lot less likely to fly off the handle. I think he's at a point, where you try to teach and educate and cultivate your players, but ultimately it's their decision to make the right or wrong decision out there in the world. He's done a tremendous, Emmy award-winning job coaching our coaches in philosophy, methodology and recruiting. I see it all. He's really into teaching.
"The cool part about him and being head coach is, he gets to get away. In February, he went away for a week. He'll read a book or two and he'll come back with something new. We call it enhancing. Rather than change what you do, you're enhances it. He's always trying to grow and get better. I love when he goes away and comes back, but then again, a part of me doesn't love it because I know that phone call is coming. As soon as his plane lands, I might be at the end of a training period where our coaches are blowing out in here and then here comes this new thing. But that's what makes him who he is, that's what makes him great."
Said Herman, "Coach Meyer is fanatical about teaching and guys conveying the same message [to the team]. The last thing you want is to have nine independent contractors [assistants] who each kinda say different things to the players, and that happens a lot in college football. The guy (Meyer) is a wizard. In the past 18 months, I feel like I'm learning something every day, which is awesome, and I'm 10 times the coach I was before I got here."
• Most coaching staffs visit one or two other programs in the off-season in hopes of gaining some additional insight. Marotti and the Buckeyes visited six: Boston College, Clemson, Georgia, Georgia Tech, Louisville, the Cincinnati Bengals and the Kansas City Chiefs: "You can always get better. It's good to see, 'this is what they have, and we need to do this, this and this to make our area better.' I think if you're open to that stuff, you're able to get better."
• Marotti on leadership: "A leader to this generation is somebody who scores touchdowns or blocks extra points or makes interceptions. A leader in my era is the guy who does everything the way they're supposed to do. They bring people with them. They're selfless. Unfortunately, we live in Generation I-Y. I live in that world still. Myself and Coach Meyer run a leadership class, where we have 18 or 19 guys in there who we're trying to teach and show leadership.
"We brought them in. We nominated them. They come from every position. Old guys with some young guys. A lot of talking about situations. You really to teach that core group of what our mission is and the why."
• Marotti on QB Braxton Miller: "He's probably come the furthest. He was the furthest away from [in terms of the] day-to-day, treating yourself like a professional player in what you have to do. He didn't do it, but he has to learn that. The one thing he's always had though is competitiveness. If you said, 'We're going to do a pull-up test.' He wants to know who got the most and then he's going to get the most. If we're racing, he wants to know who had the fastest time and then he'll beat it. But the day-to-day grind, he's had a hard time learning it but I've seen him grow up just in the last five months, in the last two months.
"We have the off-season program and then we have spring break and then you see a little difference in him. Then you have the spring football part and then you have a break, and when he came back from this May-mester, he's completely different this month of May than he was in January. I just think he's maturing and getting older. He starting to buy into everything. Coach talks about him knowing the offense now. If they call a play, he just doesn't know what the wide receiver he's supposed to throw to does, he knows the protections, he knows the backside. He knows what the running back is doing. Now he understands the why.
"He was just so laid-back. I had to learn patience with him. I have ants in my pants. I'm used to quarterbacks -- Jarious Jackson, Brady Quinn, Chris Leak, Tim Tebow -- they're all workout guys. With him, he was just so laid-back, it was like 'whoa, whoa, whoa,' I wasn't used to that. That's his personality. You gotta get over that, but he's different right now. Back 20 years ago, I would've thrown stuff at him. He's a great kid. I love him. He's starting to be a leader now. He's developing some of those leadership skills."
• Marotti on sophomore DE Noah Spence: "When I was with Florida with Will Muschamp, [Spence] was our No. 1 defensive end on our [recruiting] board. He's explosive. He can bend. He plays hard. He's tough. He came in around 235 and now he's about 250. Great kid.
• Marotti on filling the leadership void on the D-line with John Simon moving on to the NFL: "John Simon was a great role model for those kids. And we have another guy, Joel Hale who is leader of the defensive line. He doesn't play a whole lot. He's probably an eight-to-10 snap a game guy but we have four or five young defensive linemen and they all look up to him because he goes so hard. He's got great energy. He loves ball. Those kids would take a bullet for him.
"He's probably not going to play in the NFL. He may get a shot, but I want that kid to be a strength coach. He's got it."
• Marotti on the perceived differences between top SEC programs and top Big Ten and the changes he's made at Ohio State: "I just think it has a lot to do with the geographical area of where you're at and what you do. I don't know if it's that much different to be honest with you (than what OSU was doing before). The one thing about being in it so long is that everybody's different and everybody feels like their program is the best. And that they're the reason why you're successful of not successful, which is complete bull. It's part of it, and then people in the field and people in coaching, when you take over a program, a lot of people want to knock the other people. They won a lot of games here.
"I think the biggest thing that's different is how we do things. Not necessarily what we do, but how we do it: The accountability factor of specific group times. No cell phones. No sitting down. Everybody's wearing the same stuff. The pride factor of the room. Not stepping on the Block O. Training really hard. Those are expectations we have."
Rutgers' offensive line challenged a local curling club to a match

These five teams have the best chance of being the Group of Five darling this coming year

Drevno had been running the Michigan offense for three seasons
Aaron was reportedly shot while trying to protect his girlfriend when a fight broke out at...

An assistant-by-assistant look at changes Saban made to the Tide's staff ahead of 2018

Find out when Nick Saban, Kirby Smart and the rest of the coaches will speak ahead of the...