Ohio State AD: NCAA could have avoided O'Bannon years ago
As the NCAA makes changes to its governance structure, Ohio State AD Gene Smith wonders whether taking action years ago would have staved off the O'Bannon lawsuit.
• 3 min read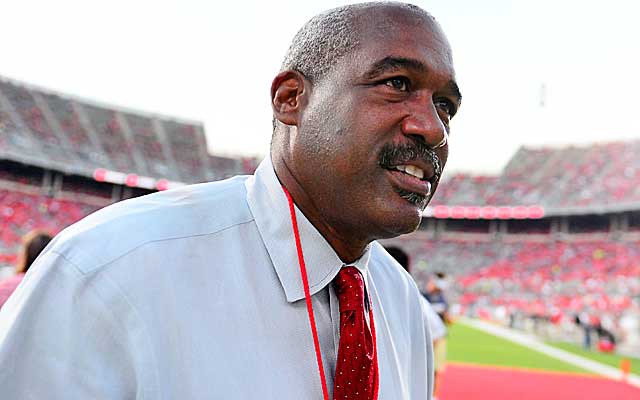 More college football: Bruce Feldman | Dennis Dodd | Jeremy Fowler | Latest news
The NCAA on Tuesday updated the process of a new governance structure designed to streamline decision-making and, eventually, allow schools to pay players a stipend of roughly $3,000 to $5,000 per year.
<span data-shortcode= State" data-canon="Ohio Bobcats" data-type="SPORTS_OBJECT_TEAM" id="shortcode0"> AD Gene Smith calls the approval of the extra money a 'formality,' despite failed efforts in the past, because the power conferences will likely have voting prowess to push through such issues.
None of this will stave off the Ed O'Bannon lawsuit, which could put the NCAA on trial in June over athletes' inability to monetize their image and likeness. Notable attorney Jeffrey Kessler has joined the fray, filing an antitrust suit against the NCAA attacking what many consider an an antiquated 'amateurism' model. 
But Smith wonders whether the recent governance push  – which should amplify the players' voice in the process and enhance health-safety benefits – could have helped curb the lawsuits if done earlier.
"Had new governance structure been in place four years ago, I don't think these lawsuits would have emerged because we would have addressed a lot of these concerns," Smith told CBSSports.com last week (yes, before this).
Since the NCAA never wanted players capitalizing on market value, maybe at least some level of litigation was inevitable.
But to Smith's larger point, being proactive with players' needs would have urged more dialogue and common ground.
Now it's almost too late.
Like with player health care: Smith thinks, once governance is done, broader discussions will surface about better health benefits after players' eligibility is up. This is issue No. 1 for the Northwestern players in their fight to unionize.
Letting students in "allows us to move to the 21st century," Smith said. The power conferences don't want weighted voting to increase scholarship limits or change academic criteria -- they want to use financial wealth to "more support the student-athletes we have," he said.
"I'm anxious to pull some of our student-athletes in a room and say, OK, this new governance structure is in place, we're going to start talking about potential student legislation for student-athlete benefits, guys, tell me, what do you need that you're missing?" Smith said.
The judge in the O'Bannon case has encouraged settlement talks for both sides, which Smith thinks is a great idea. "I just think it needs to be done," he says.
As for paying players, Smith said: "There's a little bit more money we can give them. They are not employees, but we can help them a little bit more. That's another big issue."
Though Smith wants more rights for student-athletes, he isn't particularly fond of the way the Northwestern union efforts have been handled.
The Northwestern players on Wednesday won the bid to unionize through the National Labor Relations Board. The union efforts, led by NU quarterback Kain Colter, allow players to act as employees and bargain for benefits, though Northwestern is appealing and the fight seems far from over.
"There's one side of me that applauds Colter because you teach our young people to be leaders," Smith said. "There's another side of me that felt bad for him because I still think the union people took advantage of him. He got in a spot where he had to misrepresent what was happening at Northwestern, that's why his teammates pulled away from it. I felt bad for him…I'm not so sure he ever lied, but he was on the edge of what the truth was."
Smith is referring to a statement from current Northwestern players that seemed lukewarm about the unionization efforts. Colter is an intelligent adult – it's tough to assume he was coerced into anything – but he was the face of union efforts that took aim at Pat Fitzgerald's program as a work-first environment.
"I know they take care of their athletes," Smith said. "It was being portrayed as if they don't."
Oliver's star has already been born, but 2018 is when it will truly be recognized

Craig Kuligowski is reportedly leaving Miami to take the same job with Alabama

BT Potter is about to be very popular in the Clemson locker room
McElwain will coach receivers and help coordinate the offense for the Wolverines

Nathaniel Watson Jr. was involved in a car accident that injured a passenger in early Febr...

The honorable Tom Fornelli presides over the ASU vs. UM case