Ohio State is great, but lousy Big Ten is ruining its BCS dreams
Ohio State just keeps winning, but it can't control its destiny. Will the Buckeyes win 25 in a row and still get left out of the BCS title game? Better believe it.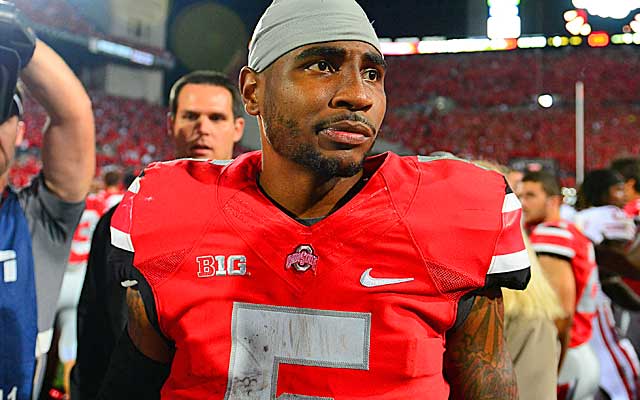 <span data-shortcode= State" data-canon="Ohio Bobcats" data-type="SPORTS_OBJECT_TEAM" id="shortcode0">'s national championship run needs help. But first Ohio State needs a conference that is worthy of it.
You probably haven't noticed: A Big Ten flagship is ranked fourth, has won 20 in a row and you'd think it was playing in Conference USA. That's because it sure doesn't seem like Ohio State is actually playing in the Big Ten. Not the one you and I grew up watching.
During that current 20-game winning streak, the Buckeyes have beaten Wisconsin, Penn State -- both twice -- Michigan State, Michigan and Nebraska. Nice accomplishment if it's 1978. In 2013, eyebrows barely twitch. Penn State has been stripped bare by the NCAA. Michigan State has a severe offense/defense imbalance. Nebraska has been the best -- and worst -- team you've seen these last five years to win at least nine games. Michigan? Not. Quite. There. Yet.
It all adds up to a potentially tragic end to a great run. Ohio State is on a greased path to being left out of the national championship game. Only the most crazed Bucknuts seem to care.
Think about that for a second. If the Buckeyes seal the deal in the Big Ten title game five weeks from now, they would have won 25 in a row. That would tie for the 22nd-longest streak of all time. That total would be ahead of the Harvard team of 1891 (24 in a row), tied with the legendary Army squad of the 1940s (25 in a row) and one behind the Nebraska team that won three titles in four years (26 in a row, 1994-96).
Urban Meyer would have long passed Woody Hayes' record of 22 in a row.
For now, beating Purdue this week -- a team that lost to Northern Illinois at home by 31 -- adds to the sad narrative: Ohio State is too good for a Big Ten that is weighing it down. Michigan moved into the rankings last week after giving up 47 to Indiana. Eight of the league's 12 teams are at No. 42 or lower in the Sagarin Ratings, the oldest computer element used to calculate the BCS.
Ohio State has a schedule strength of 68th, per the NCAA. Based on future opposition for the remainder of the season -- all conference games -- that schedule strength is 96th.
Little of that is Ohio State's fault. The Big Ten is down, has been for a while. College football is cyclical, commissioner Jim Delany has maintained. It started to be cyclical for the Big Ten long before Ohio State stopped winning championships under Jim Tressel.
It's hard to tell if the league has cratered yet. In April, the Big Ten came within a couple of draft spots of not having a first-round draft pick for the first time since 1953.
When it comes to big-time football at the moment, the Big Ten ... sure has a heck of a cable network.
Sure, that 20 in a row might be in danger if the conference were better. It would also make whoever won the league more worthy. This is still the conference that has played in the most BCS bowls ever.
Let's not confuse the issue. Meyer is building a powerhouse that's going to mimic the SEC powerhouses he assembled at Florida. Separation from the rest of the league is imminent. If not for the bowl ban of 2012, the Buckeyes might be working on their second consecutive title. The 2014 recruiting class is already ranked third.
This means you, Brady Hoke!
Meyer and Ohio State are not quite there yet, especially defensively. But tailback Carlos Hyde is a go-to force. Braxton Miller is better at quarterback. However, given perception of the Big Ten, the Buckeyes could win their last four games by 50-plus and still need help.
Alabama, Oregon and Florida State are higher ranked in the BCS. To the naked eye, they are better teams. But when did freakin' Ohio State playing in the hallowed Big Ten seem so resigned to its fate?
The Buckeyes need more than help. They need a restraining order to keep Marcus Mariota, Jameis Winston and AJ McCarron from coming to their stadiums. That still might not do it.
It's easy to be Ohio State these days. Too easy. During those 20 straight wins, the Buckeyes have played one team ranked in the top 16 at the time of kickoff. That would be Northwestern earlier this month, No. 16 at the time. The Wildcats have since lost four consecutive games.
The 20 wins have come against teams with a cumulative record of 99-109. Take away Michigan on Nov. 30 and Ohio State's next three opponents are a combined 7-14.
Speaking of which, the Buckeyes have to be big Michigan fans this week against Michigan State, and going forward. The No. 23 Wolverines are probably the only possible ranked team Ohio State can play before the Big Ten title game.
If any Bucknut is still outraged at the possibility of their team being left out, don't be. The reality is not to be disputed: If it wins out, Ohio State needs at least two of those teams above it to lose to maneuver into a title game shot.
This isn't like 2004 when Auburn went 13-0 and the SEC melted into a puddle of sadness and rage. Tom Tuberville was canvassing AP voters in the press box trying to salvage a split championship that year. SEC commissioner Mike Slive dug in and made it his life's work to start what we will know next year as the College Football Playoff.
This is the Big Ten which, while we weren't looking, became something close to C-USA. At least perception-wise.
Northwestern has slumped. Penn State can't go bowling. Michigan, 6-1, has not beaten a team currently ranked in the AP poll. Ohio State at Purdue this week is a game only the Big Ten Network could love.
Somewhere, the league of Legends and Leaders has lost its leverage -- in the marketplace. The Big Ten is a diminished brand. The suits who run the various marketing arms of these franchises can relate.
The Big Ten is just not that good overall on the field, the only place it matters when you get rid of reputation, demographics and stadium size. While the rest of the world runs up-tempo offenses, the Big Ten seems to be running in place. Once Michigan has a team that matches AD Dave Brandon's marketing of it, the Wolverines will be killers.
Things might look better if Wisconsin hadn't been screwed at Arizona State. But, sadly, the Badgers were jobbed.
Delany badly wanted access to recruits in the Sun Belt through conference realignment. It remains to be seen if the state university of New Jersey (Rutgers) and Maryland will deliver recruiting gold. On some level, they'll certainly deliver a demographic for the BTN.
The only asterisk for Ohio State belongs on that 2012 season, the bowl of which was taken away by the NCAA. To me, though, that makes this streak more impressive. In his first season, Meyer not only held together a program on probation, he made it one of the best in the country. The 12-0 record was 6 1/2 games better than 2011.
I fear for all Buckeyes and Bucknuts on Dec. 7. A 25th consecutive victory -- this one in the Big Ten title game -- would match the streak by the BYU team that won the 1984 national championship, by the Michigan team won it all in 1948, by the Army legends who won in 1944 and 1945.
What will Ohio State win that day? Somehow the Big Ten title just doesn't seem enough.
College football bowl games were all announced on Sunday, and you can check out the entire...

SportsLine simulated every bowl game 10,000 times for pick'em leagues and confidence pools

Everything you need to know to watch and pick the Las Vegas Bowl on Saturday
Everything you need to know to watch and pick the Camellia Bowl on Dec. 16

Everything you need to know to watch and pick the New Mexico Bowl on Dec. 16

Everything you need to know to watch and pick the Cure Bowl on Saturday