Ohio State-Michigan State game film flap a curious case
Michigan State accusing Ohio State of doctoring game tape raises questions about how common this practice really is. A former Florida staffer said Meyer never doctored tape while with the Gators.
• 2 min read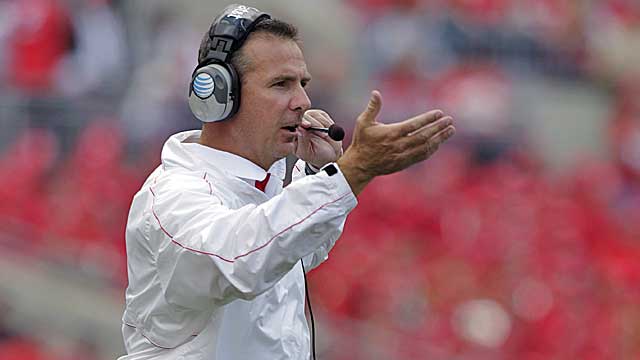 Meyer has emerged as a villain in the Big Ten. (AP)
File this one in the Urban-Meyer-makes-more-friends-in-the-Big-Ten drawer. The world of presnap motions and shifts made headlines over the weekend as the Detroit Free-Press reported Michigan State was filing a complaint against Ohio State after the Buckeyes doctored opponent's game film. 
Apparently this issue was resolved between athletic directors, without Big Ten involvement. The Big Ten requires opposing teams to share the footage each week. I've put in a call to the Big Ten for more information on how they handle such things. 
Curious how much of a common practice this is. What's the precedent? These coaches obsess all week over every detail. Can a few doctored plays affect winning or losing? Hard to tell. Surely there are other sources of "tape" out there besides an opponent's.
And what should be the punishment for this sort of thing? Seems undefined all the way around. Also, not sure what doctoring tape means. Little incision here, a cut there, and the opponent will never know. 
An assistant coach from an AQ conference told me the OSU-MSU tape story wasn't the first time he had heard of such a thing, but that coaches don't always know it's happening. Sometimes, video coordinators will simply send the smallest sample size they can to an opponent, the coach said. 
I spoke with a former Florida staffer who said "never once" did he see the Gators doctoring opponent's game tape. Meyer told the Free-Press he wasn't involved. 
Apparently these exchanges are pretty detailed from a conference level. For reference, here's the SEC bylaw on "Origination" of footage exchange. 
Edits will be broken down into "offense," "defense" and "special teams". Special team's edits will be in game sequence with three seconds of color bars before and after sections (KOC, Punt, etc.). All 22 players should be in the video frame, of the side shot, at the snap of the ball. The picture may be zoomed in after each snap. Taping of each play should begin when the team breaks the huddle and heads to the line of scrimmage.
SEC also states potential violations should be reported to the league immediately and not be discussed in the media. 
Meyer's has emerged as a Big Ten villain since last recruiting season -- this incident could fuel this persona -- but he's a villain who's now 5-0. 
Getting Leavitt back was obviously high on Cristobal's list of priorities

Cristobal's first game at Oregon ended the same way Chip Kelly's did

Conner Manning and the Panthers dominated the Hilltoppers in the Cure Bowl
You can only go to the well so often before it dries up

The Trojans beat LSU earlier in the year and now have their first 11-win season as a FBS t...

Saban has never been a fan of the early signing period and made it clear that hasn't chang...