Ohio State Offensive MVP Ezekiel Elliott runs all over Ducks
Ezekiel Elliott rushed for 246 demoralizing yards as the Ohio State ground game turned the Oregon front seven into a fine powder and won the 2014 CFP National Championship.
It wasn't that difficult to see coming. Sophomore Ezekiel Elliott had rushed for 220 yards against a Wisconsin rush defense now ranked 23rd in the FBS. He'd then rushed for 230 yards against an Alabama rush defense now ranked No. 4 in the FBS. Oregon came into Monday's College Football Playoff National Championship ranked 51st in rush defense and fresh off allowing Dalvin Cook to rush for 6.9 yards per-carry.
Uh-oh.
But it's one thing to have what looks like a matchup advantage on paper. It's another to make it count on the field, and Elliott did that in spectacular fashion against Oregon on Monday night, rushing for 246 yards and four touchdowns on 36 carries. Though Monday's game won't count in the now-retired BCS Championship Game record books, all three marks -- yards, touchdowns and carries -- would have been BCS title game records.
Elliott will have to settle instead for having set the College Football Playoff bar ridiculously high right off the bat, and for nearly writing his name in the Ohio State record book -- his 1,878 yards for the season left him just 49 yards shy of Eddie George for the most yards rushing in a single Buckeyes season. (Yes, Elliott had multiple more games than George in which to rack up those yards. Still.)
But the numbers on New Year's didn't do justice to Elliott pulling away from Alabama's secondary for the icing touchdown in New Orleans, and they don't do justice to the combination of power and speed that Oregon's tiring simply didn't have an answer for:
Ezekiel Elliott... is GONE! 33-yd TD run for the Buckeye RB and it's now 7-7 at AT&T Stadium http://t.co/BK5jXFwYbZ #UOvsOSU

— ESPN CollegeFootball (@ESPNCFB) January 13, 2015
Ezekiel Elliott can't be stopped! OSU RB eclipses 200 rush yds with 9-yd TD & Buckeyes extend lead to 28-20 #UOvsOSU https://t.co/dDsshSGNay

— ESPN CollegeFootball (@ESPNCFB) January 13, 2015
Take a moment to also credit Ohio State's offensive line, which blew open holes between the Ducks tackles time and time again. (Guard Pat Elflein was especially dominant.) Many of Elliott's yards didn't come easy ... but many of them did. Oregon in no way deserves to be called soft -- ask Florida State about that -- but the simple fact was that their front seven could not hold up in the face of the Buckeyes line, or moose-slash-quarterback Cardale Jones, and least of all Elliott. By late in the third quarter, the game was in doubt on the scoreboard ... but whenever Elliott took a handoff, bounced off two tacklers, and plowed through another for a quick 11 yards, it sure seemed like it was. 
The final result? A 42-20 Ohio State national championship victory that wasn't even as close as that score indicated. The only problem now? Figuring out what Elliott, Jones and Co. can do for an encore this fall.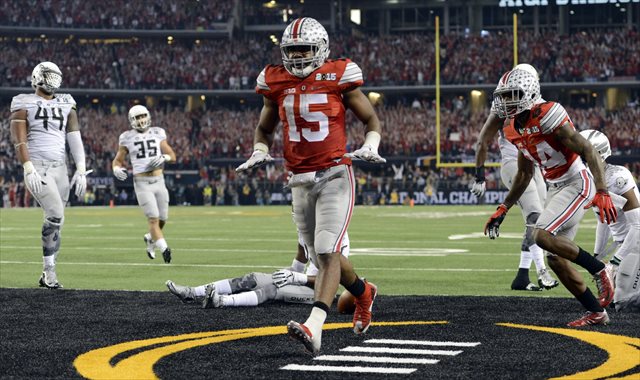 The junior will take the snaps for the defending national champions in 2017

MetLife Stadium is about 10 miles away from where the World Trade Center buildings once st...

The Terps will wear these against Indiana on Oct. 28.
The coach of the Eagles isn't here for no science talk

These are the teams that are getting too much -- or too little -- love before the season

The Crimson Tide start atop the AP Top 25 poll for the second straight season