Ohio State playing just for pride? Not this time around
After a year in the doghouse, Dennis Dodd says the Buckeyes harbor dreams of another unbeaten season ... and a national title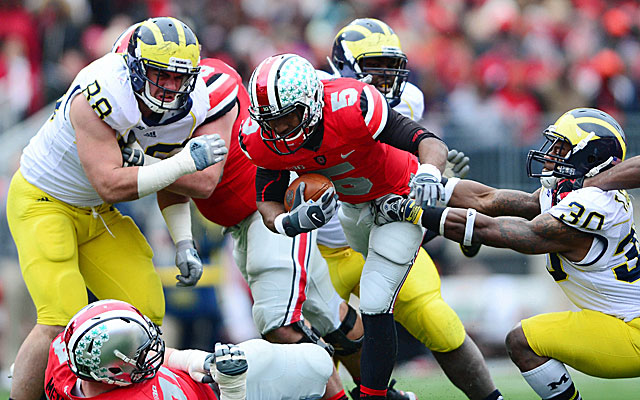 CHICAGO -- … and on Thursday, Urban Meyer talked football.
There was almost none of that Wednesday at Big Ten media days. <span data-shortcode= State" data-canon="Ohio Bobcats" data-type="SPORTS_OBJECT_TEAM" id="shortcode0">'s coach went through an inquisitory media carwash following an arrest of his best defensive back and suspicion surrounding (as well as indefinite suspension of) his best tailback.
As the unofficial Best National Championship Contender Outside The SEC, life has to be -- if not good -- a heck of a lot better. The Bucks have emerged from NCAA bowl jail with the nation's longest winning streak. They will likely begin the season in the top five and are far and away the best team in the Big Ten.
The show-stopping question for Meyer, though, now becomes: What's easier, coaching when there's nothing to play for or everything to play for?
"We try to push it out of everybody's mind because I hear that a lot," Meyer said. "I think that's a distraction."
You may recall that 22 days into the job at Ohio State, Meyer found out his program had been kneecapped. No 2012 bowl, said the NCAA. Something unprintable, said Ohio State's coach.
Meyer spent the next few weeks re-recruiting his 2012 class, hiring a staff and keeping those current Buckeyes' eyes firmly planted on the prize. The result -- an undefeated season -- has to go down as some kind of lifetime achievement.
"When you first hear about it, it kind of takes the air out of you," offensive lineman Jack Mewhort said of the bowl ban.
In 2012, the Bucks played for themselves, for the fans, for T-shirts (Leaders Division champs!) and for pride, but not for it all.
"The first game is going to light a fire under us knowing what we could have done last year," Meyer said.
Look out, then, Buffalo on Aug. 31.
By then we should know the fate of Bradley Roby, that defensive back, who is facing a misdemeanor battery charge. Things are a bit more cloudy for Carlos Hyde, labeled a person of interest by authorities in an assault case. But playing for something remains the key issue for Meyer in his second year.
In this case it's another day, different 800-pound gorilla.
"Every person in that program, every person that plays football, every person that is ranked in the top 20 dreams of that situation," Meyer said. "We can't focus on it."
Oh, but they are. Safety Christian Bryant already has the math down. A national championship means a 14-0 season factoring in the Big Ten title game and the BCS title game. That would make it 26 in a row since the beginning of 2012.
"We talk about it all the time," Bryant said. "Me and Roby were talking about it a couple of weeks ago going 26-0. That's a goal, I think, that everybody is trying to accomplish.
"As a player you sort of get caught up in undefeated seasons and all the pressure. As a coach you see it a little different than us."
Quarterback Braxton Miller is openly embracing a Heisman run -- he finished fifth in the voting last season -- as well as reveling in Lebron James mentioning him in tweets.
"It boosts my followers up," said Miller, a 20-year old child of the cyber age.
"I'm not sure I've ever had a superstar like that," Meyer said.
Tim Tebow ring a bell?
If everything goes right, Miller would celebrate his 21st birthday (Nov. 30) with the Leaders Division, Big Ten title game and national title game in the balance in the first of what could be back-to-back games against Michigan.
The teams could meet the next week in the conference championship game if they win their divisions.
"Can you imagine that?" Meyer said. "Think about that."
What was that the coach said about focus?
"I didn't cover that [bowl ban] one time last year in a team meeting which is mind boggling," Meyer said.  "Our players became so competitive during that run last year that it never came up.
"I'm a little bit more concerned about this one, keeping the eye on the target."
The last time Ohio State won a national championship is the last time the Big Ten won a national championship (2002). Since then, on different levels, each has taken its share of shots. Jim Tressel screwed up a budding dynasty with his lack of oversight (and forthrightness) in Tattoogate. Michigan slumped under Rich Rod. Overall, the Big Ten became a punchline, especially when it came to comparisons to the SEC.
Meyer has quickly built a program that looks, at the moment, like it could compete in the Strength Everywhere Conference. Miller is a dual threat quarterback who carried the Bucks through the first part of last season mostly on his own. While the best defender is gone -- Meyer is still lamenting the loss of defensive lineman John Simon -- the defense has to get better after giving up at least 22 points six times and finishing 74th in passing D. Watch ends Noah Spence and Adolphus <span data-shortcode=" data-canon="Adolphus Washington" data-type="SPORTS_OBJECT_PLAYER" id="shortcode0">. They combined for seven sacks in the spring game.
Roby, it seems, is going to be back based on Meyer's comments.
"There will be discipline involved," he said. "I imagine suspension involved and he'll be on a very short leash."
For entertainment's sake alone, let's hope Roby is back.
For the sake of the Big Ten, let's hope Ohio State dreams big.
Cristobal's first game at Oregon ended the same way Chip Kelly's did

Conner Manning and the Panthers dominated the Hilltoppers in the Cure Bowl

You can only go to the well so often before it dries up
The Trojans beat LSU earlier in the year and now have their first 11-win season as a FBS t...

Saban has never been a fan of the early signing period and made it clear that hasn't chang...

Paul Tyson is a three-star quarterback prospect for the 2019 recruiting class