Ohio State whips Illinois; will lack of 'style points' hurt BCS chances?
Ohio State is feeling the pressure of posting wins in stylistic fashion to stay in the BCS hunt. A 60-35 win over Illinois did the Buckeyes no favors
• 3 min read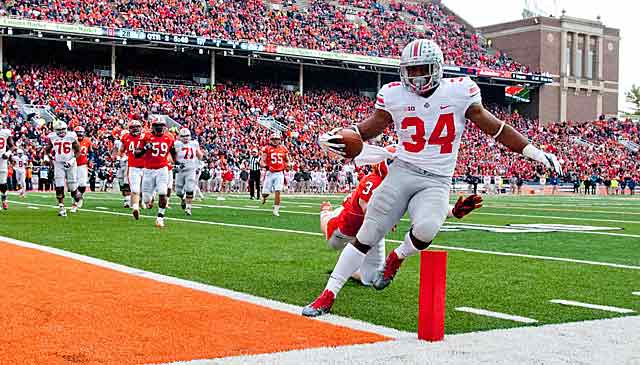 CHAMPAIGN, Ill. -- Ohio State is wiping the field by itself right now.
No one else is on this lonely scarlet island, playing in Big Ten games that don't help the BCS bottom line, resigned to what might feel like a fate of undefeated futility.
Ohio State won a conference road game Saturday but didn't look superhuman doing it. Maybe that won't matter in a few weeks. Fair or not, though, the general belief that Ohio State needs style points means it's sort of an issue.
Think Ohio State's not affected by this?
Consider the Buckeyes just put up 60 points on the road and some players looked like they lost their dog after the game.
"Everyone had their heads down like we let one go," wide receiver Corey Brown said about the locker room scene following the 60-35 win over Illinois.
It's cold under these gray Midwest skies.
All of what Urban Meyer calls the "national stuff" prompted the Buckeyes coach to give a concise directive for the stretch run.
"Just shut your mouth and quit worrying about this, quit worrying about that," he said.
Yes, that's a nod to wide receiver Evan Spencer's "wipe the field" comments this week that probably were overblown once churned through the viral vortex.
But an underlying theme has emerged: This is a postseason system that can extract the romance out of a special season over a few style points that probably won't matter anyway.
The Buckeyes have put together a special season. But they must have known that getting outplayed for stretches against a team without a Big Ten win in 20 tries won't do them any favors in the national scope.
Does it really matter if Ohio State blows out Illinois by 45 instead of 25? If Florida State and Alabama keep winning, Ohio State is Pasadena or bust anyway.
The Big Ten is partly at fault for this, though maybe its two most formidable teams after Ohio State -- Wisconsin and Michigan State -- still can help.
The league has good teams. These days, however, picking up road wins at Purdue and Illinois is like picking up mints on the trick-or-treating trail. Other conferences are getting full-sized Snickers bars.
Ohio State just broke the school record for consecutive wins with 22. This team holds a school record for touchdowns in a season with 67. In the past three games, Ohio State has outscored opponents 63-0 in the first quarter.
Somehow, all that seems secondary because Ohio State won by 25. From midway through the second quarter, Illinois outscored Ohio State 35-19 until Carlos Hyde's late-fourth-quarter scores of 51 and 55 yards.
Take away Riley O'Toole's safety for hanging in the pocket too long and Nathan Scheelhaase's two picks -- one for a 63-yard Bradley Roby touchdown -- and Illinois might have applied some real pressure.
Ohio State did rush for 441 yards, but this team is conditioned to nit-pick.
"A lot to work on," Meyer said. "Let's just coach."
Many members of Meyer's staff came from his Florida days, and one of them reminded today that late November might get wacky and actually help Ohio State. Meyer's run at Florida doesn't launch without UCLA's improbable win over USC in the final week of the 2006 season, helping Florida slide into the title game against Ohio State. The Buckeyes might need two or three such breaks this time, depending on what happens with Baylor and Stanford.
Buckeyes coaches say they don't talk to players about the Big Ten's struggles. As offensive line coach Ed Warinner put it: "We live in our own world."
That world's becoming a bit lonely, despite all that's worth celebrating.
Maybe the inevitable title-game questions from last week's bye, coupled with Oregon's loss to Stanford, had Ohio State a little uneasy this week.
"The last few weeks everybody was asking us about the situations with the top three teams," said linebacker Ryan Shazier, who was excellent Saturday with 16 tackles, 3.5 tackles for a loss and 1.5 sacks. "Before that, we were just playing game by game. This week we need to get back to what we normally do."
That normalcy looks to be enough for a Big Ten title and an undefeated finish.
Will it be enough for more? The Buckeyes could blow out Michigan, Michigan State in the Big Ten title game and still feel helpless.  
Depending on perspective, this could be great positioning. Keep winning, say you did everything you could and the record stays unblemished for the second straight season.
That won't satisfy Brown, who wants 100 points a game if it gives Ohio State a title shot.
"We're for the challenge," Brown said. "This team's hungry right now."
Occidental College was reportedly down to 35 healthy players for the 2017 season

Midway through the season, we make some (more educated) predictions for the rest of the ye...

Babe Ruth supporting the Fighting Irish is one of the best photos of the week
Could two teams from the same conference make it into the College Football Playoff?

Given the schedule and recent performance, can anyone in the SEC stop Alabama?

SportsLine's Barrett Sallee has gone 29-14 against the spread the last two weeks and loves...