Ohio State WR: Buckeyes would 'wipe the field' with Tide, 'whoever'
Evan Spencer had something very, very, very, very, very interesting to say about a hypothetical matchup with the current BCS top two.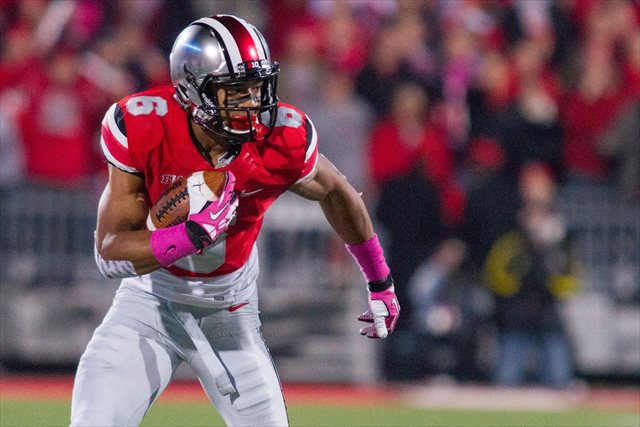 Well, you can at least give Ohio State junior wide receiver Evan Spencer credit for honesty, can't you?
Spencer was asked Monday how he felt his Buckeyes would shape up in a hypothetical matchup against Alabama or one of the other teams currently occupying the the top rungs of the BCS standings -- teams who in the case Alabama and Florida State, presumably, would deny even an undefeated Ohio State team from a shot at a BCS championship. Per the Cleveland Plain-Dealer, here's how Spencer responded:
"I'm a little biased, but I think we'd wipe the field with both of them."
Oh, Evan. Also via the Plain-Dealer, here's video of the comments, with -- it should be clear -- Spencer mentioning his "bias" a second time and having a follow-up chuckle:
It should be noted that although both the Plain-Dealer and BuckeyeSports.com reported that Spencer's "wipe the field" comment was directed at Alabama and Florida State -- teams that Spencer later said had "strengths and weaknesses" the Buckeyes could "exploit" -- when specifically asked who the second team was in reference to "both," the junior said "whoever."
Whatever the target, Spencer deserves the beneift of the doubt for several reasons. One is the aforementioned honest belief in his own team, which, of course, he ought to have. Two is the response he's going to get from spittle-flecked Tide, Seminole, or "whoever" fans who can't fathom that a player from a team that hasn't beaten anyone (except for, you know, a completely underrated Wisconsin team) would deign to think his Buckeyes could even compete with theirs, much less emerge victorious, much much less expect to blow them out.
Three, naturally, is the not-insignifcant chance that Auburn, the ACC Coastal champ, or the SEC East champ could still still throw a monkey wrench into the BCS works and bring the Buckeyes face-to-face with the Tide or Seminoles -- at which point Spencer's bit of casual smack becomes even more interesting.
So, all-in-all: thumbs up, Mr. Spencer.
Florida's roster got a boost on Tuesday with the return of several key members of the prog...

Tom Hutton joins the ranks of former Aussie rules footballers joining the college football...

The freshman is already on Heisman lists after throwing the walk-off score in the national...
These seven teams should make the most noise down the homestretch towards signing day

Air Force was forced to cancel 11 athletic events because of the 69-hour government shutdo...

Olson has a lot of the tools offensive coordinators want in a quarterback